Honda Civic Type R Championship White
Excellent high revving engine
November 2008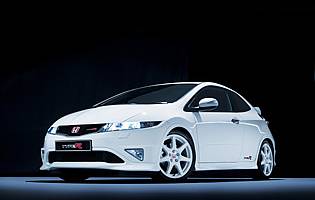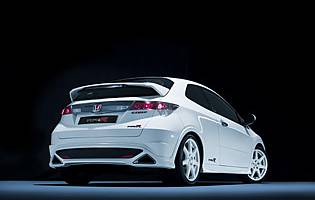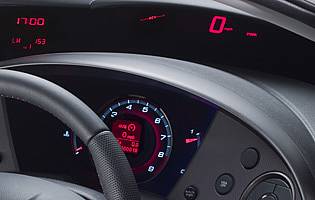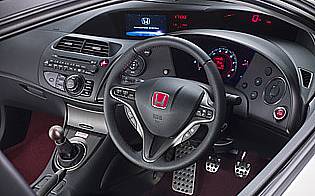 Overall rating

Likes:
Excellent high revving engine
Nimble and precise handling
Distinctive and attractive exterior
Clever interior with high tech displays
Gripes:
Harsh ride is unforgiving
Speed display can be blocked by steering wheel
Rear view is highly restricted
No limited production run makes it less special
Honda's Civic Type R is proving as popular as ever with hot-blooded hot-hatch buyers, and to celebrate the success of the vehicle Honda is launching a special edition version called the Championship White that boasts the exclusive colour scheme reserved for Honda's sports derived models. External revisions are complimented by the addition of a limited slip differential, improving the model's on-road performance.
It's still fresher and more modern in terms of its styling than most of the cars out there, but Honda has still seen fit to facelift the Civic for 2009. The manufacturer is also taking the opportunity to introduce a special edition version of its popular Type R hot hatch, the Type R Championship White.
Historically reserved for very special Honda models with a sporting heritage, the Championship White shade first featured on the Japanese manufacturer's 1963 F1 car. Since then it's appeared on 'R' editions of the NSX, Integra and Accord in specific markets.
The addition of a limited slip differential, which ensures the power is sent in equal measure to both front wheels when applied with vigour, means the special Type R is certainly worthy of the prestigious paint shade. Nearly a second and a half was shaved from the car's lap times at Honda's test circuit in Japan, translating into greater road and track performance.
With the exception of the LSD and exterior revisions, which include new alloy wheels and a smoked effect for the door handles and fuel cap among other areas, the Championship White edition is much the same as the regular Type R. That means it benefits from the same practical but shapely body and futuristic interior with digital displays, a driver focussed control layout and high quality materials and build quality. The 2.0-litre V-TEC engine also remains, offering real urgency when required with its high revving approach.
Our verdict on the Honda Civic Type R Championship White
The addition of the LSD has a definite positive effect on the Type R's on-road performance, meaning the Championship White edition improves on what was already a very impressive set-up. The choppy ride detracts from the everyday comfort of the model, however the practical three-door body remains one of the most attractive and boldly styled available. It's not the most powerful in its class, but its finely tuned performance makes up for that in spades.
---
Costs
The Type R Championship White is very well equipped and stands up well to the competition in value for money terms. With reliability assured thanks to Honda's solid reputation, running costs should be modest save for fuel and insurance – if a young buyer. There are also no plans for a limited production run, which would probably have increased the price along with the exclusivity.
Space and practicality
While the three-door Civic might not accommodate a growing family as well as the five-door variant, it shouldn't be dismissed as a failure. Despite its status as a hot-hatch the Type R Championship White is also a practical one. Oddment space is reasonable thanks to a generously proportioned centre console, glove box and door bins. The boot, which is both deep and wide, boasts a clever hidden compartment where you'd normally find the spare wheel.
Controls and display
The Civic's futuristic interior is one of its key selling points, and the forward thinking design works well, with the majority of the controls angled towards the driver and surrounding the wheel for ease of use. The digital displays are excellent, although they can suffer a little from sun glare. The negatives are that the front seat passenger will have to stretch to reach the major ventilation controls and some drivers may find they're restricted in terms of their driving position as the steering wheel and seat height are determined by the need to prevent line of sight of the displays being blocked.
Comfort
The Civic's spacious cabin ensures that head, leg and elbowroom is never a problem. Rear seat passengers are treated in a similar manner, with no major niggles to report. At city speeds the cabin does well to insulate occupants from road and engine noise, an impressive feat considering the fact that the Type R's engine is a vocal unit when revved hard. The harsh ride detracts from the comfort somewhat, particularly on less well surfaced roads.
Car security
As a special edition model, the Type R Championship White may well prove more popular with thieves. Fortunately it's not short of security features. An immobiliser, deadlocks, remote central locking and a lockable glovebox are standard, as is a Category One alarm.
Car safety
Excellent braking and high grip levels are the main proponents of safety in the Honda Civic Type R Championship White, however a range of driver aids including ESP and ABS are included. Dual front and side airbags are standard, as are seat belt pretensioners.
Driver appeal
The Type R's high revving 2.0-litre engine, sports suspension settings, slick gearshift and extremely sharp brakes make it great fun to drive fast. The V-TEC unit provides a noticeable surge above 5000rpm – willing the driver to rev. Grip levels are great, helped by the addition of a limited slip differential that allows the front end to tow the line more tightly. For a fully electric system, the steering is pleasingly direct and communicative and the whole car feels well balanced, although it can be provoked into controllable over-steer by exuberant braking. The only downside is the harshness of the ride, which crashes over B-roads and picks out potholes too easily.
Family car appeal
It might lack two rear doors, but the Type R would make a reasonable choice for a growing family. Granted the car's seating arrangement is fixed unlike with a people carrier, but access to the rear isn't that bad and the boot is a good size. You will likely grow out of it and need something bigger, but it will be a fun family hatch while it's around.
First car appeal
A regular Civic might be a good idea but the Type R is a different proposition. Fast, less economical than most and likely to be expensive for a novice to insure, it wouldn't be a sensible choice.
Quality and image
The Civic is yet another excellent product from Honda in terms of build quality. Fit and finish inside and out is exemplary and the choice of materials inside the Type R Championship White cabin feel high quality and robust. Seat fabrics have been upgraded across the Civic range for the 2009 model year.
Accessibility
Wide opening doors plus a slightly elevated front seating position make getting in and out straightforward. However, anyone wider than the average may find the snug sports seats less easy to negotiate. Access to the rear seats is good for a three-door model.
Stereo and ICE (In car entertainment)
A single slot CD player and tuner is standard equipment with good quality sound reproduction. Controls are within easy reach on the centre console and steering wheel. A sat-nav system is optional, but the introduction of a USB port for MP3 players is very welcome.
Colours and trim
The Type R Championship White's special status means it's only available in one colour scheme – Honda's highly exclusive shade of white reserved for cars of the racing bloodline. 18-inch white alloy wheels and a smoked chrome finish to the badges, door handles, fuel cap and lower grille also feature. Inside, the interior is no different to the regular Type-R, which is no bad thing.
Parking
There's no problem with forward visibility, thanks to a slightly raised driving position and the car's responsive power steering. Rearward vision is less impressive thanks to the rear window's lack of a wiper when driving in wet conditions. A racy spoiler placed halfway up the screen doesn't help matters either. Thankfully the car's side mirrors are a generous size.
Spare wheel
Tyre foam kit and compressor included in lieu of a conventional (optional) space saver wheel.
Range information
Petrol engine options – 1.4-litre (98bhp); 1.8-litre (138bhp); 2.0-litre (198bhp). Diesel engine options – 2.2-litre (138bhp). Transmission options: six-speed manual gearbox, five-speed automatic gearbox, six-speed i-Shift automated manual gearbox with a switchable fully auto mode. Trim levels: SE, Sport, ES, EX, Type S, Type S GT, Type R, Type R GT, Type R Championship White.
---
Alternative cars
Ford Focus ST is boldly styled and quick
Vauxhall Astra VXR and offers sharp performance and is competitively priced
Volkswagen Golf GTI is sporty and comfortable in equal measure
Renault Megane Renaultsport 225 F1 boasts excellent sporting credentials