Honda Civic 1.8 i-VTEC Sport
Versatile and spacious cabin
July 2015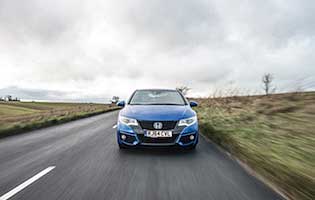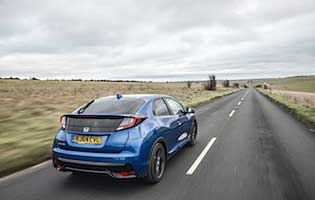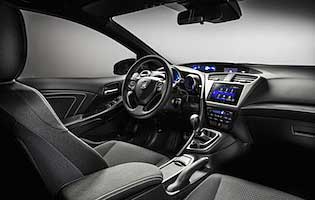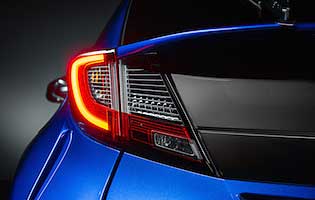 Overall rating

Likes:
Versatile and spacious cabin – even in hatch guise
Comfortable front seats feature well-shaped backrests
High fuel economy potential and low emissions from diesel version
Bold styling helps Civic stand out from the crowd
Gripes:
Cluttered control surfaces are a let down
Mix of dials, displays and switchgear is distracting
Rear vision remains poor thanks to the Civic's bold exterior design
Sport model delivers an overly firm ride in urban environments
Continuing with this bold design theme, Honda has chosen to refresh its mid-size hatch in a bid to compete with the likes of Ford, Vauxhall and Volkswagen. Subtle but important quality upgrades in the cabin have been matched by the introduction of an active collision avoidance system and updated infotainment package.
There's no question that Honda's Civic stands out from the crowd. It's a bold proposition from a once ultra-conservative car maker. The Japanese firm has attempted to steadily move the car more upmarket in recent generations, and this refresh consolidates the car's aim of competing more with the likes of Volkswagen than Vauxhall.
Key to the car's appeal is its bold appearance. There are trade-offs in the case of reduced rear visibility, though. That said, the car functions well as a family car thanks to its spacious cabin and practical, versatile boot space.
Style-wise the refreshed Civic has been designed to more closely align with Honda's latest Civic Type-R variant, which is why the car's exterior is a little more aggressive and there's a dedicated Sport model.
The real improvements centre on a new infotainment system, a trick collision detection and auto brake safety package, a new nose and tail plus a host of detailed trim and fabric changes for the cabin.
Our verdict on the Honda Civic 1.8 i-VTEC Sport
Viewed as a left-field choice by some for a variety of reasons, this generation of Civic is the company's boldest effort yet. In the face of stiff competition and a general trend to move upmarket, Honda has worked hard to create a premium cabin ambience. Overall, the Civic is a solid all-rounder with a few ergonomic quirks but also offers a class-rivaling diesel engine.
---
Costs
If you rack up the miles it's clear that diesel is the best choice, thanks to low consumption and emissions performance. Low mileage buyers are still better off with petrol, while the cars aren't short of standard kit. You will have to pay extra for some of the more impressive active safety systems, though.
Space and practicality
The Civic hatch offers occupants a good-size cabin with ample room fore and aft. Headroom in the rear is also decent despite the car's sweeping roofline. There's also ample oddment storage space in the cabin and boot should be big enough for most families. Folding the rear seats does much to boost the car's practical nature.
Controls and display
With a multi-level display facing the driver, the amount and placement of information can be a little distracting – despite the presence of a big digital speedometer. The ventilation controls could also be less complex, while the main infotainment screen could be more intuitive when it comes to navigating the various menus.
Comfort
Supportive seats and modest noise intrusion in the cabin make the Civic one of the better family hatches in this department. And despite the car's streamlined profile those in the back shouldn't feel compromised.
Car security
Remote central locking with deadlocks, as well as a sturdy load cover for hatchback boot are to be expected along with a comprehensive anti-theft system. Covered storage areas in the cabin are also a welcome inclusion.
Car safety
There is a comprehensive array of safety systems, but some of them are optional extras. However, for a reasonable price the Civic can be fitted with systems that can automatically brake in the event of a potential collision, recognise traffic signs, warn of unintended lane departure, monitor blind spots and even scan for approaching traffic when reversing from a driveway, for example, onto a road. Airbags are supplied all around the car and help it to achieve high scores in safety tests.
Driver appeal
Honda has tweaked the Civic to deliver a more engaging driving experience and it has largely succeeded. The Sport variant does boasts a firm ride; if you want more refinement you'll need a car with a smaller wheel-tyre combination. None of the models this side of the Type-R are pitched as performance variants, and you'll be treated to a brisk pace in reality.
Family car appeal
The Civic could easily double as a family car, although the Tourer estate variant makes a much better choice thanks to its much larger boot and slightly easier access to aid belting in rear seat occupants. Neither car is especially child friendly if you opt for leather upholster, though.
First car appeal
There's no reason why the Civic couldn't be considered a first car; it's easy to drive, running costs would be modest and it's not short of safety kit. The only issue would be the restricted rear view when parking – something a seasoned driver wouldn't be concerned with.
Quality and image
Honda has a solid reputation for reliability, particularly among its petrol-engined models, and the plaudits are well earned. Honda's brand image is one of dependability rather than desirability, which has the effect of appealing just as much but to a more mature demographic. The material quality of the car is good. The fit and finish is excellent, and the materials quality in the cabin is on a level with most of its key rivals.
Accessibility
In five-door hatch guise the car presents no real difficulties. All doors open wide and, unlike some rivals, access to the rear of the cabin is also good. It's the same at the back, with the tailgate opening up easily to reveal a low load lip.
Stereo and ICE (In car entertainment)
Honda has sourced an updated infotainment system, which boasts a colour screen, navigation and mobile-friendly connectivity features. The unit isn't as easy as some others to navigate and the mobile app connectivity potential is limited. The audio function is a good, although the overall performance and usability lags behind most rival offerings.
Colours and trim
Honda continues to be brave with colour options, with the strong red flattering, while a dark blue is also a cut above the normal whites and silvers. Opinions will be split about the interior trim, which features appealing and updated upholstery but also some dated styling around the centre console and dashboard.
Parking
Forward visibility is good but it's the over the shoulder view that will hamper reverse parking efforts. At least parking sensors and a reversing camera help matters.
Spare wheel
Emergency tyre repair kit supplied as standard.
Range information
Petrol engine options – 1.4-litre (100bhp); 1.8-litre (142bhp); 2.0-litre (310bhp). Diesel engine options – 1.6-litre (120bhp). Transmission options: Six-speed manual and five-speed auto gearbox. Trim levels: S, SE Plus, Sport, SR, EX Plus, Type-R.
---
Alternative cars
Seat Leon Good to live with and an engaging car to drive
Volkswagen Golf  The benchmark all-rounder with a good image, but falls short on excitement
Ford Focus  The choice for keen drivers overs good ownership experience
Hyundai i30 Stylish and spacious Korean effort can mix it with the best for less money