Ford Focus 1.6 Zetec Estate review
The estate Focus should be popular with family buyers
Dec 2004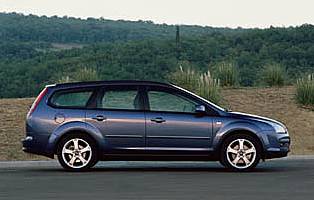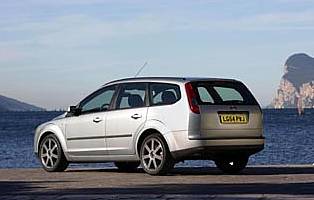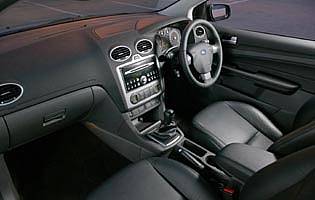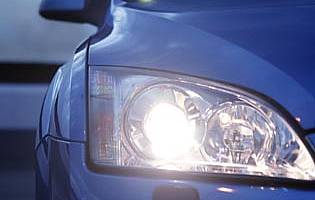 Overall rating

Likes:
Class-leading steering and driver feedback for a car in the estate class
Represents excellent value with plenty of practicality for the money
Enhanced, spacious interior adds premium feel to an affordable car
Wide choice of engines and trims to suit most family budgets
Gripes:
Styling too conservative for some tastes
Huge production numbers limit exclusivity
Annoyingly bulky audio stalk gets in the way
Cheap materials hidden under seats and in footwells
The Focus hatch has been at the top of the tree ever since the Mark I hit the streets in 1998. With the advent of the MPV the humble estate has taken a bit of a bashing, but surely if any estate can start the fight back it's a Focus estate.
Hatchback-derived estates have sometimes tended to seem a bit of a compromise. They are preferable to 'proper' estates in as much as their driving characteristics are more like a small car's, but in terms of space they can be a lot less practical than bespoke load luggers.
Think of them more as a halfway house – ideal for those who need more practicality than the average hatchback can provide, but can't justify the extra expense of a Volvo V70 or Volkswagen Passat.
Foremost among the standard Focus's traditional appeal has been its driveability. The latest model to carry the badge improves on the already class-leading dynamics of the previous model to give levels of driver feedback and involvement that many more expensive cars fail to match. With the estate being only slightly longer, it is almost as much fun to drive.
Levels of refinement and interior quality have been greatly improved across the whole range and the estate is no different. A slush-moulded dashboard, quality stereo unit, comfortable seats and solid-feeling trim afford the new Focus an air of luxury and desirability.
Our verdict on the Ford Focus 1.6 Zetec Estate
The estate version of the Ford Focus comes complete with many of the attributes that make its hatchback sibling so good. Throw into the bargain all that extra space and you have an excellent all round package.
Costs
Although slightly more expensive than either the three or five-door hatchback, the Focus estate is still well within the means of most budgets. Parts and servicing for Ford models have always been affordable and this wagon is no different. Diesel engines return good levels of fuel economy and should help make those irksome trips to the pumps mercifully infrequent. Insurance premiums will also be manageable.
Space and practicality
While the estate is larger in terms of stowage space, it isn't massively more practical than the hatch. There are just 0.28 cubic metres more room to play with when the rear seats are folded. In terms of loading and unloading, however, the estate is far more practical than its smaller sibling, which is ideal for those who regularly have to utilise all available space. All Focuses enjoy a very spacious cabin with even rear passengers treated to ample leg and headroom. The Focus may not boast the largest number of cubbyholes and storage areas in its class, but those that do exist are actually useful.
Controls and display
Many minor but welcome improvements have been made, including a better position for the gearstick and increased movement for the steering wheel. Dials look very appealing, switches are made from warm-feeling plastic. Only the brick-like column-mounted volume control for the audio system spoils things. Perhaps significantly, it was carried over from the last Focus and looks completely out of place. It is also too easy to operate unintentionally.
Comfort
The same impressively calming interior lighting that featured in the C-MAX appears here too and makes for very relaxing night driving. The bases of the seats are wide and very supportive and delay the onset of numbness in the nether regions. Aural intrusions are also well suppressed with wind, tyre and road noise but a distant hum. Even when riding on larger alloy wheels and tyres the lack of any roar is welcome.
Car security
Provided gratis is remote central locking (including the fuel flap), an immobiliser and a visible VIN number. Keyless entry and ignition can be selected from the options list, as can an upgraded alarm system.
Car safety
All models have dual-stage front airbags, and side airbags. LX models and above also have side curtain airbags. Optional adjustable pedals that detach themselves in the event of a crash are on the list, too. Much of the safety package, including the design of crumple zones and head restraints, was handled by Ford's experts at Volvo, which inspires confidence.
Driver appeal
The previous generation of Focus was renowned for its handling ability and nimble chassis and this version is no different - if anything it's better. The estate may be less appealing in terms of aesthetics but when it comes to the open road you'd be hard pushed to notice much dynamic difference. When it's fully laden the ride suffers but for the most part drivers can still enjoy the experience. Larger engines will provide more entertainment, so enthusiasts should look to the 2.0-litre TDCi or 2.0-litre petrol.
Family car appeal
The space offered by the estate version is helpful for those with a growing family and the inevitable 'stuff' that goes along with it. The large boot is more than capable of coping with shopping bags or suitcases and will eradicate the need for the cabin itself to be used as a stowage area. The optional DVD player for the back might be a good idea if you have to transport the little cherubs over long distances.
First car appeal
By their very nature estate cars are not ideal first cars. Young drivers looking specifically for a Ford would be better off with a Ka, Fiesta or even a standard Focus hatchback.
Quality and image
In the quality stakes the new Focus as taken a serious step up the ladder. Ford admits to aiming at the likes of Audi and BMW when designing the new Focus and this is apparent in the overall feel of the interior. In estate guise there is always the chance that bystanders will automatically assume you are a little bit past it, but this is more to do with people's perception of estates in general than any actual criticism of the Focus, which looks good.
Accessibility
Those with specific accessibility issues had perhaps better look at the C-MAX compact people carrier. Otherwise the estate's five-door layout and fairly wide apertures should present no real problems even for the less limber.
Stereo and ICE (In car entertainment)
Studio models miss out on a CD player and only have two speakers, which seems rather stingy. Other models get a six-speaker CD system apart from the technology-oriented Titanium with its impressive eight speaker Sony system. Buyers with more cash can indulge in plenty of infotainment upgrades in front and rear seats with Bluetooth technology, voice controls, DVD players and the like.
Colours and trim
A shake-up of the badging system divides the Focus into comfort and sport-oriented branches. The line-up comprises entry-level Studio, LX, Sport, Zetec, Ghia and Titanium models. External colour schemes are numerous, though the Focus still looks best when in traditional Ford blue. Full-on black leather interiors can be a little oppressive (particularly on hot days), so take a look at some of the lighter fabrics and leathers on offer. A slush-moulded dashboard adds a classy feel to the interior.
Parking
Parking sensors are an optional extra no matter which model you plump for. The Focus estate isn't particularly difficult to park thanks to its generously-sized windows and good driving position. The more timid among you will be slightly wary of parking an estate, but in actual fact it isn't that much bigger than the hatchback.
Spare wheel
A steel space saver is standard, although a full-size steel spare is a cost option.
Range information
Initially there are 1.6 (100PS) and 2.0-litre (145PS) petrol powerplants while diesel variants include a 1.6 (109PS) and 2.0 (136PS). Other units will follow over the car's lifecycle. Manual, automatic and CVT transmissions are available with various engine combinations.