Ford Focus ST 3 review
Sleek, muscular and pretty – a masterpiece of styling
Aug 2012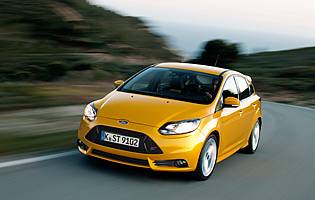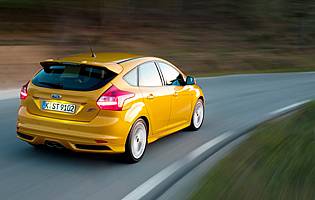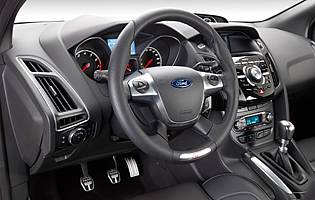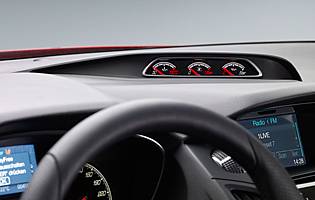 Overall rating

Likes:
Eager, balanced driving experience is fun but stable and confidence-inspiring
Noise-enhancing technology maintains much of the old ST's aural charm
Relatively broad and deep boot offers good levels of practicality
Much-improved build quality is impressive for day-to-day use
Gripes:
Rear visibility is impaired by the modest rear windscreen and rising shoulder lines
Linear power delivery is usable but not as explosively exciting as before
Acceleration stats not as impressive as power figures might suggest
Steering wheel is quite large and some may find it awkward
Ford's first Focus ST was a big hit in Britain. So big that the country quickly became - and stayed - the model's most important market anywhere in Europe. Unfortunately for its many fans, emissions laws and rising fuel prices put an end to the ST as we knew it, but with this model it's back, albeit significantly changed.
The biggest difference to emerge following the ST's hiatus from showrooms is that the characterful but inefficient 2.5-litre five-cylinder engine has been replaced with a more ordinary 2.0-litre unit, but one that has been heavily and cleverly turbocharged to produce even more power than the old model. It's much more efficient, though, and achieves much higher fuel economy.
The unfortunate but unavoidable loss of inherent aural quality has been addressed with a 'sound symposer', a membrane between cylinders three and four that effectively amplifies a natural off-beat note within the combustion cycle and channels it into the cabin. It works surprisingly well and it's good enough to placate keen ST fans who miss the old 2.5 unit.
Build quality is another area that Ford's engineers have worked on. In the ST-3 model the full leather seats are supple and supportive, the leather-trimmed steering wheel and gear lever knob feel thick and plush, and the dashboard looks impressively modern. Whether or not it will age well will be seen in due course.
The ST comes in three trim levels with good levels of equipment. It's designed to be a better all-rounder with greater environmental performance making it more affordable to run. While it maintains excellent balance and handling poise, the new ST is aimed straight at the everyday user.
Our verdict on the Ford Focus ST-3
The ST is a convincing everyday performance car that blends performance, practicality, handling and running costs. Its emissions are low enough to undercut off-putting tax costs and its fuel economy means that potential buyers' heads can freely agree with their hearts, which will certainly be swayed by this version's simple, stylish lines. This is a car that satisfies almost every need a modern hot hatch buyer could list.
Costs
While the ST isn't the cheapest car to run, Ford has made huge strides in making it cheaper than the old one. It consumes less petrol, emits less CO2 and costs both less to tax and run as a company car. Insurance should also be lower than before. While the greater economy and usability of this generation ST will help maintain value, the old one remains a highly sought-after model for its character.
Space and practicality
There isn't a great deal of in-cabin storage, but the compartments that are there do a reasonable job. The door pockets could and arguably should be bigger, though. Two central cupholders are useful and the glove box is adequate. Better news comes from the boot, which is large and evenly shaped. There are vertically-mounted straps to restrain items like a first aid kit between the load lip and the wheel arches.
Controls and display
The main instrument cluster is one of the most stylish around, but there are more dials on top of the dashboard displaying turbo boost, oil pressure and oil temperature. They're small and positioned away from where they need to be to be useful while driving, but they're still welcome. The ancillary controls are laid out in predictable fashion and the stalks feel chunky and robust. The one incongruous element is the centre console screen, which is styled quite differently to the rest of the car's instruments.
Comfort
Naturally the ST has a stiffer chassis and suspension setup than the standard Focus. That said, it isn't uncomfortably so, and even on its large alloy wheels it tends to ride very well. There is some wind and road noise, but nothing unusual and less than in the old model. Legroom is generally adequate for five occupants, but the rear passengers can feel too enclosed by the thick rear pillars and the doors' high shoulder line.
Car security
The Focus is among the safest of modern cars, with security experts Thatcham awarding high marks for both resisting theft from and theft of the car. It also performs well in the overall insurance rankings. An advanced alarm and immobiliser combination is standard.
Car safety
Stability control and ABS are standard, while a host of systems like lane departure warning and lane keeping assist are optional. A solid crash test performance should help generate added peace of mind, along with the car's inherent stability at speed.
Driver appeal
The new model has a lot to live up to in the shape of the old five-cylinder ST, but it doesn't disappoint. With the benefit of some technical trickery to enhance a particularly interesting element of the engine noise, it sounds good. There's a relatively neutral balance to the chassis and it's very forgiving, making it an extremely easy car in which to build up a head of steam along a twisty road. But it's also quiet, easy-going and relaxed at low revs.
Family car appeal
Young families were firmly in Ford's sights when they designed the Focus and the ST inherits almost the same degree of family usability. The boot is big and well shaped, there are Isofix child seat mounts, the safety systems are very effective according to the official tests, and this incarnation is cheaper to run than the old version. The coloured trim on the seats could count against its durability, though, and ultimately a lesser model would be more cost-effective.
First car appeal
Hot hatches are a model of attainable performance, and there's every chance that a young driver, particularly a male one, would lust after the ST. But while the car is exceedingly easy to drive at low speed, looks fantastic, has many cutting-edge safety features and isn't as thirsty on fuel as you might think if it's driven gently, the performance on offer and the associated risk, insurance premiums and purchase price are prohibitive factors for a first car.
Quality and image
A more immediately tangible change from the last car is a much higher standard of materials quality, which is a theme that runs right from the leather trimming the steering wheel and seats to the solid, thick feel of any plastics occupants are likely to touch. Big gains have been made here and the car feels much more complete as a result.
Accessibility
A big part of the ST's remit is to be practical and usable every day. In this case the ST is a five-door model. Accessibility is therefore very good, and the doors are long enough to allow easy access but short enough to make getting out of the car in typical bay spaces simple enough. The front doors are longer and need more care in car parks. The boot is large, but the load lip may restrict ease of access to heavy loads.
Stereo and ICE (In car entertainment)
Some of the stereo operation buttons are quite small, with notable space in between them. It can be difficult to put your finger on the right one without taking your eyes off the road for a second or two, and it may take a little longer to become fluent with than some other systems. There is a typical range of adjustments available to be made to the sound output, and an integrated iPod socket allows full control over your music.
Colours and trim
The colours available with the ST are split, with some being bold and bright, and others being understated. While the latter are fine and will help to hide the car's performance leanings, it really does look better in the brighter shades. A special orange option is a costly one, but for some it will be definitive. The interior trim is also very attractive. The shiny black plastic centre console cover will divide opinion, though.
Parking
The scale of the restriction to rear visibility is only clear when you actually try to reverse into a space. There's very little view at either of the rear corners, so drivers need to use the wing mirrors as well. Reversing safely is a slower process than would be ideal. The variable-assistance power steering works well to lower the effort needed to turn the wheel at low speed, and rear parking sensors are standard on this range-topping model.
Spare wheel
Emergency tyre repair kit supplied as standard.
Range information
Petrol engine options – 1.0-litre (99bhp, 123bhp); 1.6-litre (84bhp, 104bhp, 123bhp); 1.6-litre turbo (148bhp, 179bhp); 2.0-litre turbo (247bhp). Diesel engine options – 1.6-litre (94bhp, 113bhp); 2.0-litre (138bhp, 161bhp). Transmission options: five and six-speed manual gearbox depending on model, plus automatic gearbox (1.6-litre 123bhp petrol and 2.0-litre diesels only). Trim levels: Studio, Edge, Zetec, Zetec S, Titanium, Titanium X, ST.