Ford Focus ST 2 (2015) review
Still the hooligan of the hot hatch pack
Jan 2015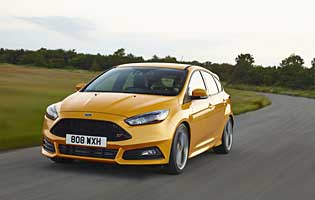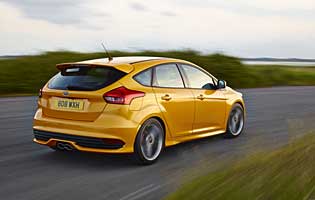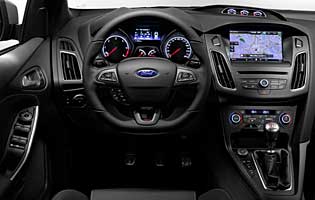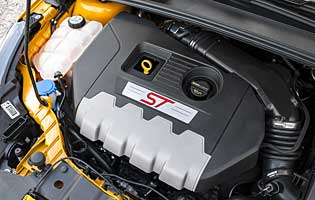 Overall rating

Likes:
Entertaining driving experience linked to easily overwhelmed front tyres
Figure-hugging Recaro sports seats best those of all rival cars
New dashboard and console layout much improves the user interface
Considerably cheaper than key rivals
Gripes:
Busy ride quality can become irritating when cruising
Visibility issues include an inconveniently-placed A-pillar
Steering is a little too light for complete high-speed confidence
Exhaust noise doesn't match the drama of the interior sound symposer
Ford's ST performance sub-brand is as popular as ever in the UK. The firm is looking to consolidate the hot hatch success and market share gain won by the Fiesta ST, by introducing a heavily revised version of its larger sibling. The Focus ST's best features remain, but some of its worst have been changed for the better.
Most mechanical aspects of the new Focus ST have remained the same, so its four-cylinder turbocharged petrol engine and six-speed manual gearbox remain the same. The suspension has been recalibrated for even more cornering roll control without allowing it to become crashy, and the interior has undergone big changes that see the old 'phone-style' console replaced.
The myriad small buttons on the old console were a constant irritation to drivers, not to mention the extremely old-fashioned and small screen that was recessed deep into the dashboard. In the new car a fresh and large touch-screen boasts full colour graphics and split-screen viewing, sitting above simplified button layouts for the air movement and heating.
A stop-start system has been added to push the ST's fuel economy upwards a little and a diesel version has been added to the range to give those interested more in the ST's looks than its high-octane thrills, but the petrol model remains as the standard bearer despite recent high fuel prices.
The Focus ST faces new hot-hatch competition from many corners, including from its erstwhile rival the Golf GTI, the Seat Leon Cupra and lower-powered newcomers like the Kia Pro_cee'd GT. Ford aims to differentiate the Focus by continuing its reputation for outlandish behaviour on the road rather than chasing outright performance figures.
Our verdict on the new Ford Focus ST-2
The Focus ST is still the hooligan of the hot hatch pack and revels in the role. Tweaked styling makes it the best-looking of all its rivals and its reluctant traction control only emphasises its bad-boy image. It has a clear identity but it's also very good to drive fast – if the driver can keep the front wheels in check at the same time.
Costs
If its driver can resist the temptation to exploit any of the performance potential on offer, the ST doesn't have to be ruinous to own. Thanks to stop-start technology its urban fuel economy should rise, and insurance should stay modest. Buyers of the diesel model will benefit most from improved residual values, with impressive figures predicted in relation to its closest rival.
Space and practicality
While the opportunities to store objects in the cabin are slightly limited, the compartments that are there do a reasonable job. The door pockets could and arguably should be bigger, though. Two central cupholders are useful and the glove box is adequate. Better news comes from the boot, which is large and evenly shaped. There are vertically mounted straps to restrain items like a first aid kit between the load lip and the wheel arches.
Controls and display
The stylish instrument cluster has been joined by a large, new screen with high resolution and multiple functions. There are still a trio of small dials on top of the dashboard displaying turbo boost, oil pressure and oil temperature. Ford is keen to emphasise the usefulness of the SYNC voice control, which does work quite well as long as the user knows exactly which combination of words to use – and the order in which to use them.
Comfort
The ST's suspension has been stiffened even further for its new incarnation and despite it being extremely well controlled, avoiding crashing into the bump-stops through all but the worst hits, it does have the potential to create an busy ride. At a cruise the car is constantly bobbing and bouncing with uneven road surfaces, which can become irritating. Rear passengers can feel too enclosed by the thick rear pillars and the doors' high shoulder line.
Car security
It has to be conceded that such a bold-looking car, especially in one of its bright colour options, will attract attention of both the right and wrong sorts. But the Focus is among the safest of modern cars, with security experts Thatcham awarding high marks for both resisting theft from and theft of the car. It also performs well in the overall insurance rankings. An advanced alarm and immobiliser combination is standard.
Car safety
Performance models like this benefit from wider, grippier tyres, bigger brakes and better suspension than their more ordinary counterparts, and are often inherently safer when trying to avoid a crash. Stability control and ABS are standard, while a host of systems like lane departure warning and lane keeping assist are optional. A solid crash test performance should help generate added peace of mind.
Driver appeal
The Focus ST's reputation for bad behaviour is entirely justified, and thanks to a relaxed traction control system it's very easy to spin the front wheels in the lower gears, even in the dry. It's a significant part of the car's exciting appeal, but looking past its thuggish tendencies it also offers a stable, engaging and accurate drive for the fast but experienced driver. The steering has useful feel, but could be firmer to increase high-speed confidence.
Family car appeal
While the Focus platform is, in theory, an excellent thing to inherit in terms of family-friendliness, the ST's firm suspension takes away from that somewhat. The boot is big and well shaped, there are Isofix child seat mounts, the safety systems are very effective according to the official tests, and this incarnation is cheaper to run than the old version.
First car appeal
A great many young men will pass their driving tests with the hope, however faint, of quickly graduating up to a Focus ST. But while the car is exceedingly easy to drive at low speed, looks fantastic, has many cutting-edge safety features and isn't as thirsty on fuel as you might think if it's driven gently, the performance on offer and the associated risk, insurance premiums and purchase price are prohibitive factors for a first-time car buyer.
Quality and image
While the tangible quality inside the fast Focus is not really any higher than in recent times there is a perceived upgrade to the premium feel that comes from the new screen and console layout. Big gains have been made here and the car feels not only much more intuitive and instantly comfortable, but also more desirable as a result.
Accessibility
Five-door models make up 85% of the ST's sales with the remainder estates, but all are based on the popular Focus platform and accessibility is therefore very good. The doors are long enough to allow easy access but short enough to make getting out of the car in typical bay spaces simple enough. The front doors are longer and need more care in car parks. The boot is large enough, but the load lip may restrict ease of access to heavy loads.
Stereo and ICE (In car entertainment)
The infotainment systems have had a major overhaul, and this generation of ST benefits from a much-improved touch-screen through which media information is displayed in a much more current fashion than before. Bluetooth, USB and CD inputs are all available, while Sony supplies the stereo unit and speakers – a nice touch.
Colours and trim
A mix of bold and subdued colours are offered, including a new flat 'Stealth Grey'. Blue has been the most popular colour so far in the third-generation ST's life, and for good reason. A special 'Tangerine Scream' orange option is a costly one, but for some it will be definitive. The interior trim is still attractive, and looks all the better for ditching the overly crowded layout and shiny plastic console.
Parking
Since the body structure is unchanged from the previous Focus, the new car shares one of its bugbears. There's very little view outwards at either of the rear corners, so drivers need to use the wing mirrors as well. Reversing safely is a slower process than would be ideal, but there are automated programmes to help if desired. The variable-assistance power steering works well to lower the effort needed to turn the wheel at low speed, and rear parking sensors are standard.
Spare wheel
Space saver spare wheel supplied as standard (hatchback only).
Range information
Petrol engine options – 1.6-litre (84bhp, 104bhp, 123bhp); 1.0-litre turbo (99bhp, 123bhp); 1.5-litre turbo (148bhp, 179bhp); 2.0 turbo (247bhp). Diesel engine options – 1.5-litre (94bhp, 118bhp); 1.6-litre (94bhp, 113bhp); 2.0-litre (148bhp). Transmission options: five and six-speed manual gearbox depending on model, plus auto gearbox (1.6-litre 123bhp petrol and 2.0-litre diesel only). Trim levels: Studio, Style, Zetec, Zetec S, Titanium, Titanium X, ST, ST-2, ST-3.