Ford Focus Coupe-Cabriolet 3 2.0 Duratorq Review
Genuine four-seater rather than a 2+2
October 2006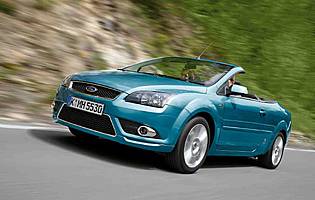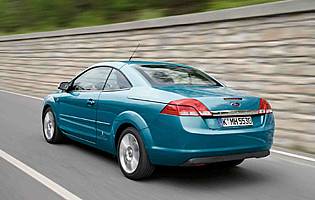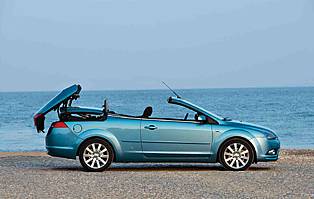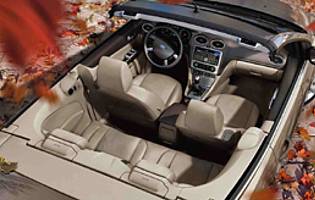 Overall rating

Likes:
Genuine four-seater rather than a 2+2
Saddle leather trim is suitably sumptuous
Relatively cheap to run
Cabin has the durable feel necessary for cabrios
Gripes:
Hard to justify paying so much for a Focus
Big rear deck and extra badging spoil looks
Petrol engines seriously underpowered
Cumbersome wind deflector is annoying but necessary
Until the launch of the Focus Coupe-Cabriolet, Ford has only offered one convertible model in recent years, the diminutive StreetKa, which is fun but not exactly technically advanced. Meanwhile the likes of Peugeot, Renault and archrival Vauxhall have been racking up substantial sales of their folding hardtop models. Hence the CC, an attempt to belatedly muscle into this booming sector.
At first glance the Ford Focus Coupe-Cabriolet looks a bit awkward with what looks like an oversized rump. While most cars in this class display some sort of stylistic compromise in order to accommodate the necessary machinery for a folding hardtop, that initial awkwardness is also down to the fact that we haven't seen a proper Ford convertible for a long time.
Once the eye starts to familiarise itself, the Focus CC looks a little more attractive. With the hood down there's even something of the BMW 3 Series about the rear light clusters, which are completely different to other Focus models for the simple fact that there are no rear pillars in which to house them. Instead, low-slung horizontal overlapping lights appear, yoked together by an unnecessary chrome strip.
The front treatment is more effective. It's strongly reminiscent of the good-looking Volvo C70 with which the Focus also shares mechanical components, giving it a touch of class. It should be noted that the Ford's folding roof isn't the same as the Volvo's, though Pininfarina of Italy makes both. Luggage space is excellent with the roof up and reasonable with it down, though a mesh screen needs to be drawn into place in the boot before the roof can be operated.
There are two petrol engines and one diesel, of which the diesel is the most satisfying by some margin because it copes better with the extra weight the Focus CC carries compared to the fixed hardtop models. It's much quicker off the mark and holds its revs in a more convincing manner. Petrol units need to be worked too hard for enjoyable progress. Like its main rivals, the Focus CC lacks the nimble agility of a roadster or the effortless grace of something like the Audi A4 Cabriolet.
Our verdict on the Ford Focus Coupe-Cabriolet 3 2.0 Duratorq
The Focus CC tries just a little too hard. The extra chrome badging on the back and sides actually spoils the flow of the car's lines, and the dependability of the folding roof mechanism remains to be proven. But think of the Focus CC as a bargain priced C70 rather than an expensive Focus and it becomes a fairly attractive proposition.
Costs
As an ownership proposition the Ford Focus CC is a fairly solid choice. The oily bits are the same as the regular Focus, so servicing and repair work should be cheap. Insurance isn't bad for a convertible and provided the interior is cared for and the roof works properly, buyers should have few problems selling their cars on when the time comes.
Space and practicality
The Focus CC scores highly for rear passenger space. The rear seats are genuinely useable and four adults can be accommodated in relative comfort. Feet may need to be tucked under the front seats but there is ample shoulder and headroom, even with the roof in place.
Controls and display
Ford's interiors have improved markedly in recent years and the Focus CC continues the trend, being of better quality than its French rivals. Most materials have a pleasantly weighty feel to them and the CC even has some unique contrasting colour schemes that work well, most notable the unlikely sounding combination of Iris and Camel.
Comfort
A large wind deflector that clips behind the front seats is a cost option but necessary if you reach more than city centre speeds. Venture into an A-road without one and you'll receive a noisy buffeting. Seats are generously proportioned with only rear legroom in short supply.
Car security
The retractable hardtop provides reassuring security when leaving the car unattended and operating as it does in under 30 seconds, you don't need to hang around too long for it. All models have a Thatcham category 1 alarm system fitted.
Car safety
Importantly, all models get a Rollover Protection Device (RPD) that fires protective struts from behind the rear seats in the unlikely event of a rollover. There's the full array of airbags and driver aids – though traction control and emergency braking must be paid for even on the CC-3.
Driver appeal
Both petrol engines feel underpowered, the 1.6-litre version seriously so. As its name suggests, the Duratorq diesel is a far better choice with plenty of pulling power and even more comfortable cruising. Steering is nicely weighted but apart from that the driving experience lacks the directness of the standard Focus and certainly can't emulate the fun to be had from the Focus ST despite sharing the same modified chassis. It's as rigid as the Mark I Focus hatch.
Family car appeal
With the excellent seven-seat Ford S-Max retailing for about the same price as the Focus CC, it really is a no-brainer to choose the larger vehicle. Isofix mounting points are provided for the rear seats, though it is impossible to use them and the wind deflector at the same time.
First car appeal
This middle of the road cabriolet is unlikely to be on many first-timers' wish lists. A Ka, Fiesta or Focus would be far better options.
Quality and image
CC-3 models pass muster as classy cabrios if you're prepared to shell out for the very nice saddle leather upholstery. Having design input from Pininfarina helps add a touch of elegance, but a second-hand Audi A4 for similar money is still a more upmarket proposition.
Accessibility
Seats are 20mm lower than in the standard Focus and of course front seats need to be folded forward to allow access to the rear seats. This can be accomplished with one hand and though rear passengers are likely to find their feet tucked underneath the front seats, they have plenty of elbowroom.
Stereo and ICE (In car entertainment)
The standard CD player gets better as you progress up the range. Entry-level cars get a single-slot unit, mid-range CC-2 cars iPod compatibility and CC-3 models get an impressive 6CD autochanger. Satellite navigation and Bluetooth compatibility are cost options in all models.
Colours and trim
Inside, the Focus CC is a pretty classy affair. The saddle leather used in range-topping models is genuinely luxurious, though cheaper versions readily display where the money has been saved. But the vast improvement Ford has made with its interior fit and finish in recent years is thankfully carried through into the Focus CC's controls and dials.
Parking
A park assist system is available but it's a cost option even on top of the range models. Given the size of the rear deck which would grace many an ocean liner, it would be a worthwhile investment. The turning circle is well over 10 metres but better than most rivals.
Spare wheel
Space saver fitted as standard.
Range information
Three engine options – 2.0-litre (135bhp) Duratorq diesel; 1.6-litre (100bhp) Duratec petrol and 2.0-litre (144bhp) Duratec petrol. Five- or six-speed manual gearbox according to engine choice. Trim designators are CC-1, CC-2 and CC-3.