May 2004
Fiat Stilo 1.9 JTD 115 Dynamic 5dr
Fiat's revised Stilo can't quite match the abilities of its main rivals
May 2004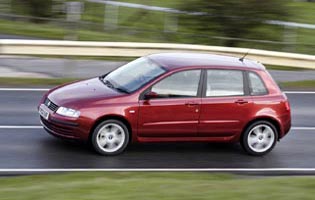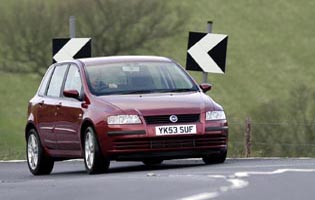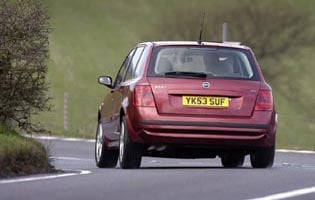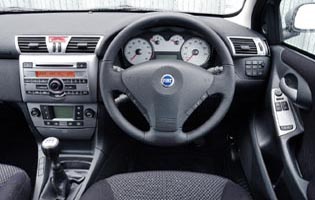 Overall rating

Likes:
1.9 JTD diesel is a super engine
Ability to personalise car's settings
Safety equipment among best in class
Reclining rear seats a novel feature
Gripes:
Overly complex electronics expensive to put right
Connect Nav+ system of limited utility
Low demand means resale values likely to be poor
Driving dynamics slightly behind most rivals
The Stilo is Fiat's attempt to take on the volume sellers of the European mainstream such as the Volkswagen Golf, Vauxhall Astra and Ford Focus and beat them at their own game. Turning away from the cheap and cheerful charms of its smaller cars, Fiat threw a whole raft of new technologies and new construction methods at the Stilo.
On the whole, Fiat's attempt to prove it can make such a high-quality contender is a successful one. Even though it fails to match its rivals in sales terms and suspicions have surfaced that the Stilo strategy may be something of a blind alley for the company as a whole, that shouldn't stop the car being judged on its own considerable merits.
It is important to consider three-door and five-door variants separately, as they exhibit surprisingly different characteristics. Three door models look better, ride lower and are more rewarding to drive. Five-door variants exhibit a bias towards comfort that borders on softness but are more practical and family-friendly. There are even different external proportions, as the 5-door is narrower but taller and longer. Interior treatments also vary considerably according to which body style is opted for. A Multi Wagon estate is also available.
On the road the Stilo is easy to pilot even though its width can make accurate road positioning tricky. Happily, Fiat's handy 'City' button is included, which immediately makes the steering feather-light for quick and accurate parking manoeuvres. Optional Selespeed automatic transmission is still not the slickest shifter around so the conventional five-speed manual transmission is a reliable alternative.
Our verdict on the Fiat Stilo 1.9 JTD 115 Dynamic 5dr
The Stilo is not a bad car, but nor is it the exceptional offering that Fiat hoped it would be. It is competitive and worth exploring as a possible purchase, but in this most competitive of all market sectors, only an outstandingly good deal is likely to swing a decision in the Stilo's favour.
Costs
Diesel models run ahead of other Stilos for cost-cutting prowess, simply because they return such incredibly good fuel economy. They are also likely to be easier to sell on as Fiat's JTD engines have such a good reputation. List prices should be treated with disdain even after Fiat cut prices to stimulate demand. The fact remains that not many Stilos are being sold, so a dealer should be prepared to offer some serious incentives to gain your signature on an order form. Some questions have been raised about the reliability of the Stilo's electrical systems but unless a specific fault develops, these cars should be fairly cheap to run. Insurance costs should be lower than average for this sector.
Space and practicality
Rear seats are independently split 60:40 and fold completely flat and in five-door models they can also recline by up to 30 degrees to give an impression of travelling club class in an airliner. A separately opening tailgate window feature is available on Dynamic models. No fewer than 17 cubbyholes and storage bins are scattered around the cabin and the front passenger seat usefully folds into a table for the benefit of rear passengers.
Controls and display
In keeping with its futuristic mien, the Stilo features monochromatic multifunction LCD instrumentation. Though unorthodox it quickly becomes easy to read, though the multifunction remote control takes a good deal of time to master. An interesting innovation is the speed limit warning buzzer which can be configured as part of the My Car system. It could prove a particularly useful feature for learners or newly-qualified drivers.
Comfort
A height-adjustable driver's seat allied to extensive reach and rake adjustment of the steering wheel makes it easy to settle into a comfortable driving position, particularly in the five-door with its MPV-like arrangement of seats. There is plenty of room in all directions and the cabin area has been well thought out - for instance rear seat passengers can improve their legroom by placing their feet under the front seats, airline-style. Rear seats also recline, an unusual and comfort-enhancing feature. Seats are much more substantial than traditional Fiat fare and offer good support, though only time will tell how well they wear. Only the awkward positioning of some controls holds the Stilo's comfort rating back
Car security
Central locking with deadlocks (including the fuel filler) is fitted as standard on all Stilo models, as is a rolling code immobiliser. But sadly, that's where the free kit ends. Buyers who want an alarm system will have to pay extra (even on range-topping models) which is disappointing given the number of electronic gadgets already aboard.
Car safety
Up to six airbags can be fitted, though entry-level models feature fewer. However, all come with two front side airbags and front airbags. Full-length window airbags are optional extras. Also worthy of mention is the Smart 2 control system which monitors signals from sensors around the car and 'prepares' it for a crash situation. Seats feature ISOFIX attachments. The central locking system can be customised via the My Car control panel. For example, the car can be programmed to deactivate the driver door lock before the passenger locks to prevent passengers piling out into oncoming traffic.
Driver appeal
With their comfort-focused agenda, a five-door Stilo offers a smooth ride. It verges on the 'wafty' but has the virtue of soaking up potholes and poor road surfaces effectively. The flipside is that driver input can feel indirect with precious little feedback. Once again, the parallel with an MPV is apposite. Smaller petrol engines need some encouragement to shift this hefty vehicle, though thankfully the ridiculously underpowered 1.2-litre petrol engine has been dropped from the line-up. Three-door Stilos are more direct and generally sharper, partly as a result of their shorter, wider stance. Performance is better than might be expected with swift acceleration. Diesel models offer impressive fuel economy.
Family car appeal
Five-door models are vastly more appropriate for family use then three-door models and indeed could make very respectable vehicles for a young family. A Stilo could also see service as a second car if perhaps one parent is forced to drive an executive saloon during the week.
First car appeal
The Panda and Punto are far more likely contenders for the attentions of first car buyers. Apart from being too large, the Stilo is rather neutral-feeling. It possesses none of the character of, say, a Cinquecento or Multipla. Automotive 'newbies' generally demand bags of personality to make up for the lack of creature comforts they can afford - witness the rise of the Clio and Saxo as first cars.
Quality and image
Fiat is still more readily associated with cheap city runabouts such as the Punto and Panda in the public's mind. As such, the Stilo's claims to semi-premium status are not convincing. Realistically, it is unlikely that anyone in a position to buy a Volkswagen Golf or Audi A3 will be tempted by a Stilo instead. Still, the fact that a Stilo is much less common a sight than a Focus or Peugeot 307 sets it apart from the crowd and makes it a more individual choice.
Accessibility
As it is taller than most cars in its class, the Stilo is very easy to get into and out of. It feels more like getting into a modern compact MPV such as a Renault Scenic than a conventional supermini, a trait that could well endear it to elderly or disabled motorists. The ability to slide and recline the rear seats to alter the dimensions of the rear load area is extremely useful, and the front passenger seat adds further MPV-like functionality as it can be converted into an impromptu picnic table or workstation. Three-door models have fewer of these welcome features but still boast good overall space. Only the Multi Wagon estate offers a separately opening tailgate window.
Stereo and ICE (In car entertainment)
Entry-level Active cars get a disappointing radio with cassette player. A single slot CD should be the bare minimum for any maker with serious designs on mass-market sales, so it is a relief that the core Dynamic models do gain a six speaker CD system. Those with a need for some serious sounds can opt to fit a 260W eight-speaker system and glovebox 5-disc CD changer. A further option is the Connect Nav+ system. Though technically impressive, the ability to phone up an operator to book a hotel, recommend a restaurant or give you directions is not worth the outlay involved.
Colours and trim
Cheaper variants are far less impressive than the more august ones and tend to show more questionable build quality and choice of materials. Towards the top end of the range, the Stilo begins to feel genuinely impressive but the contrast with entry-level versions is too marked to sit comfortably. As far as exterior colours are concerned, the Stilo's futuristic styling seems to suit metallic colours rather than pearlescent finishes.
Parking
Pressing the City button on the dash adjusts the amount of assistance given to the Stilo's power steering, making it exceptionally light. As a result, the Stilo is among the easiest cars in its class to park. Optional parking sensors aren't really necessary once the driver is accustomed to the Stilo's fairly unconventional dimensions (it seems much wider than a regular supermini even though it isn't). Unusually, three-door models are marginally trickier to park owing to their more muscular flanks and lower seating position.
Spare wheel
Standard equipment is a space saver spare wheel on all models other than Active and Active AirCon, which have a full-size steel wheel. A full size spare alloy wheel is a cost option.
Range information
Three-door versions are available in six trim levels: Active, Active AirCon, Active Sport, Dynamic, Abarth and Abarth Selespeed. Five-door Stilos are available in five trim levels: Active, Active AirCon, Prestigio and Prestigio Selespeed. Engines comprise petrol units of 1.4 (95bhp), 1.6 (103bhp), 1.8 (133bhp) and 2.4-litres (170bhp) plus a 1.9-litre JTD common rail turbodiesel (115).
Alternative cars
Volkswagen Golf the car the Stilo evidently aspires to be
Vauxhall Astra  fun to drive and daringly styled
Ford Focus ubiquitous sight but still a good all-rounder
Toyota Corolla blander styling but unimpeachable reliability