April 2006
Fiat Sedici 1.6 Eleganza
Chunky-looking Sedici is equally at home on muddy ground
April 2006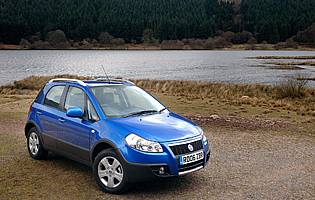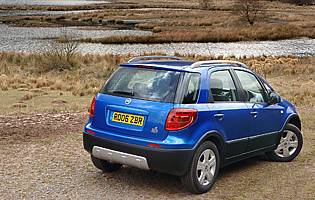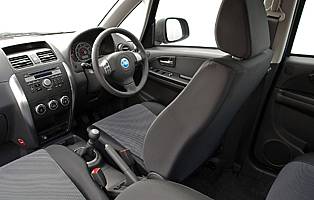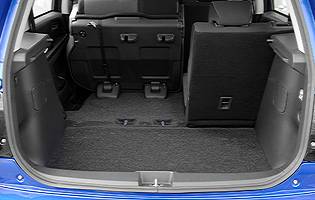 Overall rating

Likes:
Good on-road ride backed up by feeling of stability off road
Lofty driving position makes the Sedici feel more like a mini-MPV
Spacious cabin makes car ideal for a growing family
All-wheel drive technology works well and Sedici is surprisingly talented off road
Gripes:
Cabin plastics feel hard and hollow to the touch
1.6 petrol engine feels harsh and sounds loud when asked to work hard
Rocker switch for the different transmission modes is placed down by the handbrake
Yet another small Fiat - there's potential for model overlap and buyers could get confused
Another day, another compact lifestyle 'soft-roader' vehicle. However, unlike so many, Fiat's Sedici is not all talk. The tall car with the lofty driving position boasts a clever part-time four-wheel drive system that actually works. The car might be a joint venture with Suzuki, but the Fiat variant presents plenty of styling cues that are unique to the Italian car maker.
After a few years in the wilderness, Fiat is starting to offer a range of well thought out small cars. The small hatch is a car the Italian company is synonymous with - it's a model that helped to make the firm what it is today.
Following in the footsteps of the Panda and Grande Punto, the Sedici is another Fiat punching above its weight. This time it's something offering more than just jaunty looks, an attractive sticker price and practical cabin.
The Sedici's off-roader looks are, for once, no con - the car really has been designed to tackle the slippery stuff. Granted it's no Land Rover, but the trick powertrain boasts a switchable all-wheel drive system. Selected in the cabin via a rocker switch, you can opt for front-wheel, part time four wheel or permanent all wheel drive.
All this wouldn't be possible without some help, and Fiat joined up with Suzuki for the project - its car is called the SX4. The good news is that the four-wheel drive system works well, and the car will take not so modest slippery slopes in its stride. Of course with the target buyer being urban mums the car will rarely be stretched, but it's good to know it can do it.
Our verdict on the Fiat Sedici 1.6 Eleganza
Although famous for producing small cars, Fiat has felt the need to diversify in recent years. Some projects haven't quite hit the target, but the Sedici is a good example of lateral thinking from the Italian firm. Partnering with Suzuki has led to the inclusion of a proper four-wheel drive system, while the 'urban off-roader' styling means it should appeal to both city types and more adventurous buyers. There are a few rough edges, but to complain too loudly would be to miss the point about the Sedici and its position in the market.
Costs
Considering what the Sedici offers - all -wheel drive, spacious cabin, proven mechanicals, raised driving position - it's pretty good value for money. Running costs should also be good, as the car is based on proven mechanicals, while insurance and fuel bills should be equally low. Being an unconventional car in a fashionable market sector, only the Sedici's long-term residuals remain uncertain. If it proves popular, they could remain buoyant for a long time - which will be good news for owners.
Space and practicality
The Sedici's light and airy cabin should easily accommodate a small family, and there are enough oddment storage areas to keep loose change, mobile phones and the odd drinks can. At the rear, the back seats boast a 60/40 split and fold flat to liberate extra bootspace. The boot itself is a good size, but there is a small load lip to negotiate when removing heavy items. At least the car's seat fabrics appear hardwearing - a feature that should bring a smile to every parent.
Controls and display
The Sedici's cabin is a simple one, and this is reflected in the car's instruments. The main dials are large and clear, while the fascia controls are well spaced out and simper to use - especially the rotary ventilation controls. The standard audio unit is a little fiddly at first acquaintance though, and the rocker switch to select two or four wheel drive is tucked away near the handbrake.
Comfort
The car's seats are firm but largely supportive. The only gripe is a lack of lateral support when cornering at speed - not something you're likely to do every day, though. During normal driving conditions only a little engine and road noise enters the cabin, although the former increases substantially when you make the 1.6 petrol engine work hard. Being a tall car, there's plenty of headroom in the cabin, plus good levels of legroom.
Car security
While not a high-value car in real terms, it's good to see the Sedici fitted with remote central locking and an immobiliser as standard. While highly visible, the car's audio unit is a unique fit and a theft deterrent in its own right. You might want to add an even more visible warning, such as a steering lock, for good measure.
Car safety
Twin front and side airbags come as standard on the Sedici, but you'll have to pay extra for window (curtain) airbags and electronic stability control. Alas, buyers of the car in Dynamic trim will be denied this option. At least all cars get anti-lock brakes plus electronic brakeforce distribution and Isofix seat mountings in the rear. And don't forget the four-wheel drive system which, when left in auto mode, could prove invaluable on slippery or wet roads.
Driver appeal
When treated as a family runabout, the Sedici acquits itself well to the various hazards that form part of urban living. Ride comfort is good and road imperfections are dealt with efficiently, while the car's steering is light enough so as not to make parking a chore. At motorway speeds the car does a good job but no more - it's not really built for speed. Investigate its off-roading skills and you will be impressed, though. A rocker switch in the cabin controls the modes (two-wheel drive, auto and permanent four-wheel drive) and the Sedici copes surprisingly well with gentle muddy slopes and loose surfaces. If you regularly partake in outdoor activities, this feature could prove a deal-clincher.
Family car appeal
Although not being marketed as a direct competitor to the likes of conventional family hatchbacks and compact people carriers, the Sedici does offer useful attributes from both sectors. For its size, the Fiat offers a spacious and practical cabin, enough room for children in the back and an accommodating rear loadspace. It should also be economical to run - especially in diesel-powered trim
First car appeal
There's no reason why the Sedici shouldn't be considered as a first car. It's easy to drive, isn't particularly fast or intimidating and boasts good levels of visibility thanks to its raised driving position. It's practical too, and should prove economical to run.
Quality and image
Fiat has undergone something of a transformation in recent years. Conservative styling and creaky reliability has been banished in favour of better developed cars boasting attractive styling and better than average value for money. The Stilo might have stumbled a little, but the firm's Panda, Grande Punto and Sedici prove that Fiat has rediscovered the art of making competent cars. The Sedici is a good effort and unusual in equal measure, but it's a shame that the cabin is let down by hard and hollow-sounding plastics.
Accessibility
Although boasting a lofty driving position, the Sedici's cabin isn't difficult to access. Doors (both fore and aft) open wide to help make access easier. There's a slight step up into the cabin, but it's no greater than in a regular compact people carrier of suburban off-roader. At the rear, the Sedici's tailgate requires little effort to raise or lower, and the load lip is at a sensible height.
Stereo and ICE (In car entertainment)
The standard set-up includes a good sounding four-speaker radio and single CD system. The unit is mounted high up on the Sedici's fascia, which helps matters when you're using its admittedly small and sometimes fiddly controls. Eleganza models gain useful steering wheel mounted controls, and can be specified with and an in-dash CD changer and even a sat-nav system.
Colours and trim
Bold, bright exterior colours work best, as they help to highlight the car's youthful appeal and contrast well with its black 'bash-proof' bumpers and rubbing strips. Inside it's a little more sensible, with dark plastic the dominant feature. The seats look hardwearing though, which fits well with the Sedici's proposed family role.
Parking
A modest car by modern standards, parking the Sedici shouldn't pose any real problems. The lofty driving position assists fore and aft visibility, while the car's steering is pleasingly light at low speeds. Parking sensors aren't an option, but that shouldn't put you off.
Spare wheel
Space saver fitted as standard.
Range information
Engine options - 1.6-litre (107bhp) petrol; 1.9-litre (120bhp) diesel. Former fitted with five-speed manual gearbox, latter with six-speed manual gearbox. Both come with part time four-wheel drive - activated via a switch in the cabin. Trim levels: Dynamic, Eleganza.
Alternative cars
Suzuki SX4 Same car mechanically and no less stylish
Daihatsu Terios Latest generation car is a bigger, more rounded performer
Ford Fusion Not all-wheel drive but has similar lifestyle leanings and lofty driving position
Renault Kangoo Trekka Larger vehicle but also boasts all-wheel drive and a spacious cabin