October 2007
Fiat Grande Punto 1.4 T-Jet 120 Sporting 3dr
Distinctive looks are courtesy of Giugiaro design house
October 2007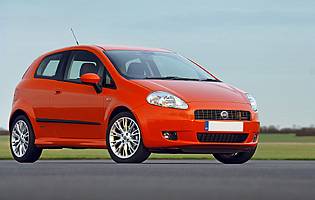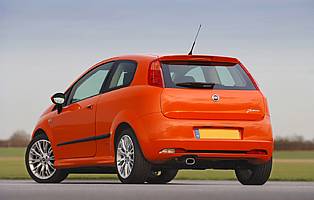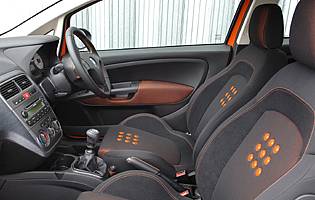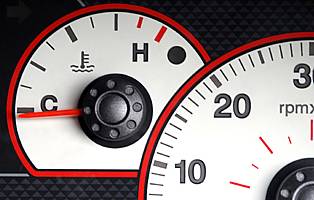 Overall rating

Likes:
Funky interior styling
Quality stereo and phone-pairing system
1.4-litre petrol is remarkably potent
Long body makes it quite spacious
Gripes:
Noisy once it picks up speed
A-pillars obstruct peripheral vision
Access to rear seats limited in three-door
Long body makes it less agile than genuine city cars around town
Fiat is something of a specialist in compact cars with flair and, following the Europe-wide success of the previous generation Punto's, the company has once again turned to Italian design house Giugiaro to style the current model. It's also been renamed Grande Punto in keeping with its bigger dimensions. Similar attention has been paid to the range of powerful but economical engines.
The re-emergence of the Panda and 500 models has meant Fiat's Punto has had to grow up quickly, or get lost somewhere in between its smaller siblings and Fiat's larger family models. Wisely, the Italian manufacturer opted to market the new model under the title Grande Punto, a name that doesn't require a vast knowledge of Italian to decipher.
It's more than simply a marketing gimmick however; the Punto really is a contender for the largest car in its class. At over four metres long, the rear passengers are the chief beneficiaries. The model's size actually means that it straddles two classes of car; compact hatches like Fiat's own Panda or the Ford Fiesta and larger family hatches such as the Volkswagen Golf or Ford Focus. For the most part, the Grande Punto manages to adopt the positive traits of the two categories.
The model has grown up in terms of styling as well as size. Gone are the cute looks of the previous face-lifted second-generation model, and in their place is a tailored suit straight out of Giugiaro's finest collection. Inside the Grande Punto is vibrant and stylish, clearly designed to appeal to the young and young at heart. The model range is split neatly into models designed for comfort and models designed for sporty driving. There is the potential for limited crossover though and all of the models are generously specced as standard.
Fiat has a decent range of petrol and diesel engines to call on offering a range of performance. Even the more powerful petrol units have a limited thirst thanks to intelligent engineering and, in the case of the 1.4 T-Jet 120 Sporting, the use of a small capacity turbocharged unit.
Our verdict on the Fiat Grande Punto 1.4 T-Jet 120 Sporting 3dr
Handsomely styled and extremely charismatic, it's hard not to be won over by the Grande Punto's continental charms. The Sporting model is particularly well-equipped and makes an enticing alternative to smaller city cars with less space and presence and larger family hatches that are less at home in and around town. Small engines that punch above their weight are another big bonus.
Costs
Despite its turbocharged sports status, the Grande Punto 1.4 T-Jet 120 Sporting is on the receiving end of a delightfully low insurance grouping. Excellent fuel economy will also save owners money and although it's among the most expensive Grande Punto models to purchase, the model comes with enough equipment to make it respectable value for money.
Space and practicality
Its long body makes the Grande Punto deceptively room, and although there hasn't been much emphasis on exploiting the interior size it does give an impression of roominess when inside. The majority of the room has been given over to rear legroom, so the boot is decent size but not spectacular. It also has a high lip so items need to be lowered rather than slid in. The rear bench splits 60/40 for additional luggage space.
Controls and display
The Sporting gets funky white dials with billet needle bases to match its bobbled interior and that makes them particularly easy to read. There's also a comprehensive trip computer included. The voice activation software takes the stress out of controlling the sound system, although wheel and centre mounted controls are easily negotiated and the pedals are light without being fluffy. The column stalks and gear change feel sturdy, which is appreciated when you're stretching the car's legs.
Comfort
The sporty seats of the Sporting models are extremely comfortable and the driving position can be tweaked at will thanks to fully adjustable seats and steering. The rear sears are also sculpted to provide plenty of support and air-con is standard on the Sporting version. The driver's footrest is in a slightly awkward position and doesn't allow you to stretch your leg out properly, so it takes a short time to get truly comfortable behind the wheel.
Car security
As you'd expect the Grande Punto comes with remote central locking and an immobiliser as standard but, apart from the boot door that can only be opened from inside the car and covered storage between the front seats, there's little more in terms of security.
Car safety
There's little doubting Fiat's commitment to safety in the Grande Punto, with ABS and EBD as well as a full electronic stability control programme. The Sporting model also gets Hill Holder, which prevents the car rolling back on hill starts - a little over the top in a three-door hatchback perhaps but useful all the same. Designed from scratch to have an energy absorbing Dualphase shell and with six-airbags, the Punto also stands up particularly well in crash testing.
Driver appeal
The Sporting is clearly the most appealing of the range to drive with any enthusiasm and it responds well to a vigorous workout thanks to stiffer suspension, weighty steering and the keenness of the punchy, turbocharged 1.4-litre engine. While it doesn't feel as stiff as a more finely tuned performance hatch it's sprightly enough for an enjoyable squirt every once in while. Unfortunately the twin A-pillar assembly creates a frustrating blind spot on both sides.
Family car appeal
The three-door might prove a little too impractical for families, but the five-door would certainly give good service as a smart but affordable family car. Kids might struggle to see out of the rear windows however, due to the extremely steep window line.
First car appeal
The Grande Punto's appealing design, low running costs and sporty but sensible performance make it an ideal choice for a first new car purchase. Ironically, some of the main competition also comes from Fiat in the shape of the uber-sensible Panda and uber-funky 500. The Punto, although a little more expensive, is an excellent blend of the finer characteristics of the two.
Quality and image
With its feisty, funky styling the Grande Punto has a refreshing and youthful image and looks good in or out of an urban environment. The build quality is sound, although a little extra sound deadening wouldn't go amiss at speed. Inside, the Grande Punto features fine fit and finish and the materials inside the Sporting are noticeably pleasant to the touch.
Accessibility
Access to the rear of the three door can be tricky, and those with larger frames or wider hips might struggle to squeeze pas the front seats on the way back out. The doors are heavyweight which, although offering peace of mind, makes it necessary to put your shoulder into the opening effort if parked on a slope.
Stereo and ICE (In car entertainment)
Featuring a Windows designed system called Blue and Me, the Grande Punto Sporting is a class above when it comes to Bluetooth mobile phone and MP3 player operation. The voice recognition software allows the driver to operate up to five mobile phones and MP3 players can be uplinked through USB and operated through controls integrated into the steering wheel. It's a neat system that's remarkably simple to use and the voice recognition is excellent, allowing you to reel off phone numbers as fast as you like.
Colours and trim
The Grande Punto is as youth-orientated as they come, so it's no surprise that there's a varied palette of exterior colours to choose from - with the available shades depending on the model. The same can be said of the interior, but the Sporting models get the option of leather and sports seats with funky plastic bobbles in grey or orange. Sporting models also get 17-inch alloys, chrome pipes, side skirts and a rear spoiler plus body coloured mirrors to make them a little more distinctive.
Parking
Don't kid yourself when it comes to tiny city parking spaces, the Punto won't squeeze into them like a genuine city car as it's quite long. Rear visibility is adequate, although the rising window line makes for small rear and side windows. The Grande Punto's party piece is a dash-mounted button that lightens the steering for city driving and parking which works very well. You'll only find reversing sensors as standard on the Eleganza model.
Spare wheel
Puncture repair kit as standard on Sporting and Eleganza models. Others feature full size spare.
Range information
Petrol engine options - 1.2-litre (55bhp); 1.4-litre (77bhp); 1.4-litre (95bhp); 1.4-litre (120bhp). Diesel engine options - 1.3-litre (75bhp); 1.9-litre (130bhp). Transmission options: five-speed manual gearbox, six-speed manual gearbox (1.9 Sporting only), Dualogic five-speed clutchless manual (1.4-litre 77bhp only). Trim levels: Active, Active Aircon, Dynamic, Eleganza, Active Sport, Dynamic Sport, Sporting.
Alternative cars
Volkswagen Golf Well built and with plenty of engine choices
Renault Clio Neat package but lacks the Punto's flair
Vauxhall Corsa Smaller, but with similarly punchy small engines
Peugeot 308 Equally charming continental styling