December 2004
Fiat Doblo 1.9 JTD Family
Large wing mirrors instantly distinguish the Fiat Doblo
December 2004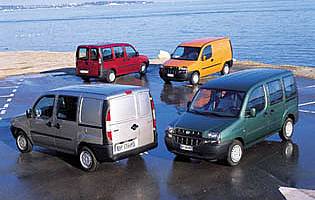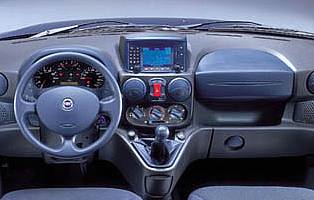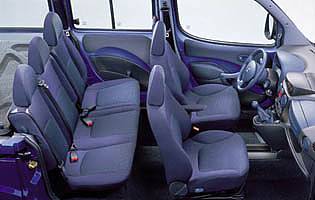 Overall rating

Likes:
Chunky styling is quite endearing
Minimal running costs
Unrivalled load space
Simple and inoffensive to drive
Gripes:
Weak petrol engine a disappointing performer
Looks little different to van version
Not cheap enough to be a genuine bargain
Cabin noisy at motorway speeds
Operating in the same value for money sector of the market as the Peugeot Partner and Renault Kangoo, among others, the Fiat Doblo is another utilitarian people carrying load lugger with similar strengths and weaknesses.
In its favour the Doblo is cheap, honest, reliable and extremely spacious. However, one look at its decidedly chunky styling and minimal specification is enough to send many potential purchasers scurrying into the reassuring arms of more conventional MPVs.
But for those with more backbone and less cash to spend, the Doblo and its ilk make a sensible alternative choice. There's no fear that you're paying for a fashion fad and its jack-of-all-trades abilities mean that it can turn its hand to heavy duties one moment and family transport the next. For a fully-laden family holiday or an ambitious booze cruise across the Channel, there can be few better options. It makes a viable choice as a working vehicle during the week and a family car at weekends, too.
Driving the Doblo is a painless if rather uninspiring experience. A good seating position and super-sized wing mirrors create great visibility. At low to medium speeds, the Doblo is quite 'chuckable' and excels in suburban conditions. It's less at home on the motorway, where it is noisy and susceptible to strong cross winds.
The interior is rudimentary. Seats do their job and nothing else - you can forget about the clever ones that turn into benches and fold every which way in Fiat's other people carriers, the Ulysse and Multipla. A Doblo has prestige vehicular status only with people who don't believe in prestige vehicles and want to prove that four wheels and plenty of seats are all that is really required.
Our verdict on the Fiat Doblo 1.9 JTD Family
Though too crude for some tastes, anyone looking for roomy, basic transport should give the Doblo at least a passing thought. If the standard specification was a little more impressive, it would be a lot more attractive.
Costs
Cost is likely to be the main motivating factor for anyone considering a Doblo. Family-badged models represent the cheapest way there is of providing seven reasonably-sized seats and decent luggage space. Both diesel engines are extremely economical and one of the added benefits of choosing a van-derived vehicle is that reliability is usually a given. Should any remedial work be required, it is likely to be far cheaper than on a more renowned seven-seat MPV.
Space and practicality
The Doblo's greatest asset is nothingness. That is, the huge amount of empty interior space it offers, which you will be tempted to fill at every available opportunity. For once, the 'class leading' status it claims appears to be justified. With the added convenience of side sliding doors and a low, flat, broad loadspace, enormous loads can be swallowed at a single gulp. If you do load up regularly though, the torquey 1.9 engine is essential.
Controls and display
Again, utility is to the fore, though some effort has been made to provide a modern-looking layout. Dials and displays are clear but crudely illuminated at night. Switchgear feels cheap and you don't have to look too hard to discover exposed screw heads and rough edges to some of the plastics. On the other hand, who wants to pay hundreds of pounds extra for cosmetic elements that have no functional superiority at all? The gearstick positioning is excellent, too.
Comfort
Seats are firm, but tend to anaesthetise the nether regions on longer journeys. They should stand up well everyday to wear and tear and are simple to manipulate even if they lack the clever combinations possible with some of Fiat's other MPVs such as the Multipla and Ulysse. Wind and road noise can be annoying on the motorway, and the JTD diesel is loud at start-up. It soon quietens once it's warmed up, though.
Car security
The standard security package is minimal, comprising remote control central door locking, immobiliser and little else. Thieves are more likely to be interested in a smash and grab through the window than a driveaway robbery, so it's important not to leave valuables on display. However, the Doblo lacks suitable hidden storage compartments.
Car safety
It could be worse, but it could be better. Van-based vehicles often feel vulnerable, if only because their body shells are more obviously exposed. The Doblo is no exception, though this is probably a matter more of perception than reality. Driver and passenger airbags are standard issue. Disappointingly, Family models lack the side front airbags that Dynamic models have. By way of partial redress every Doblo has ABS with EBD. With a heavy load or a full complement of passengers, it's good to know it's there.
Driver appeal
Though it's hardly a sports coupe, the Doblo makes progress in a no-nonsense fashion with the 1.9 JTD engine aboard. Sadly, the 1.2 petrol unit is far too puny to cope with anything resembling even a half load. The 1.3 Multijet is best for light use and exceptionally economical, but to make best use of the Doblo's vast carrying capacity, the 1.9 is essential. Ride is a little crashy and steering a tad imprecise, but the Doblo is never a chore to pilot.
Family car appeal
As the Family badge suggests, the seven-seater versions are the best for family use, as there's plenty of available space to cart half a dozen little terrors to their latest birthday party or five-a-side football match. Indeed, unless they are careful, Doblo owners could regularly find their vehicles requisitioned by local sports teams, scout groups and neighbours in need of supplies from the builder's merchant.
First car appeal
Despite its cheap purchase price, few first-time buyers are likely to be tempted by the Doblo's gawky charms which completely lack street cred. That's a shame, as a van-driving apprenticeship is a good way of learning roadcraft and the seven-seater would guarantee the owner an immediate circle of close friends - particularly at chucking out time on Friday and Saturday nights.
Quality and image
A vehicle that is essentially a Fiat van is never going to impress anyone, but with fewer Doblos on the road than Berlingos and Partners, at least it is a little different. In any case, buyers are likely to be phlegmatic types who couldn't care what others think. They just want a vehicle that'll do the business and that's exactly what they get.
Accessibility
Sliding side doors like the Doblo's are always a boon. Combined with a low floor, high roof and uncluttered interior, the Doblo is exceptionally easy to enter and exit. Only the driver is hampered - by the handbrake positioned on the outside of the seat.
Stereo and ICE (In car entertainment)
Active and Family models get a cassette radio. Dynamic models enter the twenty-first century with a CD player. Rather optimistically, Fiat's expensive hi-tech Connect Nav infotainment system is also offered, though few Doblo buyers are likely to find it a cost-effective option. The car's high sides and big boot don't deliver great sound quality and the stereo needs to be turned up louder than is comfortable to drown out road and wind noise.
Colours and trim
Even by the Spartan standards of the van conversion market, the entry-level Active model is minimally equipped with little more than the extra seats and glazing setting it apart from the commercial version. Dynamic models are better appointed, with body coloured bumpers and a CD player thrown in. Glazed rear doors are optional on all models. Without them, the Doblo continues to feel like a van. Rival models are more generously laden. White and red are best avoided as exterior colours unless you want to be mistaken for an ambulance or postman.
Parking
Enormous wing mirrors are the prime aid when it comes to parking the Doblo, a task that is easier than might be expected thanks to its regular proportions and light steering at low speeds. However, unless you specify otherwise, the mirrors are neither heated nor electrically adjustable. A reverse parking sensor is also optional on all models and quite useful - particularly without glazed rear doors.
Spare wheel
A full-size steel spare wheel is provided.
Range information
The range was revised in 2004 and now comprises seven different variants badged as Active, Dynamic or Family (seven-seater models). There are three engines: 1.2-litre petrol (65bhp); 1.3-litre Multijet diesel (70bhp) and 1.9 JTD diesel (105bhp). Five-speed manual transmission only.
Alternative cars
Peugeot Partner Combi Hides its van origins most effectively
Citroen Berlingo Durable all-rounder has cult following
Renault Kangoo Unbelievable headroom and respected badge
Fiat Multipla More refined and better equipped than Doblo