August 2013
Fiat 500L Trekking 0.9 TwinAir
The Trekking sits 15mm higher than the standard 500L
August 2013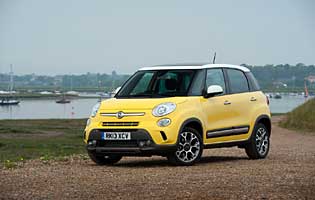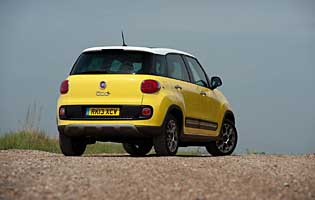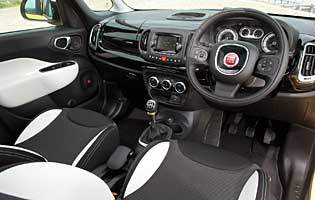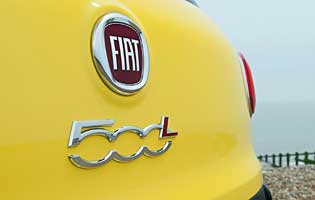 Overall rating

Likes:
Styling tweaks add lots of visual character
Advanced traction control system proves useful in poor weather
High degree of personalisation possible
TwinAir engine injects further enjoyment
Gripes:
Off-road capable tyres generate additional road noise
Diesel engines feel disappointingly gruff and old-fashioned
Parts of the interior feel flimsy
Customisation options can make the finished car too expensive
The 500L Trekking is a mildly off-road capable version of the increasingly popular 500L, based on the same chassis but lifted slightly higher on taller suspension, with special, more rugged tyres and a clever traction control system that increases its ability to get out of sticky or slippery situations. It's a standalone model and trim level within the range.
There's little to compare the 500L Trekking to directly, but the market sector for compact cars with a little off-road ability is growing. The Trekking's main selling point for many people will be its looks, which have a cheekier edge than those of the car on which it's based. Equally important is its impressive scope for customisation.
Fiat has been incredibly successful with the new 500, released in 2007, and the company realised the potential for customers to migrate away from Fiat when changing their 500 for something larger and more practical. The Italian firm has addressed this gap in the market with something that can be just as much fun while introducing more family-friendliness.
One of the main things that differentiate it from the 500L is its special traction control system, which finely balances the power between the front two wheels according to how much grip each one has, and allows the Trekking, with the help of its chunkier, mud-plugging tyres, to traverse off-road terrain that normal road cars might not manage.
As a standalone model it's designed with broad appeal, and has many options for complete personalisation. Young families are the main sales targets, who might be upgrading from a Fiat 500, or perhaps a Mini or Citroen DS3. As such the Trekking remains a five-seater with a handy boot rather than stretching to the seven-seat configuration of the 500L MPW.
Our verdict on the Fiat 500L Trekking 0.9 TwinAir
The Trekking is the most characterful of all the 500L variants thanks to its more rugged looks and taste for life off the beaten track. It comes in many colours and trim styles, and with many options available to make it look and feel unique, parents can enjoy it just as much as kids. Its noisier tyres mean it loses some civility on-road, but its charm will win buyers over.
Costs
At the heart of this model, the TwinAir engine is sensitive to how it's used. If driven gently and smoothly it can return surprising fuel economy to rival a diesel engine, but its cheeky character and unique spectrum of noises tend to encourage more vigorous use and a big increase in fuel consumption. It's tax-friendly for its size and won't place too great a burden on the budget in that regard, but its attention-grabbing nature means insurance might be a little more expensive than for rivals.
Space and practicality
The 500L offers a good base for the Trekking to carry over, and a 455-litre boot is noticeably bigger than the equivalents in C-segment hatchbacks, with the exception of the Skoda Rapid and Octavia. In the boot is a 12-volt power socket to allow portable fridges and powered cool packs to function, but there's a reasonably large load lip to overcome when it comes to lifting heavy luggage in and out.
Controls and display
The main instruments are a crisp combination of black centres and white outer rings lit by a pale blue-white light. Red-tipped needles make it easy to read the dials at a brief glance, which is excellent for driving through low speed limit areas around schools, for example. The central colour display is modern and convenient, but a little too small for really easy use. The climate control and air management dials are lightweight but have a grippy shell for ease of use.
Comfort
The Trekking immediately suffers a hit to its refinement for two reasons. The first is that its open-blocked tyres generate more friction and noise than fully road-biased ones, and the second is that its raised ride height increased wind resistance, making the whooshing and roaring of air at motorway speeds just a little more of an issue. The seats, however, are very soft and let occupants sink pleasantly into them. Over short and medium-length journeys they prove excellent.
Car security
Remote central locking is standard, along with deadlocks to make sure criminals can't open the doors after smashing a window. The car comes with several very appealing alloy wheel styles that might tempt thieves so there are locking wheel nuts to help prevent theft. Dark tinted windows around the rear half of the car does a good job of restricting visibility into the back, where coats or valuables might have been placed.
Car safety
Six airbags are standard fit on the Trekking, covering the front, front side and head-level curtain positions. Three-point seat belts are also standard at all five seats. This model also presents a Fiat first, in that it has a clever automated braking system that activates between 3mph and 18mph, activating the brakes hard if it senses a collision is imminent and the driver hasn't reacted. This system, called City Brake Control, is standard-fit and could help avoid embarrassing low-speed bumps.
Driver appeal
As it's targeted at young families, the driving appeal of the Trekking needs to come from how driver-friendly the controls are, how comfortable it is and how enjoyable it is to be behind the wheel of. Relatively light steering and pedals offer an easy time of it after a hard day's work or looking after the kids, the uncommonly soft seats are extremely plush and relaxing over typical day-to-day journey distances and the customised ambiance is a happy one.
Family car appeal
The Trekking is perhaps even better designed for families than the 500L on which it's based. It offers the same large boot, comfortable seats and Isofix child seat mounts, but the Trekking is much more capable off-road, which means that the muddy fields that serve as car parks at some venues are no problem. The tyres are a special semi-winter compound, too, which grips significantly better in cold weather than normal rubber. That improves general winter driving safety hugely.
First car appeal
While the smaller 500 is perhaps a more typical first car choice for young drivers without family commitments, many people who grow up in cities might not take their driving tests until later in life when having children becomes a greater priority. These people could look upon the Trekking as a very attractive first car, giving them the fun of the 500, the confidence-inspiring driving position of a compact SUV and very reasonable running costs.
Quality and image
Fiat's image is in great shape. Thanks to the 500 the company is now known as a maker of great-looking, desirable small cars that can be built around a person's tastes. With buying decisions often being emotionally-led, this is a strong attribute to have. The Trekking fits this image, with a great look and an enjoyable interior environment, but some of the plastic trim in the cabin is undeniably low-rent.
Accessibility
Raised up even higher than the 500L, the Trekking is generally a breeze to get in and out of. Its doors are quite short, which in particular squeezes the rear apertures down and makes it a tighter fit for people with larger feet, but on the other hand they're better for car parks where stubbier doors can open wider into any given space. The tailgate is curiously heavy for the first couple of inches of its travel, though, before the pneumatic assistance rams kick in.
Stereo and ICE (In car entertainment)
A five-inch media interface screen is standard, providing an up-to-date means of managing music. The screen is a little small compared to many on the market in other cars, but the graphics it uses are fresh and engaging. An FM/AM radio is standard, with DAB radio a cost-option, and the rather underpowered standard speaker system can be upgraded with a more powerful Beats Audio amplifier and subwoofer for greater bass. USB and auxiliary input sockets are standard.
Colours and trim
As befits a car designed to retain customers who had previously owned the 500 hatchback, there are many colour to choose from including two-tone schemes where the roof and door pillars are a contrasting colour to the rest of the body. Blues are curiously omitted, but the best shade is almost certainly a bright yellow that accentuates the Trekking's character. The interior trim is equally bold and looks almost as youthful and fashionable as the 500 hatchback's.
Parking
The Trekking's high driving position, raised 15mm above that of the standard 500L, gives a good view out of the car and aside from the thick A-pillars, which are set well forwards and can sometimes block visibility when exiting parallel parking spaces, there is little to criticise. Plenty of glass area at the sides encourages confidence, but the rear windscreen is quite small. A rear-view parking camera is an optional extra for a reasonable cost, but the compact display screen isn't the clearest.
Spare wheel
Emergency tyre repair kit supplied as standard.
Range information
Petrol engine options - 0.9-litre TwinAir (103bhp); 1.4-litre (94bhp). Diesel engine options - 1.3-litre (84bhp); 1.6-litre (103bhp). Transmission options: five and six-speed manual gearbox depending on model, plus Dualogic automated manual gearbox (1.3-litre diesel engine only). Trim levels: Trekking.
Alternative cars
Peugeot 2008 Great looks and a small steering wheel give this French contender a sporty feel
Renault Captur Great colour schemes and flowing lines make the Captur a stylish option
Skoda Yeti Larger and more mature, the Yeti is more expensive but great to drive
Nissan Juke Extrovert Nissan's looks won't be to everyone's liking