Fiat 500 Lounge 0.9 TwinAir 105hp
Retro good looks
August 2016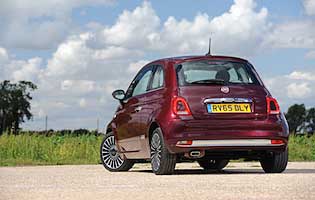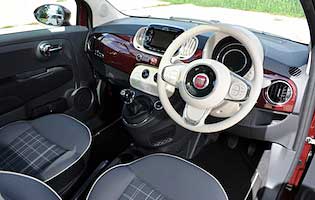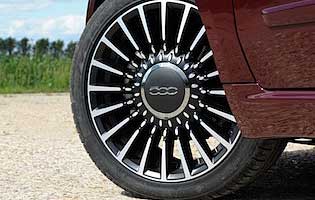 Overall rating

Likes:
Retro good looks
Fun to drive
All engine options offer good fuel consumption figures
Highly customisable
Gripes:
Smaller boot than its rivals
Rear seats are cramped
Limited cabin storage space
TFT screens hard to read in direct sunlight
The Fiat 500 is the Italian manufacturer's attempt at a throwback to their classic model of the same name from the late '50s. It was released to stand up to competition from the likes of the Mini Hatch, DS3 and Audi A1. Its retro styling and trendy image have made it a popular choice in the supermini category.
As far as superminis go, the Fiat 500 makes a pretty good case for itself. It combines good looks, with an easy drive and a range of economical engines – in other words, all of the right ingredients for a great inner-city runabout. While this incarnation of 500 has been around since 2007, a number of subtle upgrades have kept it looking relevant.
Move inside and you will find a small, yet good-looking interior that feels well put together. On our test car, the traditional analogue instruments were replaced by an optional seven-inch TFT screen. While it looks nice and usually gives a clear read out, if the sun is behind you it becomes nearly impossible to read.
As you should expect from what is a very small car – at least by modern standards – the 500's boot isn't terribly big. With the rear seats in place, it offers 185 litres worth of space. This is less than the Mini, the Audi A1 and the DS3, which offer 211 litres, 270 litres and 285 litres respectively.
In terms of driver appeal, the 500 is quite an eager little car. It doesn't have the world's most powerful engines, but hit the 'Sport' button and throttle response will be sharpened, the steering becomes slightly weightier and the 500 turns into a bit of a go-kart. However, a soft suspension set-up does mean it rolls slightly through the corners.
Our verdict on the Fiat 500 Lounge 0.9 TwinAir 105hp
If you're in the market for a stylish, economical and fun to drive city runabout, the Fiat 500 could be just the car for you. It may not be quite as good as some of its immediate rivals, but its charming looks and excitable engines make for an incredibly likeable car.
---
Costs
Thanks to a range of small, economical engines, the Fiat 500 will not be a terribly expensive car to keep on the road. All engines have a claimed fuel consumption figure of more than 60mpg on the combined cycle, with the most economical engine being the 1.3-litre, 94bhp Multijet diesel – which returns 83.1mpg. The majority of the Fiat 500's engines also emit less than 100g/km of CO2, meaning they are free to tax – although this will change from April 2017.
Space and practicality
The Fiat 500 is a tiny little car, so compromised interior and boot space should be expected. While there is a decent amount of room for two adult passengers in the front seats, rear passengers will find legroom almost non-existent. The boot offers 185 litres of space with the rear seats up, which can be extended to 550 if you fold the rear seats down. While the boot is small, there is enough room for a couple of shopping bags.
Controls and display
Sunlight poses a bit of a problem when it comes to reading the Fiat's display screens. If you find yourself driving with the sun behind you, both the speedometer (which is displayed on a seven-inch TFT screen) and the Uconnect infotainment system become unreadable. Otherwise, they are clear and for the most part, easy to read. Controls for features such as the air-conditioning are all laid out in a sensible fashion, and are all within easy reach.
Comfort
Because of its softer suspension set-up, the 500 is a relatively comfortable car to drive around town. The seats are supportive, and all the controls are generally positioned well. The only time the 500 falls down is on faster, bumpier roads, which can cause the car to bounce around a fair amount. It also feels a bit twitchy at motorway speeds, but considering this is a car built primarily for inner-city use this shouldn't be too much of a problem.
Car security
The Fiat 500 comes with all the usual security features to give you that added peace of mind. Remote central locking comes as standard, and any valuables stored in the boot will be out of sight from prying eyes. The flashy looks of this car could make it a potential target for car thieves, however.
Car safety
At launch back in 2007, the Fiat 500 was one of the safest cars in the supermini segment, achieving the maximum five-star rating when it was crash-tested by Euro NCAP. The 500 comes with seven airbags as standard, as well as a selection of driver assists such as ABS, ESC and hill-start assist.
Driver appeal
While the 500 may come with a selection of small engines that aren't terribly powerful, it certainly isn't a boring car to drive. The 0.9-litre, 104bhp TwinAir engine we had in our test car isn't particularly refined, yet is still full of personality. That said, you really need to keep the car set in 'Sport' mode, otherwise it takes a little while for things to happen when you put your foot down. Steering is light, and because of the soft suspension there is a fair amount of body-roll in corners.
Family car appeal
Families with anything other than small children will not find the Fiat 500 a particularly attractive option as a solitary family car, owing to its limited interior space. That said, as a city runabout that sits alongside a larger, primary family car, the 500 starts to make a bit more sense. For school runs – unless you live miles and miles from your nearest school – the Fiat should prove more than capable.
First car appeal
Thanks to its small size, trendy image and easy-driving nature, the Fiat 500 oozes first-car appeal. Its tiny engines make it not only a cheap car to run – the 0.9-litre TwinAir with 104bhp has a claimed fuel consumption figure of 67.3mpg – it should also make it relatively cheap to insure. CO2 emissions of 99g/km also mean it is free to tax.
Quality and image
The Fiat 500 is designed to appeal to trendy, inner-city types and for the most part, it has its target demographic nailed. Specify your 500 right, and you will certainly find you turn a lot of heads as you drive by. From a quality point of view, the 500 doesn't have too many issues. While the interior is basic, it feels well put together. The only gripe we had was the camouflage graphic that had been specified on our car was beginning to peel off in certain places.
Accessibility
Getting in and out of the 500's front seats will never be too difficult at all, thanks to its wide-opening doors. That said, passengers looking to get in the back of the car will have to do a fair bit of clambering, and once in will likely find they don't have too much room. It would be fair to say that anyone other than small children will be uncomfortable if they spend too much time in the rear seats of the little Fiat.
Stereo and ICE (In car entertainment)
While the Uconnect infotainment system – which comes as standard on cars in Lounge trim and is a GBP250 option on Pop and Pop Star cars – might feature a rather small five-inch display, it is nonetheless simple to use. Bluetooth, USB and auxiliary connectivity make it easy to play music from your smartphone or MP3 player, and the car's speakers offer a good level of sound quality. If you're not prepared to pay for a 500 in Lounge trim, it would be worth specifying the Uconnect system as an option.
Colours and trim
If you're in the market for a car that will help you stand out from the crowd, the Fiat 500 might just be the one for you. The range of colours and customisation options that are available with the 500 is one of its main marketing points. Fiat now offers the 500 with a selection of 'Second Skin' graphic wraps for added flair, too. There are four trim levels to choose from: Pop, Pop Star, Lounge and 500S – which adds sportier touches over the regular cars.
Parking
While the new 500 may not be as pint-sized as the original car from the late 1950s, it's still small enough that parking should never be too much of a problem. Visibility is fairly decent, and the the rear parking sensor that is fitted as standard will give you more than enough warning if you're about to back into anything. The only thing the 500 could do with to make parking that much easier would be a rear-view parking camera.
Spare wheel
Space-saver wheel supplied as GBP100 option.
Range information
Petrol engine options – 0.9-litre TwinAir (84bhp, 104bhp) 1.2-litre (68bhp). Diesel engine options – 1.3-litre MultiJet (94bhp). Transmission options: five-speed manual gearbox depending on model, six-speed manual gearbox depending on model, plus five-speed semi-automatic gearbox depending on model. Trim levels: Pop, Pop Star, Lounge, 500S.
---
Alternative cars
Mini Hatch Another retro-styled car, the Mini offers a great drive
DS3 The DS3 offers is much more practical than the 500
Audi A1 The A1 is a good-looking hatch and will likely hold its value well
Volkswagen Beetle Good handling with an upmarket interior. Instantly recognisable