February 2014
Fiat 500 Cult TwinAir 105hp
The Cult is what Fiat calls the pinnacle of this generation 500's evolution
February 2014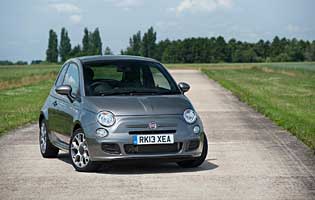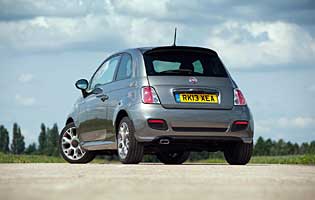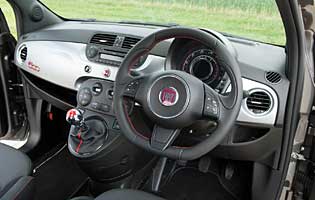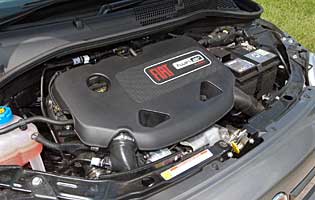 Overall rating

Likes:
Classic design is better than ever after latest tweaks
Fitted with the best version of the TwinAir engine
Cabin is surprisingly spacious
Potential for high fuel economy with sufficiently patient driving
Gripes:
Handling dynamics are left in the Mini's wake
Access to the rear seats requires an agile body
Small boot will require compromises for holiday packing
Excessive list price for a car of this size
For 2014, the 500's last year on sale before an all-new model arrives, Fiat has decided to 'celebrate the best of everything 500' with a new range-topping model with bags of standard equipment and a more powerful two-cylinder engine. Called Cult, the new standard-bearer is the priciest 500 to hit the road but it should also be the most sought-after.
The TwinAir engine is the throbbing heart of the 500 and the engine that suits it best. This upgraded version boasts 105 horsepower; a significant jump on the ordinary two-cylinder turbocharged unit's output. In performance terms the 500 Cult is streets ahead of any other 500 out there.
On the inside it's harder to tell what Fiat has done to give the 500 a final boost against its rivals like the Mini and Citroen DS3. Most notable among the on-board technology is a new digital instrument cluster from Italian electronics experts Magneti Marelli, which brings the 50s-inspired city car's dashboard into the 21st Century.
On top of that, new colours and alloy wheel designs have been introduced to enhance the 500's charm even further. If the lower reaches of the 500 range is littered with basic, but cheerful and likeable versions, the Cult is catwalk-ready by comparison and loses none of its charisma.
The Cult is designed to be the 500 to buy if having the very best 500 is important. It combines the sporty styling traits of the 500 S with the comfort of the Lounge trim level and adds special new touches like the digital dashboard. Luxurious add-ons like climate control are also standard on the Cult, leaving very little at all to be desired.
Our verdict on the Fiat 500 Cult TwinAir 105hp
With fast responses, loads of pulling power and more character than just about any other engine out there, the 105 horsepower version of the TwinAir engine makes a perfect centrepiece for the 500 Cult. In the main it's other changes and upgrades are less noticeable and less dramatic, but the car still succeeds in painting itself as the highest of high-end 500 models. The price will justifiably raise eyebrows, though.
Costs
In the bigger picture the 500 Cult might not be that expensive, especially if size simply doesn't matter and style is all-important. However, next to cute and significantly more practical rivals, the Cult is very pricey indeed. Residual values are notoriously high, though, so buyers can expect to get a good return on their investment.
Space and practicality
The 500 is small but surprisingly accommodating; space up front is fine, with head, leg and elbowroom all perfectly reasonable. Storage space is lacking though, as the door bins are shallow. At the rear the hatchback 500 possesses a pretty small boot, but the back seats fold to boost carrying capacity. The centrally placed cupholders are, however, too shallow to reliably keep drinks upright.
Controls and display
Behind the steering wheel is a marvellous bit of design in the shape of a digital instrument cluster that changes according to which driving mode the Cult is in. Blue-hued Normal and the red Sport alternative show data relevant to that mode as well as all the more traditional data like mileage covered and engine coolant temperature. It's all clear, bright and engaging.
Comfort
As with all the best city cars, despite its size the 500 will surprise you with its big car feel. Refinement levels are high, front seat occupants are well catered for and so long as you're short of leg, rear seat space isn't that bad. Long journeys will probably prove uncomfortable for adults, so it's best to avoid that scenario.
Car security
While its looks have increased the Cult's likelihood of garnering the wrong sort of attention, there's nothing special in terms of security. That said, the standard remote locking and immobiliser package should prove effective. If you want a more visible deterrent, an inexpensive steering lock would be a smart purchase.
Car safety
Unusually for a small car, the 500 comes with a generous seven airbags: front, side, curtain and another for the driver's knee. This model also gets stability control as standard, giving some peace of mind especially in emergency manoeuvres. Rear child seat mounting points are present, ensuring the 500's reputation as a child-friendly car remains intact.
Driver appeal
The wonderful high-power TwinAir engine is a gem, emitting a rorty thrum and firing the car forwards with really enjoyable gusto. It has character you simply can't find anywhere else. It also delivers a relaxed pace around town, especially with Sport mode switched off, but despite the car's almost complete lack of dynamic communication the engine still manages to make it feel fantastic.
Family car appeal
The 500 Cult would make a striking and genuinely useful addition as a second car in the family, but don't expect it to be able to carry much in the way of family paraphernalia. The weekly shop is probably beyond it, as are pets and all but the tightest-folding pushchairs. And like all compact two-door cars, it's always a struggle to make sure young children are secure and comfortable in the rear seats.
First car appeal
The Cult is probably too expensive to justify for a new driver, but the 500 range contains better options. Its dimensions and ease of use make it ideal for a city dwelling novice. Good visibility, a powerful but forgiving engine and light but accurate steering all ensure no surprises when you're just starting out.
Quality and image
Image-wise the 500 Cult is clearly styled to tap into the increasing demand for high-end chic city cars and to capitalise on waning sales at Mini. Fiat's record for build quality and reliability is not good, but that hasn't put many buyers off. Inside the Cult are plenty of cheap plastics, but it's unlikely that many of its buyers will care.
Accessibility
The car's large doors open nice and wide, making it easy to access the front two seats. Being a narrow car, the doors don't pose serious problems when in bay spaces. Tipping the seats forwards allows access to the rear seat, although you will need to be reasonably agile given the car's modest dimensions. At the rear the 500's boot little effort to open, although the aperture is a modest size.
Stereo and ICE (In car entertainment)
Sharing the same unit as lower 500 models, the Cult's audio unit boasts large controls and an easy to read display. Sound quality is good for something at this price point. It has Fiat's Blue and Me system as standard, which consists of a Bluetooth telephone connection and a USB port for connecting media players to the audio unit.
Colours and trim
While the 500 can be shaped according to taste, it's fair to say that you're not short of colour options and decals. Bold colours show the car off in a particularly positive light. Predictably, the 500 Cult's interior can also be specified in a number of bright colours, which step away from basic cheerfulness and introduce more overt style.
Parking
As an especially small car with wheels right out at each corner the 500 is easy to park and manoeuvre at low speeds. All-round visibility is good, thanks in part to the raised driving position. The car's steering is light enough, but there is no 'City' steering function to lighten it further; this model replacing that with a Sport button.
Spare wheel
Emergency tyre repair kit supplied as standard.
Range information
Petrol engine options - 0.9-litre (84bhp, 103bhp); 1.2-litre (69bhp). Diesel engine options - 1.3-litre (75bhp). Transmission options: five-speed manual gearbox as standard, with six-speed unit for 0.9-litre 103bhp version. Dualogic semi-auto system is a cost option for diesel. Trim levels: Pop, Lounge, S, Colour Therapy, BiColour, GQ.
Alternative cars
Mini One Larger, less characterful rival delivers great driving fun
Suzuki Swift Underrated Japanese supermini is stylish and all-round excellent
Volkswagen Up Great styling, easy to park and well built
Renault Twingo Ageing but likeable small car lags behind the class leaders