April 2007
Dodge Nitro 2.8 CRD SXT auto
Dodge's Nitro is styled like no other mid-size SUV
April 2007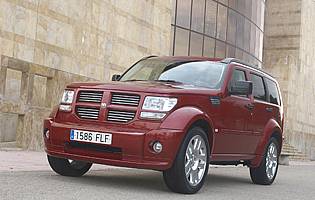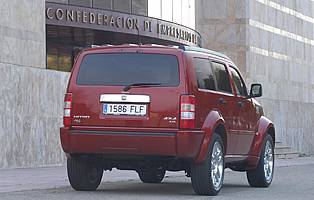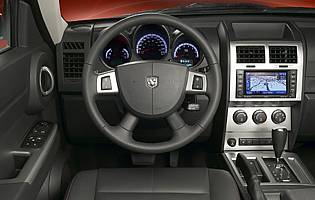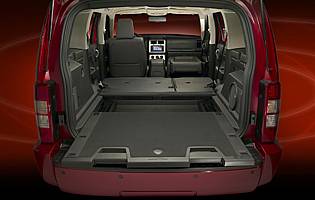 Overall rating

Likes:
Stand-out styling is a refreshing approach, even in this style-conscious sector
Spacious cabin offering plenty of room for occupants
Equipment levels are generous at all price points
Refined diesel engine is the sensible choice
Gripes:
Not all cabin plastics are high quality
Sat-nav unit and combined media player could be more intuitive
Dodge boasts little in the way of brand heritage away from the North American market
To some the Nitro's chunky styling helps to promote a negative attitude towards SUVs
When a car maker first enters a new market the standard procedure is to a make a splash in order to heighten customer awareness. Although Dodge is part of the well known Chrysler group, until recently its profile was low. The firm's Nitro changes all that - the compact SUV boasts 'look at me' styling and just the right amount of exterior brightwork to remain attractive. You certainly can't accuse the company of skipping on the glitz.
For all the off-roading potential of the modern breed of SUVs, the simple fact is that few people exploit their potential. As such, mid-size, mid-priced cars major on style and family-orientated practicality. This is certainly the case with Dodge's Nitro - it might boast all-wheel drive and an impressive diesel engine but it's more likely to attract buyers because of how it looks.
You don't need to be told that the Nitro comes from America. Thanks to its exterior styling, it ticks all the usual American stereotypes. That said, it's not as brash as something from Cadillac, and crucially it's been designed for a wider audience than just its domestic market.
The good news is that the Nitro doesn't behave like a regular American SUV. Ride quality, on-road performance and diesel refinement are pretty impressive. The not so good news is that the quality of the cabin materials doesn't quite match that of its European rivals. However, this is also true of cars from stablemate Jeep and Chrysler.
By way of compensation the Nitro, like its Jeep and Chrysler cousins, is very well equipped as standard. And in such a fiercely competitive market, opting for the value for money approach is a smart one. What better way to offset the few rough edges than with the likes of a multi-media player and combined sat-nav unit, electric everything, space for five and a capacious loadbay. For a growing, active family that doesn't want a people carrier, the Nitro makes a lot of sense.
Our verdict on the Dodge Nitro 2.8 CRD SXT auto
Although a little left-field for some in terms of its looks, there's no questioning the car's appeal if you're dissatisfied with the current crop of conservatively styled SUVs. Thankfully it's not all show with the Nitro, as performance is more than respectable. Opt for the diesel over the less frugal petrol variant and you can have the best of both worlds: American glitz and European sensibility.
Costs
If you opt for the diesel variant you won't suffer too badly in the wallet department. Fuel consumption is agreeable, while emissions will be at the sensible end of the scale for a compact SUV. In contrast, the petrol variant is really only an indulgent purchase. The Nitro doesn't contain any trick technology, which means servicing should be predictable and affordable.
Space and practicality
With a big boot plus the option of a pullout loading tray, the Nitro is an ideal car for a demanding and active family. Fold the rear seats and you've got yourself a capacious van with windows. At the front, the cabin boasts plenty of storage options for drinks, maps and mobile phones. Head, leg and elbowroom isn't a problem.
Controls and display
The general theme will be familiar to anyone who has seen the inside of current and previous Jeep products: the main dials are legible while the main controls are housed in the car's central, upright fascia. Top of the stack is the Nitro's audio unit which, in the case of high-end multimedia unit, includes a large colour screen. Navigating the various functions takes a little while to understand. The car's column stalks are intuitive but could be better built.
Comfort
The Nitro will seat four adults in comfort, or five at a push. Of course, for a family the rear seat space available is more than enough. Space upfront is good, with the seats supportive and comfortable. Road noise at sensible speeds is modest, although the diesel can prove vocal when pushed hard. Despite the Nitro's bluff appearance, wind noise is low - even on the motorway.
Car security
Nothing special here only the usual array of features: remote central locking plus an anti-theft device. That said, with the Nitro being such a distinctive car, it would be sensible to add a visible deterrent such as a steering lock to deter the casual thief. On the plus side, the car's load bay cover appears to be a sturdy item that should help shield valuable from prying eyes.
Car safety
As befits a modern car, you get all the usual safety features. Airbags and a suite of traction aids are all present, the latter being especially useful for a car possessing a higher than average centre of gravity.
Driver appeal
For a large, tall vehicle the Nitro handles well. The steering is surprisingly precise and the manual gearshift straightforward. Visibility is good and the ride quality is reasonable, although enthusiastic drivers will experience some bodyroll when cornering briskly. The stand-out engine is the diesel, which pulls well from low speeds and delivers high levels of refinement at cruising speeds. It's also the most economical choice, and proves the better option for mild off-roading and towing thanks to its superior amounts of torque.
Family car appeal
For all its 'look at me' styling, the Nitro is quite a sensible family car. At a basic level it's just another SUV, which means ample space in the boot, good all-round visibility and a spacious cabin. The car's chunky looks are a welcome bonus in this sector, though.
First car appeal
Aesthetically the Nitro will no doubt prove popular with young people. However, it's a grown-ups car in terms of running costs. It's an easy car to drive, which should help sway those novice drivers with bulging wallets.
Quality and image
Dodge as a brand has little in the way of history in the UK and Europe. Most people will likely have an image of large American cars laden with chrome. Part of the Chrysler Group of companies, Dodge is being pitched as the youthful, slightly daring brand and this is most obvious in the company's design philosophy and advertising. On the quality front, the Nitro is on a par with Jeep's Cherokee; plastics are hard, switchgear quality behind that of most European cars and leather upholstery not always convincing. However, in its defence, prices are modest and equipment levels high.
Accessibility
Although a conventional SUV, access to the cabin is straightforward. Less mobile occupants might struggle a little, but it's easier to exit than to enter the cabin. Once inside, seat belts are easy to adjust and, for the driver, all the major controls are close to hand. At the rear, the Nitro's tailgate requires little effort to raise and lower, while a pull-out boot tray is offered to aid loading and unloading.
Stereo and ICE (In car entertainment)
Placed centrally within the car's fascia, the audio boasts the usual features you'd expect from something in this price point. While sound quality is good, the unit's functions could be more intuitive to navigate through. The sat-nav option is impressive, although it too could be more intuitive. By way of compensation, the high-end option has the ability to store music and pictures, turning it self into a versatile media player.
Colours and trim
Bright, bold colours work best with the Nitro - these better suit the car's personality than the darker, more sober options. The modest amount of chrome trim also helps to flatter the Nitro's boxy look. Inside the car there is a lot of plastic, although thankfully most of it is light in colour.
Parking
You sit up high in the Nitro, which means you get a good view of your surroundings. The excellent forward visibility and good size mirrors make manoeuvring straightforward, although reverse parking does require a little practice. Thankfully parking sensors are provided.
Spare wheel
Spare wheel is located at the rear of the vehicle.
Range information
Engine range: 2.8 CRD (174bhp) diesel; 3.7 V6 (203bhp) petrol. Transmission choice: six-speed manual or five-speed auto - V6 is auto only. Trim levels: SE and SXT - V6 is SXT only.
Alternative cars
Hyundai Santa Fe Good value Hyundai is no head turner but is spacious and boasts a seven-seat option
Kia Sportage Another value for money SUV from the Far East. Can't match the Nitro for image, though
Land Rover Freelander 2 Upmarket Freeland extremely capable but pricey in this company
Mitsubishi Outlander Lifestyle crossover is good value, performs well, different to look at and no slouch off road