April 2004
Daewoo Lacetti 1.6 SX
Conservatively styled Lacetti is good value for money
April 2004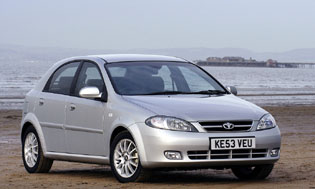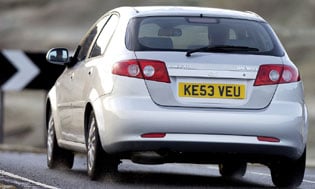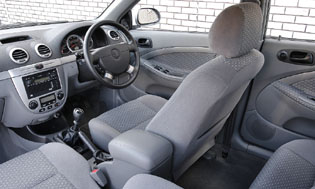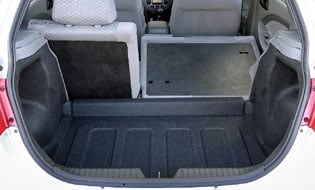 Overall rating

Likes:
Looks great - from the back, at least
Plenty of kit included as standard
No nonsense driving style and light handling
Cheap to run and buy
Gripes:
Some interior plastics and trim a little flimsy
Boot lip fairly high up - makes loading heavy items tricky
Depreciation likely to be heavy and immediate
1.4-litre engine struggles with more than one passenger
After a well-publicised rough patch, Daewoo is once again back to doing what it does best - selling cars that provide excellent value for money. The Lacetti five-door hatchback is just such a vehicle and if it isn't quite as impressive as the firm's brilliant Kalos supermini, it is still a car that presses many of the right buttons for budget motorists
Stylistically, the Lacetti hatchback is a tale of two halves. The front is tidy but rather bland. Walk around to the back and the car is much more attractive, with high-positioned rear lights, muscular shoulders and a strong shut line to the tailgate. It is not a car owners should feel remotely embarrassed about being seen in and proves that five-door cars needn't always look less interesting than three-door models.
The interior is less striking but its conventionality lends it an easy-to-use familiarity so that sitting down and driving off can be done with minimum fuss. In a car that most owners simply want to get them from A to B with no hassle, that has got to be a good thing.
In the best possible way, the Lacetti is a jack of all trades. It has reasonable comfort levels, it drives pretty well, it seems fairly well built and the boot is a decent size. It may not lend itself to the most emotive adjectives, but to expect superlatives is to miss the point. The Lacetti is not about claiming 'class leading' this or that, it's about being better than average and more than you would expect for the money. It delivers on both counts.
The lack of a diesel engine will place a brake on some potential buyers' enthusiasm. However, the Lacetti is still a cheap car to own and run, particularly given the reassurance of Daewoo's excellent warranty package, which should be factored into any calculations.
Our verdict on the Daewoo Lacetti 1.6 SX
Daewoo's Lacetti is a no-nonsense five-door hatchback that should be considered by anyone looking to get maximum value for money. And should owners encounter the sneers of badge snobs, they can always respond that in fact it is a Chevrolet - that's how it will be sold in some European markets.
Costs
Low list prices, a long, comprehensive warranty and high equipment levels make the Lacetti one of the best value for money propositions on the market. Insurance costs are competitive (particularly if you upgrade to a category 1 alarm), and despite the lack of diesels, fuel economy has to be rated as very good. Now part of the GM group of companies along with Saab and Vauxhall, Daewoo's reformed dealer network should provide reliable backup.
Space and practicality
The Lacetti gets to claim 'class-leading' credentials for its rear passenger legroom. While such terms are often of little or no practical value, it must be admitted that the rear seats are a non-claustrophobic place to be. The rear bench has a handy 60:40 split. A high roofline means that with the seats folded, the Lacetti assumes van-like proportions, which will certainly be a consideration for many buyers. The narrow rear aperture undermines this practicality somewhat. Useful storage areas (25 in all) of varying degrees of usefulness are scattered around the cabin.
Controls and display
Thankfully, Daewoo has not been tempted to try and 'do premium' on the cheap, a ploy that often creates awful sins against interior design in value-driven cars. If a switch is made of plastic, the best policy is to show that it is made of plastic, not try to make it look like chrome or brushed steel. Daewoo has stuck with an unfussy set of controls that are no more complex than they need to be. The air vents and CD controls are refreshingly normal. The black dial of the speedo is marked in increments of 20mph so care must be taken to monitor speed in 30mph zones. Door release handles could perhaps feel more solid, but such criticisms are only minor.
Comfort
The world of electric seat adjustments is miles away, so it takes a good deal of ratchet wrangling before the driver can get comfortable. If you're the only driver of the vehicle, that's hardly a pressing problem. There's a good deal of adjustability, too, though the 1.4 model lacks steering reach adjustment. Conventionally placed instruments mean the driver quickly feels at home and long distance drives should present no problems. Rear seat passengers have lots of room. The rear bench is of the 'good for you posture' variety. For a compact car, the cabin seems roomy and light with fine head and legroom. Noise levels are kept impressively subdued except when the engine is working at its hardest.
Car security
One of the often-overlooked advantages of value for money cars is that they tend to be less attractive to thieves and joyriders. BMWs and Audis attract them like moths to a flame, not least because they assume owners are likely to have valuable items hidden inside, but they tend to pass by when they see a Daewoo. Security equipment includes central door locking and a Thatcham category 2 engine immobiliser but an upgrade to an alarm is a cost option.
Car safety
No manufacturer can afford to scrimp on safety these days, even when it comes to budget cars. High tensile steel creates a strong passenger compartment (and partially explains the weight loss and improved handling). Two front airbags come as standard in the 1.4 and are joined by side airbags in the 1.6 and above. There are five three-point safety belts belt force limiters for the front pair. ISOFIX fittings are standard on the outer seats of the rear bench. Daewoo claims front and rear bumpers will withstand minor collisions at up to 5mph without damage.
Driver appeal
Handling is excellent thanks to a fairly sophisticated suspension set-up with front and rear anti-roll bars. The Lacetti is much lighter than previous Daewoos, and from behind the wheel that is immediately apparent. If the engines were more responsive and powerful, it would be quite interesting to see just what it could cope with. Sadly, powerplants feel a little pedestrian, particularly the 1.4, which feels breathless on steep hills and is best suited to an urban environment. The 1.6 is better but hardly a thrill a minute. At motorway speeds it is up to the task. Wind noise is minimal; road noise is marginally more noticeable. The Lacetti won't get your heart pounding, but nor will it send your blood pressure off the scale. As an 'A to B' tool, it's fine.
Family car appeal
A strong case can be made for the Lacetti as a family car. The good rear accommodation means kids don't feel like second-class citizens and the boot is spacious enough to swallow a hungry family's shopping bags. Five doors makes getting everyone aboard a doddle. Some of the softer fabrics may not stand up too well to the close attentions of rampant toddlers, but few cars can realistically put up with such a sustained onslaught. The Lacetti looks better and drives better than most five-seater mini-MPVs but it does lack the seat back trays and flexible seating arrangements of such vehicles. Daewoos have always had a strong following among more mature individuals. Though the company is marketing the Lacetti at young families, older couples will find it no less appealing.
First car appeal
Young drivers tend to make their buying decisions with their hearts rather than their heads, so that even though the Lacetti may come within their potential price bracket, it's unlikely to excite them much and certainly possesses little street cred. In any case, the smaller but more fashionable Daewoo Kalos would probably be a better bet.
Quality and image
Though hardly up there with the Audis and Jaguars of this world in terms of image, the Daewoo badge is widely regarded as signifying value for money. Cars such as the Kalos and Matiz have added a hint of style, a trend that the Lacetti will also contribute to in a minor sort of way. It's a shame the design isn't a little more adventurous around the nose. The interior is largely bereft of interest and little details such as the plastic gearstick gaiter are nasty but at least it doesn't feel as if it will fall apart too easily. Ultimately though, this is not a car to get noticed in - its a car that passes quietly by.
Accessibility
With five well-proportioned doors and a spacious cabin, the Lacetti scores highly for accessibility. Boot space is good, despite a flimsy floor panel so that the Lacetti can swallow a large load - provided you can get it in through the rather too narrow and high boot aperture. It's the price you pay for that attractive rump.
Stereo and ICE (In car entertainment)
An easy to use Blaupunkt CD player comes as standard, which can be upgraded to a 5 CD autochanger for a relatively small additional cost. Daewoo is also the first in this sector to offer a digital radio upgrade. The satellite navigation system that is available may not be one of the most sophisticated systems available but it is one of the cheapest and is worth considering.
Colours and trim
The clearest indicators of the Lacetti's cost-cutting imperative are the interior fabrics and external colours. Inside, the front seats are too soft for some tastes and are upholstered in not particularly fetching grey fabric with a spongy feel and unattractive pattern. Door panels match, but whether that's entirely a good thing is open to question. Outside, the only colour available as standard is white (until red is available with the 2005 year model). It's not as bad as it sounds, but makes the car look like a decommissioned police vehicle and is unlikely to appeal to many buyers who will be forced to pay extra for a more fetching metallic or mica colour.
Parking
Parking a Lacetti is simple. Despite being one of the longest cars in its class, the Lacetti doesn't feel it. Power steering provides the requisite assistance and only the thick rear pillars and smallish rear window present visibility problems. With mirrors properly positioned, this should not be a problem. Rear parking sensors are a cost option but become a serious temptation when combined with the special 'Sense Pack' that comes with metallic or mica paint and an upgraded alarm.
Spare wheel
A regular-sized steel spare wheel is provided as standard on all models.
Range information
The Lacetti model line-up comprises three derivatives with 1.4 (93bhp), 1.6 (109bhp) and 1.8-litre (122bhp) petrol engines. Standard transmission is a 5-speed manual gearbox, with an optional 4-speed automatic on the 1.6.
Alternative cars
Kia Rio cheaper but less cheerful, particularly inside
Proton Impian similar proposition to the Lacetti, less characterful
Hyundai Accent great warranty and a diesel option to boot
Mazda 3 classier and more fun to drive but considerably more expensive