Citroen Xsara Picasso 1.6 HDi review
1.6-litre HDi powerplant is incredibly torquey and powerful
November 2004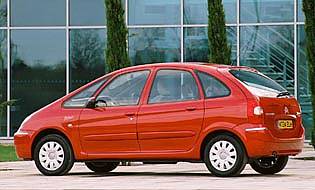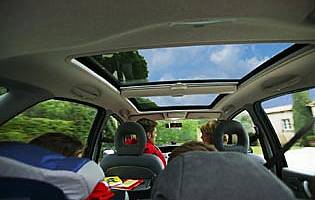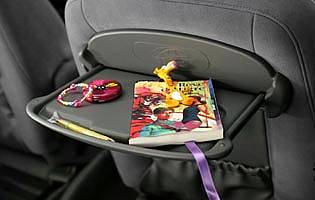 Overall rating

Likes:
1.6-litre HDi powerplant is incredibly torquey and powerful.
Layout of interior makes for a spacious and comfortable ride.
Versatility and adjustability of forward seats and driving position.
Twin sunroofs make for a light and airy feel in the Picasso's cabin.
Gripes:
Centrally mounted electronic speedo makes monitoring speed tricky.
High biting point of clutch and slushy gearbox hinder enjoyment.
Off the wall looks and styling are beginning to look somewhat dated.
Pitch and roll in the corners is worrying given diesel engines performance.
Citroen's Xsara Picasso has to be one of the most spacious and practical five seaters on the market. It may not look as avant-garde as it once did, but with the French firm's fabled discounts and offers there can't be many more affordable ways into midi-MPV motoring.
Five practical seats, a sensibly sized boot and more in-cabin storage than most people would know what to do with, make the Picasso a seriously practical family car at a seriously reasonable asking price.
It may not be quite as versatile as the Vauxhall Zafira or have as good an image as the Volkswagen Touran, but the Xsara-based midi-MPV still holds its own in most respects. Ride and handling are civilised and with the smaller of the two diesel powerplants it also has unexpectedly high levels of performance.
Standard equipment and kit levels are high across the board with range-topping Exclusive models benefiting from many of the modern gadgets and gizmos on the market. However, it no longer features the Citroen corporate face and as a result will begin to look more and more dated as time elapses.
For those in need of a proper family car on a tight budget the Citroen Picasso is hard to beat. Initial asking prices are lower than those of most rivals, insurance groupings are low across the range and with either of the two diesel engines on board fuel economy should also be affordable.
Our verdict on the Citroen Xsara Picasso 1.6 HDi
Xsara Picasso is versatile and spacious and with the 1.6-litre HDi powerplant it performs remarkably well. Styling is beginning to look less and less contemporary, however.
Costs
Citroen is renowned for coming up with some of the best deals in motordom. Almost every day one can turn on the TV and find another advert promoting cash back this or interest free credit that. In fact, if you pay the full asking price for any car in the French firm's range then you are throwing money away. The diesel engines return good fuel economy and the very low insurance groupings should make premiums reasonable for all but the under 25 years of age. Servicing and repair costs will also be affordable.
Space and practicality
The Picasso's boot is one of the largest in its class at 550 litres with the rear seats in place. There is also a rather nifty plastic folding trolley included, which attaches to the side. In-cabin stowage is taken care of by various cubbyholes and bins, two of which are located under the front seats. The glovebox isn't the tiniest on the market, but will only hold a few smaller items.
Controls and display
Electronic speedometers are an acquired taste to say the least and the Citroen's centrally located number does make it rather difficult to monitor your speed at times (particularly given the 1.6-litre HDi's potency). The switchgear feels robust enough and will likely withstand several years of family wear and tear. The windshield wipers do make an irritatingly loud clicking sound every time they commence a cycle, but they perform their primary function well.
Comfort
The wide bases of the adjustable forward seats are most comfortable and versatile, meaning that even the most peculiarly shaped will find a suitable driving position. There are generous levels of head and legroom for all but the tallest of rear seat passengers, who may find that they are forced to slump. Very little wind or road noise makes its way into the cabin, making for a refined, relaxing ride. The diesel engines are a little tractor-like at idle.
Car security
It's always good to see that all of the security equipment at a manufacturer's disposal makes its way on to the standard specification list. Picassos benefit from remote control central locking, an immobiliser, locking fuel cap and programmable door and boot locking. These features, coupled with the fact that it's an MPV, should keep the Picasso safe from car thieves and joy riders.
Car safety
ABS, EBD, side impact protection, front and side airbags, fuel and front passenger cut-off devices, seat belt pre-tensioners and force limiters and three-point rear seat belts all make it on to the standard safety equipment list. Only ESP and traction control elude the base LX model.
Driver appeal
As a midi-MPV the Picasso's driving appeal was always going to be limited, after all, this is a vehicle designed to transport people and things rather than set the pulse racing. That said, the torque and power of the 1.6-litre HDi engine and the Citroen's fairly surefooted stance help to make the driving experience at least a little entertaining.
Family car appeal
As a midi-MPV the Picasso isn't as practical as some larger full sized MPVs, but at least Citroen hasn't tried to cram an extra couple of seats in the back at the expense of all other passengers. With the exception of a slight headroom issue for rear passengers, all five occupants are well catered for with comfortably seats, spacious footwells and lots of handy stowage. The presence of a passenger airbag cut-off switch also makes the car child seat friendly.
First car appeal
The chances of a bright-eyed teenager lusting after a Citroen Xsara Picasso for their first car are slim at best. It is a family car designed with family transportation in mind. Street cred levels are nearer the bottom of the scale and parking, for the inexperienced, would be a bit of a chore.
Quality and image
Peugeot Citroen-developed engines are reliable, so the 1.6 HDi's powerplant should be robust enough. The rest of the package also seems to be well stuck together. There is a reassuring clunk when the doors are shut and all of the mechanical movements are fluid and unhesitant. Citroen does have the rather unfortunate image of being a maker of 'soft' cars. How much truth there is in this today is debatable, however perception is reality and for most people German equals well made and French equals shoddy.
Accessibility
Looking at the Picasso's high roofline from the outside, the less limber and more mature may flinch at the prospect of climbing aboard. These fears would be unfounded though, as reaching the bases of the seats requires no more than a brief step up on tip toes. Loading the competitively-sized boot is also unchallenging given its low floor level.
Stereo and ICE (In car entertainment)
Base models are still fitted with a radio/cassette, which may well be what is called a 'trade up option', but in this day and age many will find it a bit of an inconvenience. Better equipped models benefit from a CD player. The six-speaker set up copes well and drowns out all other aural intrusions into the cabin. However, the speed sensitive stereo volume can make you feel that you are going deaf and/or mad at times.
Colours and trim
The Citroen's interior trim feels solid and well appointed for a car of this type and price. There are no ragged edges or flimsy buttons to spoil the overall feel. The cabin is very light and airy, particularly when filled with beige-coloured seats and carpets. Light colours like green and blue work well on the outside.
Parking
By their very nature, MPVs are slightly trickier to park and thread through tight spaces than smaller, shorter vehicles. The Picasso compensates for its bulbous proportions with its huge expanse of glass that eradicates nearly all potential blind spots. Parking sensors are available as part of the 'BIP' pack and as a rather expensive option on Exclusive trimmed models.
Spare wheel
Full sized spare fitted as standard on all models.
Range information
Five engine options available - 1.6-litre (95bhp) petrol; 1.8-litre 16-valve (117bhp) petrol; 2.0-litre 16-valve (137bhp) petrol; 1.6-litre (110bhp) diesel and 2.0-litre (90bhp) diesel. All models feature a five-speed manual gearbox with the exception of the 2.0-litre petrol, which comes with a four-speed automatic. Trim designator are: LX (base), Desire and Exclusive (top-of-the-range).