Citroen C4 1.6 HDI 16V 110bhp SX review
Genuinely fresh-looking exterior styling
December 2004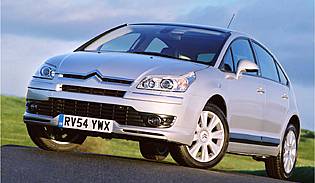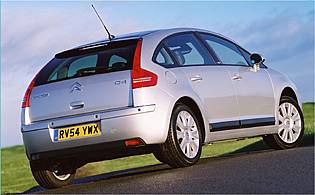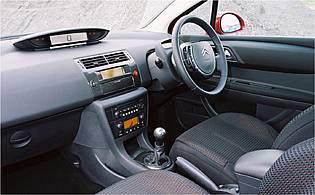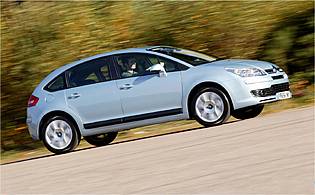 Overall rating

Likes:
Genuinely fresh-looking exterior styling
Build quality is a noticeable improvement over previous Citroens
Wide choice of engines and trim levels
Clever uses of technology that improve the driving experience
Gripes:
A number of the much-vaunted technological advances are optional extras
Not everyone will warm to the car's centre-mounted digital display
Holding the two-spoke steering wheel can prove tiring on long journeys
Optional leather front seats lack the lateral support of the standard cloth-trimmed items
After a few years in the design and development wilderness, Citroen's C4 is proof that the company famous for the DS has lost none of its engineering talent. The medium size hatchback might lack the clever hydropneumatic suspension of the bigger C5, but that's all. Its bold exterior hides a number of innovations, and there's a noticeable and welcome improvement in build quality and overall refinement.
If there's one thing Citroen has been famous for in the past few years, it's products which couldn't be further from the French firm's techno-centric ethos. In a bid to keep the money coming in and reach a wider audience, conservative designs, simple mechanicals, low screen prices and plenty of promotions have been the order of the day.
While this direction change did little to endear loyal fans of the brand, there's no question that Citroen's coffers received a welcome cash injection and its products reached a much broader demographic. That said, the cars boasted only average build quality and a similarly average driving experience.
Citroen's C5 might have reintroduced advanced technology to the masses with its clever suspension, but (pre facelift) was no looker and is still no driver's car. The C4 addresses these issues with its bold corporate nose, altogether more jaunty styling, the implementation of innovative new equipment and keen handling.
Unlike its predecessor, the Xsara, the C4's build quality is up there with the VW Golfs and Ford Focuses of this world. However, it's the implementation of the likes of an ergonomic new steering wheel layout, a feature-packed audio, navigation and telephone package plus a lane departure warning system that should prove to fans of the marque that Citroen has returned to its old ways - offering something different but not at the expense of plain old practicality.


Our verdict on the Citroen C4 1.6 HDI 16V 110bhp SX
A quantum leap in terms of refinement over the Xsara, Citroen's C4 is a car that can be favourably compared to the likes of Ford's Focus and Vauxhall's Astra - the two big hitters in the family hatch sector. Xsara fans will be disappointed that the C4 has lost its predecessor's super-sharp handling, but the upside is a mature car boasting a stereotypical supple French ride and the return of genuine innovation.