March 2015
Citroen C4 1.2 PureTech 130 Flair
Angular, striking styling is enhanced by a new headlight design
March 2015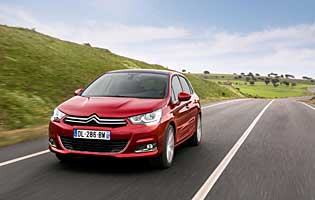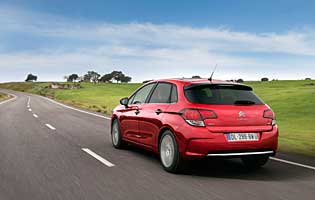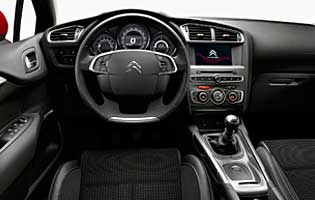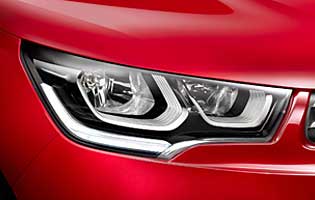 Overall rating

Likes:
Soft, comfortable suspension gives a relaxed, cosseting drive
Ideal mix of clutter-reducing touch-screen and analogue controls
Large boot eclipses those from popular rival cars
Very affordable to buy in comparison with most competitors
Gripes:
Large steering wheel and slow responses provide little driving fun
Doors and tailgate shut with a low-rent clatter
Distinctive styling may begin to date quickly
Small number of below-par plastic areas in the cabin
The C4 is Citroen's spearhead into the mainstream market; the car that aims to offer something different to the orthodox and the mainstream. It emphasises comfort and smoothness rather than feigning sportiness or attitude. This is the prime representation of how Citroen is redefining its image and reclaiming a distinct identity that has been absent for decades.
The C4 has been the French company's contender in the compact family hatchback market for many years, but has struggled to carve out a long-term identity for itself. Over the years sporty three-door variants have been tried, but the model has always worked best when given comfortable suspension, interesting technology and plenty of space. Those principles are at the heart of the 2015 model.
It has become extremely rare for an affordable family car to stand out in terms of comfort, with most simply mating an acceptable quota of plushness with cost-cutting. Citroen, though, has deliberately worked to make this the most comfortable C4 ever. It floats airily along in a way that makes it unique in the class.
Citroen has also made sure to include plenty of forward-looking technology that responds to the wants and needs of drivers who increasingly call for connectivity, access to smartphone apps and touch-screen operation. But, unlike Peugeot's 308, a sister car to the C4, Citroen keeps the heating and air movement controls on the centre console.
The pricing structure is set considerably lower than those of the class leaders. A high-grade C4 can be bought for less than mid-range models from key rival manufacturers. As a result the C4 looks like a strong option when it comes to finance. Its latest styling updates help it to look more premium than its price might suggest, too.
Our verdict on the Citroen C4 1.2 PureTech 130 Flair
Citroen has done the right thing in unashamedly biasing the C4 towards comfort. Its ride quality makes an instant impression and should give consumers a real reason to choose it. It is a comfortable platform to transport yourself or family members around town or even over long distances. A class-leading boot capacity is another plus point for a car whose personality is now very clear.
Costs
Petrol models are significantly cheaper to buy than diesels, and driven with care they also return impressive fuel economy. The entry-level diesel is supremely economical and boasts the lowest emissions in the range, but does cost more to buy in the first place. However, the significant like-for-like saving the C4 range offers against key rivals means that it must always be considered excellent value for money.
Space and practicality
Immediately stacked in the C4's favour is a 408 litre boot, which is bigger than those of the Volkswagen Golf, Ford Focus and Vauxhall Astra. The news in the cabin isn't quite as good, and while the door pockets are shallow but useful there is little practical storage space in the centre console apart from that which is low and directly between the front seats, which can be slightly awkward to access while driving.
Controls and display
The cockpit has a heavily digitised appearance courtesy of three LCD screens inside the rev counter, speedometer and fuel gauge. These are added to the seven-inch touch-operated screen in the centre of the console, through which many of the car's settings are accessible. The heating and air movement controls remain analogue, though. They are within arm's reach and simple to operate. The ancillary stalks behind the steering wheel could perhaps be made from higher-quality plastics.
Comfort
Unlike its German counterparts in particular, the C4 uses an immediately soft and welcoming density of seat foam. It makes the car more comfortable for short, relaxed journeys but some people will feel that they lack enough support for long trips. At least there is adjustable lumbar support for the driver. Legroom should be ample for most people, even in the back, although tall front seat occupants might want to push their chairs back too far for comfort.
Car security
High-grade models are fitted with keyless entry and start, meaning the key can stay safely in a pocket. Models with alloy wheels come with locking bolts to prevent theft. The driver can engage a setting that sees the doors lock automatically when the journey starts, helping to prevent potential car jacking. This also secures the boot. Remote central locking is standard on all models.
Car safety
The addition of LED daytime running lights is intended to make the C4 more visible in daylight hours. Brighter Xenon headlights that turn with corners are optional. A rechargeable torch is standard fit in the boot, too, which could be a crucial safety feature when it is most needed. Citroen's Connecting Box is able to call the local emergency services in the event of an accident or breakdown.
Driver appeal
Of old, French cars were famed for their comfort. Citroen has set out its stall in much the same way with the C4 with soft suspension, laid-back turbocharged engines and slow steering that favours a gentle, progressive approach. Keen drivers won't like it, but those who appreciate comfort above all else will engage with the soft seats, although these can be too soft for long motorway stints. Flair models have extra driving assist technologies to increase the luxury and enjoyment.
Family car appeal
Comfort, space and affordability are selling points for many families. The C4 offers enough of these three things to make a very good family car, and under normal circumstances kids are unlikely to cause too much damage to materials like the ones found here. Isofix child seat mounting points can be found on the outer rear seats for parents who wish to use them, and the large boot should be big enough for good folding pushchairs or carrycots.
First car appeal
The C4 could be a very good first car, but it is difficult to imagine why anyone would actually choose it ahead of something smaller, cheaper and cuter, perhaps. This is a compact family car designed for people who need to carry passengers, which overlaps a young driver's desire to drive their friends around, but Citroen's own C1 and C3 are smaller, more affordable to buy, run and insure, and easier to manage early in a driving career.
Quality and image
Given that the C4 is considerably cheaper than other cars of this size and space, potential buyers might imagine that Citroen has cut corners in terms of quality. It doesn't appear so in the cabin, at least, with only small pieces of what could be called sub-standard plastics. The company has struggled to maintain a good reputation for its electronics, though, with electrical issues harming performances in reliability and ownership surveys.
Accessibility
The four door handles are set at a comfortable height and the doors themselves are relatively lightweight and easy to pull open and shut. The rears are noticeably shorter than the fronts, though, and at the bases of the rear doors it can begin to impinge on the available space for sliding feet though the gap. People with large feet might need to twist their ankles to avoid dragging their toes or heels across plastic trim.
Stereo and ICE (In car entertainment)
The stereo in the C4 is controlled through the touch-screen on the dashboard, but Citroen's Connecting Box is standard. It gives USB and AUX inputs as well as Bluetooth connectivity. DAB digital radio is not standard on basic Touch models. The audio system can be upgraded to a high-quality Denon unit for an extra cost. It brings more and better speakers with a more powerful, better-controlled amplifier. Smartphones can be connected to take advantage of limited internet-based services.
Colours and trim
The C4's shape is very current and fashion-focused, but the nine-strong colour palette stays safe with a collection of generally muted shades. All except the basic flat white option look good, so it's wise to upgrade to a metallic finish. The interior is fronted by a large steering wheel with audio and cruise control buttons. It has a stylish and luxurious appearance at odds with what some buyers might expect from such a competitively priced car.
Parking
Parking sensors at the rear are only standard on top-spec Flair models, but without them the C4 still proves simple to park thanks to variable-assistance power steering that gets lighter at low speed. A width of less than 1.8 metres excluding the mirrors helps to make it feel compact, inspiring confidence that it can slot into any typical bay space. A helpful by-product of the boot design is that it will still open cleanly even when the car is reasonably close to the wall behind.
Spare wheel
Full-size spare wheel supplied.
Range information
Petrol engine options - 1.2-litre (108bhp, 128bhp). Diesel engine options - 1.6-litre (99bhp, 118bhp); 2.0-litre (148bhp). Transmission options: five and six-speed manual gearbox depending on model. Trim levels: S, TS, TS2, Sport, Business Line.
Alternative cars
Volkswagen Golf Fantastic high-quality all-rounder but comparatively expensive
Toyota Auris Reliable and straightforward with an excellent hybrid option
Peugeot 308 Shares some parts with the C4 but feels much sportier
Skoda Rapid Hugely spacious and inexpensive but lacks most cutting-edge technologies