Citroen C2 1.6i 16V 110bhp VTR 3-door hatchback review
Gas-filled struts to aid rear seat stowage
September 2003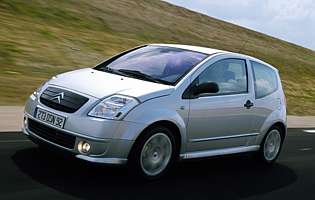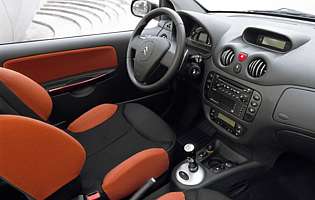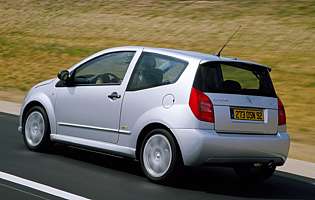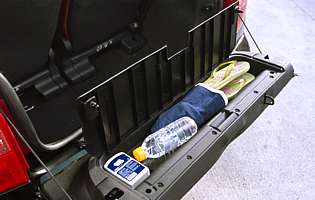 Overall rating

Likes:
Gas-filled struts to aid rear seat stowage
SensoDrive gearbox
Colour-coded interior elements
SUV-style split rear tailgate
Gripes:
Poor rear head- and leg-room
No seat height adjustment on cheaper models
Side view obstructed by B-pillar
Rear windows do not open
Charged with replacing the much-loved Saxo supermini, Citroen's C2 will have to work harder than most small cars to win fans over. Yet the French firm isn't sparing the effort - or the horses - to do so.
There is a family resemblance between Citroen's C3 and C2 small cars, but they possess very different characters, despite sharing the same basic chassis (albeit the C2's is a shortened version). Where the Citroen C3 is all reassuring curves and retro styling, the C2 is aggressive edges and challenging modernity. As an example, the C3's jolly slatted grille makes way for a sleek, ridged plastic counterpart. Designed to appeal to buyers looking for an enjoyable city car but who have to factor in pressing space and spending constraints, the C2 should serve well as a thrifty main vehicle or modest second car. Striking a balance between hot hatch performance and city car practicality is never an easy task, so the opposite ends of the C2 model line-up serve rather different functions. The smaller petrol and diesel engines make a straightforward play for the low-cost motoring market, sacrificing any performance pretensions into the bargain. The reverse is true at the VTR end of the range. Caught in the middle, the 1.4i Furio feels like neither one thing nor the other. Significantly, transmission duties are shared by a conventional five-speed manual for the 1.1-litre petrol and 1.4-litre diesel and a high-tech five-speed semi-automatic system called SensoDrive, which is the only one available with the 1.4- and 1.6-litre models.
Equally bold is the seating configuration. Citroen has dispensed with the idea that five seats must be included at all costs, opting to create a four-seater with two rear seats that are completely independent and can slide and be folded individually. As a result, rear elbowroom is a revelation and the modest boot can be transformed into a decently sized one in a few seconds.


Our verdict on the Citroen C2 1.6i 16V 110bhp VTR 3-door hatchback
A small but potent package, the C2 manages to be affordable and fun without as much sense of 'cheapo' compromise as its Saxo predecessor. The interior still isn't perfect but is solid. It is sufficiently different to its competitors to intrigue and should become a common sight on the roads of all European countries.