September 2005
Chrysler PT Cruiser 2.2 CRD Limited
Hot rod looks are no longer as challenging as they were
September 2005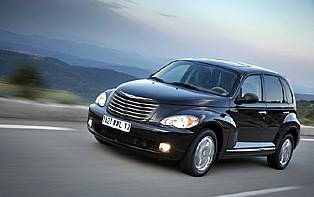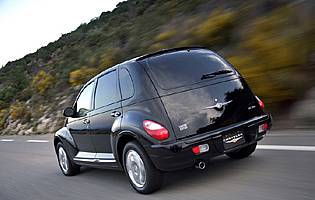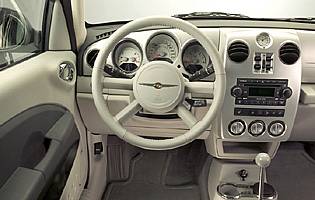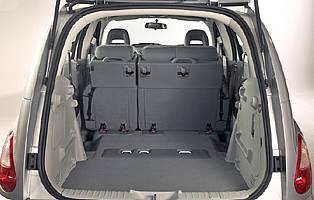 Overall rating

Likes:
Redesigned interior finally up to scratch
Upgraded diesel feels like a brand new engine
Folding front passenger seat comes in handy
Cabrio has character for surfer dudes and teddy boys
Gripes:
No longer as novel as it once was
Suspension does not cope well with poor road surfaces
Lacks interior versatility of more modern motors
Resale values likely to weaken from here on in
A car unlike any other, the PT Cruiser has provided Chrysler with an important foothold in the UK market ever since its 2000 launch. But after all this time, the car's unique formula is starting to look a little tired.
Chrysler managed to confound its critics with the original PT Cruiser, proving that UK buyers could take to a car styled as a piece of retro Americana that couldn't readily be classified by conventional means. Was it intended as an alternative to a conventional hatchback, a compact people carrier or something else entirely?
But times and tastes have changed, particularly in the ever more fragmented compact MPV market in which the PT Cruiser is usually included. With smaller vehicles like the Renault Modus and Mitsubishi Colt offering impressive amounts of space and larger ones such as the ubiquitous Renault Scenic and Toyota Corolla Verso offering sophisticated seating arrangements for up to seven, the PT Cruiser's style is no longer enough to compensate for limited practicality.
Aware of the fact, Chrysler markedly improved the PT Cruiser in mid-2005, most notably inside. It finally gained a retro-styled interior to match the hot rod exterior, complete with 1950s steering wheel, cue ball gear shift, Formica effect plastics and enamelled metal elements. That may sound garish but it works surprisingly well and is much more convincing than the half-hearted retro treatment of the more expensive Crossfire coupe. It makes operating switches and buttons more enjoyable than in some of the dour MPVs on the market.
The 2.2-litre diesel engine that is the overwhelming favourite among UK buyers also benefited from some effective remedial work, giving it significantly more power and improved fuel economy at the same time. Indeed, the engineers did such a good job, it feels like a completely new engine with lots of low-down torque and a decent turn of speed when pressed. A few items of equipment have also been added to the mix to shore up demand for the PT Cruiser, and the Cabrio soft-top version remains one of the most unusual sights on our roads.
Our verdict on the Chrysler PT Cruiser 2.2 CRD Limited
Retro-look cars such as the PT Cruiser cut a dash for a while, but then seem to age with double speed once the novelty wears off. The greatly improved interior will help to stave off the car's advancing years a little, but it's difficult to avoid the conclusion that the PT Cruiser has just about had its day - twice over.
Costs
Chrysler is aware that demand for the ageing PT Cruiser is flagging, and so has been working hard to keep prices competitive and add equipment. Even so, it doesn't look enough of a bargain to attract a huge amount of attention. Basically, everyone who gets excited by what the car offers has probably got one already, and anyone who's got one already is probably starting to think of moving up into the full-scale MPV class. Running, servicing and insurance costs are average - like so much else where the PT Cruiser is concerned. Resale values will get weaker by the day, too.
Space and practicality
Either side of the 65/35 split rear seat can be folded flat, tumbled forward or removed to reveal a flat load floor. The cleverest feature is the front passenger seat, which can be folded completely forward for use as a table top for the driver, or to provide enough space to carry an eight-foot item with the tailgate closed. Extra storage is catered for by a locking glove box and pockets on all four doors. The rear shelf can even be turned over and positioned on the floor so that its rubberised underside provides protection when carrying dirty items. But if you're likely to turn into a van regularly, why not save money and buy a Citroen Berlingo or Peugeot Partner instead?
Controls and display
A new three-dial instrument panel has a silver finish and larger, easier-to-read graphics, while new circular air vents and the trademark Chrysler round clock are more neatly incorporated into the dashboard than hitherto. Power window switches are located in the centre stack - it's surprising that few other manufacturers use this arrangement as it works well.
Comfort
Seats are generously proportioned and supportive. You'll either love or loathe the slightly elevated driving position, an emotion likely to be exacerbated by a steering column that adjusts for angle but not reach. Noise levels are better than they were in earlier examples of the PT Cruiser but still nothing to shout about - if you'll pardon the pun. Rear seat passengers fare worse for leg and elbow room and storage areas than they would in cars like the Ford Focus C-MAX.
Car security
A clutch-starter interlock prevents the engine from starting until the manual transmission clutch is depressed - a feature that is likely to catch owners out for months after they buy the thing. The PT Cruiser is fitted with a 'Sentry Key' theft deterrent system and a Thatcham category 1 alarm and immobiliser.
Car safety
Driver and front passenger airbags plus side airbags feature, and ABS makes effective use of all four disc brakes. Safety equipment generally matches the middle ground in the compact MPV sector, but for some reason the PT Cruiser doesn't instinctively feel like a safe vehicle. It must be something to do with those retro looks and the knowledge that cars that used to look like that were made from steel so insubstantial you could puncture it with a pea shooter.
Driver appeal
The impressive diesel gives good pace from a standing start and during overtaking, but that's about the limit of the PT Cruiser's sporting credentials. A certain amount of pleasure can be gained from imagining you are at the wheel of a 1950s station wagon complete with spindly steering wheel and proper dials, but the novelty soon wears off, particularly when you realize that no-one else shares your illusion. On anything other than very good road surfaces, deficiencies in the PT Cruiser's chassis and suspension become apparent.
Family car appeal
Numerous owners will testify that the PT Cruiser makes a decent family wagon, but even the most die-hard fans must be secretly coveting the extra space and flexibility of a Vauxhall Meriva or Mazda 5. Nevertheless, if you spot an example at the right price, it might be worth a punt as a family vehicle, perhaps in conjunction with a second vehicle.
First car appeal
Again, the PT Cruiser falls between several stools. It's not quite compact enough, not quite cheap enough and not quite exciting enough to appeal to young drivers. The retro styling is aimed very much at the original Baby Boomers, not their children and grandchildren who will lean more towards edgy Japanese and European styling.
Quality and image
Undoubtedly the redesigned interior corrects the PT Cruiser's worst sin - that the inside and outside felt like they belonged to different cars. Fit and finish is better than many apocryphal stories of Mexican-built cars would suggest, and you need to look fairly hard to discover the cheaper plastics that have sometimes been used. In image terms though, the PT Cruiser has had its day. It enjoyed a brief boom time after its launch, but it no longer turns heads or attracts attention.
Accessibility
Compared to modern MPVs and even large hatchbacks such as the Volkswagen Golf Plus, the PT Cruiser's accessibility is no better than okay. Doors don't quite open to ninety degrees and feel heavy. Similarly the boot and its loading area offer a reasonable amount of space without really compelling. Rear seats can be removed, but it is a laborious task requiring some muscle.
Stereo and ICE (In car entertainment)
A single-slot, six-speaker radio/CD player is provided, and it features an MP3 input jack. It's adequate, if unexceptional, and only the open-topped Cabrio model would be likely to need an upgrade if seaside posing is on the agenda.
Colours and trim
In for a penny, in for a pound. You'd might as well make the most of the PT Cruiser's unique looks, as there's no point pretending to be subtle. The brighter the colour the better, to make the most of the pseudo hot-rod associations. Orange is particularly fetching - four words you are unlikely to read very often in a road test.
Parking
Steering is a bit heavy at low speeds, but apart from that, the PT Cruiser isn't a bad proposition when it comes to parking. Despite the outrageous bonnet, the ultimate proportions of the car are actually quite regular and compact. The raised seating position gives a good all-round view, so judging distances isn't a problem.
Spare wheel
Space saver fitted as standard on all models.
Range information
The PT Cruiser features either a 2.4-litre petrol (141bhp) or 2.2-litre (150bhp) CRD diesel engine, and is available in four trim levels - Classic, Touring, GT special edition and the top-of-the-range Limited. The 2.4-litre Classic and GT come with manual transmission only. Limited and Touring models come with a choice of five-speed manual or four-speed 'AutoStick' automatic transmission.
Alternative cars
Renault Scenic Practical all-rounder for family use
Seat Altea Cutting-edge style is the antithesis of the retro PT Cruiser
Vauxhall Zafira Seats seven with superb interior flexibility
Ford Focus C-MAX Feels very well built and is cheap to run