February 2005
Chevrolet Kalos 1.2 S
Chevy badge looks good on the grille
February 2005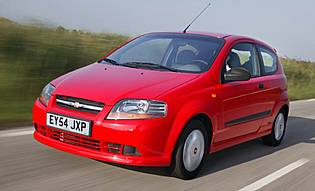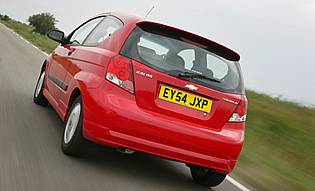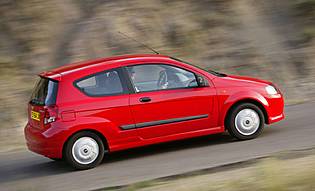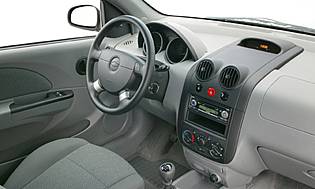 Overall rating

Likes:
Good interior space and bootspace
Should prove trouble-free to own
Chevrolet badge adds desirability
Good warranty and servicing package
Gripes:
Poor quality cabin plastics
Engine noisy at speed
Uninspired interior detailing
Resale values fairly weak
Previously sold with a Daewoo badge attached to it, the Kalos never gained the exposure it deserved, largely due to the well-documented travails of the Korean company. But now that Chevrolet is in charge, it has a second chance and offers a viable alternative to other cheap, roomy hatchbacks like the Kia Rio, Hyundai Getz and Suzuki Ignis.
Chevrolet has been designated the entry-level brand in General Motors' corporate structure, the idea being that buyers start with a Chevy then graduate to Vauxhalls, Saabs and Cadillacs. In keeping with this strategy, the Kalos is an unashamed value-for-money purchase offering a cheap and cheerful mode of transport that should prove reliable and thrifty.
It's no surprise that it isn't exactly loaded down with unexpected equipment and often shows that it has been built to a budget via some poor quality cabin plastics and build quality that is acceptable but not much better. But buyers expecting the full Monty at this price are kidding themselves, but the Kalos is likeable enough.
The exterior design is clean and contemporary though it seems that Chevrolet's corporate 'look' will soon head in another direction entirely which could make the Kalos look very old in a few years' time. For now it looks pretty smart though, with its unfussy grille, pleasing roofline and subtly flared wheel arches. In three-door guise it's marginally more visually appealing than the five-door thanks to some revised bumper mouldings, if marginally less practical.
Two petrol engines are offered of 1.2 or 1.4-litres. There's little to choose between them, which probably makes the cheaper 1.2 the best value buy. Both are economical enough to prevent the lack of a diesel alternative being a major concern.
A high roof means that the Kalos has terrific interior space, even in the back. If you often carry passengers, the Kalos is likely to be more appealing than many of its rivals, even if the engines start to struggle with a full load aboard.
Our verdict on the Chevrolet Kalos 1.2 S
In the US, where it is called the Aveo, the Kalos is the best-selling entry-level car. It's not too hard to see why. You get a surprisingly large and presentable car for your money which is cheap to run and reliable. It may not be alone in offering such qualities, but the Kalos undoubtedly merits serious consideration among budget buyers.
Costs
Engines return good fuel economy and are simple enough in design that they should not develop any serious or complex faults if properly maintained. With low insurance and spare parts costs, this largish supermini can be run for the sort of money you would normally associate with a tiny city car. Chevrolet offers a competitive warranty and servicing package as an extra lure to customers.
Space and practicality
For a supermini, the Kalos boasts excellent interior space and bootspace. Standard equipment includes a 70/30 split folding rear seat backrest. If more space is needed, the rear seat can be folded up and fixed in position behind the front seats using a special belt attached to the passenger's seat headrest, which increases cargo space to a respectable 980 litres.
Controls and display
Dials and controls are clear and easy to use, if completely lacking in design flair and interest. Plastics used for the stalks and some switchgear feel lightweight but the plastic steering wheel of the S model isn't bad. In short, all is functional, which is all that's really required.
Comfort
A lengthy test drive is recommended, as some drivers and passengers may have difficulty getting comfortable. Only SX models have driver seat height adjustment and neither S nor SX models can adjust the steering wheel for distance. Seats lack much side bolstering and the fabric used to upholster them feels rather thin in places.
Car security
Buyers get keyless entry and an immobiliser but not an alarm. The main security problem owners are likely to have is not outright theft of the vehicle but smashed windows from opportunist thieves.
Car safety
Budget cars sometimes scrimp on safety features, a potentially dangerous policy. To its credit, Chevrolet provides the Kalos with a reasonable specification with driver and passenger airbags. All seats are equipped with standard three-point seat belts though the middle rear seat's is rather complex. The belt retractor is positioned on the left rear pillar; the belt is routed through a guide at the top of the backrest and locks into two buckles to the left and right of the passenger's hips. Isofix child seat attachment points are provided on the left and right rear seating positions. Rear headrests are not adjustable.
Driver appeal
Keen drivers are likely to be frustrated by the Kalos's lack of power but by planning ahead and reading the road, it's possible to make decent progress. Steering is over-light at speed, requiring constant small adjustments and there is next to no feedback through the wheel. Fast corners produce noticeable body roll. Brakes are effective and ABS is fitted standard.
Family car appeal
A Kalos could usefully be employed as a second car to back up a larger family vehicle. There's ample room in the back to pick the kids up from school or nip to the supermarket, but the small engines would struggle to transport a full family outing to the seaside.
First car appeal
In the USA, the Kalos is one of those cars Mom and Pop buy for Junior, so it would make a very good first car. Now that it has a Chevrolet badge instead of a Daewoo one, image-conscious teenage drivers are likely to find it less embarrassing to be seen in. Low insurance costs are another pull factor as far as young drivers are concerned.
Quality and image
The addition of the Chevrolet badge immediately seems to make the Kalos a little classier, even though the car it's pinned to is still essentially the same as the Daewoo that preceded it. GM's thinking is that people would rather say ""I've got a Chevy"" than ""I've got a Daewoo"", and they are probably right. Quite how Chevrolet will be ultimately viewed by the UK public will not be clear for some years, by which time it should have introduced some more exciting models.
Accessibility
Inevitably, the three-door Kalos's accessibility is inferior to the five door's. Nevertheless it is possible to move the front seats out of the way with one hand, with a bit of practice and the high roofline means rear passengers don't have to bend too far to climb inside.
Stereo and ICE (In car entertainment)
A single-slot Blaupunkt CD Radio is provided as standard, but only SX cars get the four cheekily named 'Deluxe' speakers. At least it's not one of those fiddly aftermarket units some carmakers provide. Controls are simple and sound quality is good enough to drown out the engine when you're working it hard.
Colours and trim
The Kalos looks best in bold, plain colours such as the basic non-metallic white and red offered as standard with S models. Beware some of the more extreme optional alternatives, which are more than just ugly. They could reduce the car's resale value considerably, though given the relentlessly grey interior it's easy to see why buyers might be tempted to get some extra colour. But there's little point paying for lots of styling extras on a car that's supposed to be a budget purchase.
Parking
Built for the city, the Kalos is very easy to park. Good all-round visibility, a fairly high seating position and very light steering make slotting into tight spots straightforward, so it's no great loss that parking sensors aren't offered.
Spare wheel
A full size steel spare wheel is provided.
Range information
The Kalos is available in both three and five-door body styles with a choice of two petrol engines, a 1.2 (72bhp) and a 1.4 (94bhp). The former are designated S, the latter SX. Transmission comes as a five speed manual gearbox only.
Alternative cars
Kia Rio Cheap but extremely dull supermini
Hyundai Getz Long warranty and diesel option
Suzuki Ignis Hint of 4x4 style and a fun drive
Fiat Punto Aged but millions swear by it