June 2007
Chevrolet Captiva 2.0 LT seven-seat
Bold-looking Captiva promises practicality and style at an affordable price
June 2007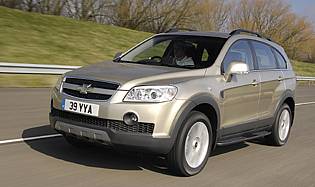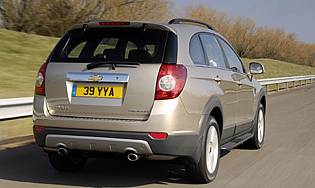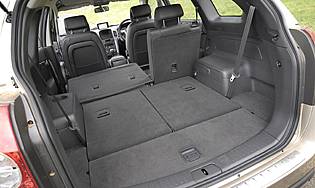 Overall rating

Likes:
Attractively styled and boasts plenty of kerb appeal
Third row of seats conveniently folds down into the boot floor when not in use
Diesel engine isn't the most powerful but it is refined and responsive
Comfortable and practical interior makes the Captive ideal for a growing family
Gripes:
Some of the switchgear feels a little flimsy and inexpensive
Diesel engine and auto gearbox combination does blunt performance a little
Leather upholstery isn't terribly convincing
The Captiva doesn't like to be driven hard
It would seem that you're not a proper car maker unless you can offer an SUV - large or small. As an alternative to a conventional family estate car, the mid-size sport utility vehicle has become the choice mode of transport for many. As such, it's entirely predictable that an emerging brand like Chevrolet would offer such a vehicle in a bid to secure market share.
Once a maker of uninspiring cars using borrowed and old technology under the Daewoo badge, Chevrolet has emerged as the youthful, value orientated arm of the mighty General Motors. The Captiva illustrates perfectly the company's aspirations: attracting young buyers while tapping into the lucrative leisure market.
On paper the Captiva offers much. The car can be had with either five or seven seats, standard equipment levels are good, and there's the all-important diesel engine option for cost conscious Europeans. You can also opt for an auto gearbox with your oil burner, which is to be applauded as such a combination has yet to become commonplace at the affordable end of the SUV market.
In practice the Captiva acquits itself well. For many the car's practical attributes will always outweigh the driving dynamics, but it's good to know that the high-rise Chevrolet feels stable and is largely vice-free. The diesel engine, likely to be the default choice for many, is no hand-me-down but a newly developed unit, further cementing Chevrolet's long term commitment.
And yes, the car works well if you've got a family or stuff to transport. Save for the entry-level car, you have the option of five or seven (for the children) seats. Comfort levels are good and space is not at a premium for a car of this size.
Our verdict on the Chevrolet Captiva 2.0 LT seven-seat
Another day, another SUV - that must be what it feels like for buyers trying to wade through the 4x4 minefield. However, the Captiva is sufficiently good looking and pleasant enough to drive so that it can hold its own on the showroom floor. In fact, the Chevrolet badge could be its unique selling point. For all the European and Far East offerings, the Chevrolet's mild American links gives its image a useful boost.
Costs
If you're keen on saving money, it's got to be the diesel. Superior fuel economy and modest C02 figures help matters despite the inclusion of four-wheel drive, although the auto gearbox variant's don't perform quite as well as cars equipped with manual gearboxes. Elsewhere you're looking at running costs on a par with a regular family saloon, making the financial commitment a modest one.
Space and practicality
The top-spec LTX Captiva gets the seven-seat layout as standard, but it's also available on the LT variant - not the entry-level LS petrol car. In practice they work well, although the set-up is really only suitable for children. Folding the seats is easy, and when not in use they become part of the boot floor, which itself is conveniently flat and wide, with the load lip at a good height. In the cabin there are plenty of storage options: door pockets, glove box, centre console.
Controls and display
With a mixture of new and familiar General Motors switchgear, there's little to surprise a prospective Captiva owner. The column stalks work well, as do the remote audio controls on the steering wheel. The main dials are easy to read, but the audio unit's display can be hard to read in direct sunlight. That said, the optional sat-nav unit's display conveniently pops up into your eye line when in use.
Comfort
With enough room in the cabin for a growing family, space is rarely an issue as you'll never bang elbows with other occupants. Overall, the car's seats - fore and aft - are comfortable and supportive, although the fabric versions tend to grip you better. Refinement is also good, with the engines only intruding when worked hard.
Car security
The usual immobiliser and remote central locking combination is present here, and is likely to be more than good enough. A sturdy retractable cover hides the boot's contents from preying eyes, while the audio unit is a unique fit item for the Captiva.
Car safety
There's no shortage of airbags in the Captiva, plus the usual array of clever electronics to keep you out of trouble. Don't forget the car's four-wheel drive system, which is as much use in a muddy field as it is on a streaming wet road.
Driver appeal
When driven at sensible speeds the Captiva proves to be a willing companion. In diesel trim - the most popular engine option - progress is brisk if not quick. The manual gearbox is precise and the steering well judged for a car like this - you'll be thankful for the lack of kickback and willing sacrifice that last bit of precision. The on demand four-wheel drive system works as advertised and requires no intervention. On road, ride comfort is decent given the car's high centre of gravity, chunky tyres and dual-purpose suspension settings.
Family car appeal
With a wide and spacious boot plus room for up to seven people in the cabin, the Captiva promises much. In reality it delivers on many levels; the cabin space and its durable nature will be a plus for active families, while the included four-wheel drive turns the Captiva into a workhorse capable of towing trailers or caravans and traversing muddy campsites with ease.
First car appeal
As a first SUV the Captiva ticks all the right boxes. It's easy to drive and park, plus isn't too powerful or intimidating. Running costs will be on a par with a mid-size family saloon, so shouldn't alienate young drivers.
Quality and image
Chevrolet's brand image is a world away from Daewoo's budget approach to selling cars. The marketing is more sophisticated, and the cars themselves feel better built and are certainly more attractive in terms of looks. In what was a near clean sheet approach in Europe, public perception appears to be positive.
Accessibility
With no fancy air suspension to lower and ease you path into the Captiva, there is a noticeable step up into the cabin, although most people won't feel challenged. The rear door aperture is, predictably smaller than the front, but children shouldn't have a problem. Gaining access to the third row of seats (where fitted) requires you to be flexible - the location is again better suited to children. At the rear, the tailgate window opens independently, and the wide boot floor makes loading and unloading luggage easy.
Stereo and ICE (In car entertainment)
The standard fit audio unit does a good job of entertaining passengers, and its location makes it easy to reach although bright sunlight can make the display difficult to read. The remote controls on the car's steering wheel are a welcome addition. The optional sat-nav display pops up out of the top of the fascia, allowing you to keep your eyes on the road.
Colours and trim
Bright metallic colours work well on the Captiva - the overall look is one that should attract and please younger buyers. Fit and finish of external panels is very good. Inside, cabin plastics are predominantly black, but there are flashes of brightwork to lift the ambience.
Parking
While a big car, the Captiva's steering is light and offers a generous amount of power assistance. The car's mirrors are pleasingly large, and thanks to the lofty driving position forward visibility is good. It could better when looking rearwards though, thanks to the high rear window line.
Spare wheel
Spare wheel located under boot floor
Range information
Petrol engine options - 2.4-litre (136PS). Diesel engine options - 2.0-litre (150PS). Default transmission is a five-speed manual gearbox, with a five-speed auto available for the diesel engine variant. Trim levels: LS (petrol only, with five seats), LT, LTX (seven seat only).
Alternative cars
Honda CR-V Biased towards on-road driving. A quality, well-equipped car
Hyundai Santa Fe Good value all-rounder. Works well off-road and boasts a seven-seat option
Kia Sorento Affordable and stylish Sorento is an affordable alternative to the usual European models
Nissan X-Trail Copes well off road, good on road; stylish, well built and extremely popular