July 2006
Caterham Superlight CSR 260
Carbon fibre details mark out the Superlight model
July 2006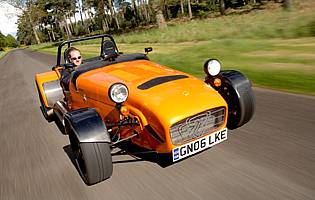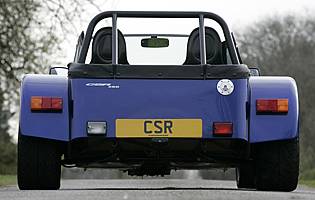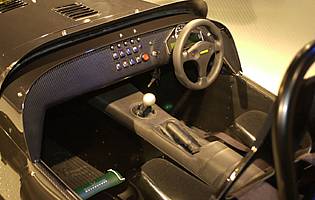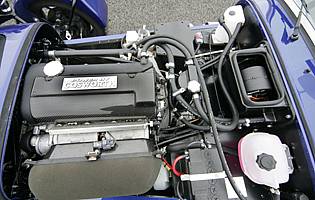 Overall rating

Likes:
Phenomenal performance and sound effects
Pin sharp handling and impressive grip
Ride quality surprisingly good
Impressive engineering throughout
Gripes:
No windscreen makes motorway journeys difficult
Very short or tall drivers may struggle for comfort
Quick steering rack means poor turning circle
Heavy clutch can be tiring in traffic
Already a popular model within the Caterham Seven range, the Superlight brings an even more extreme experience to the market. Using extra lightweight materials and reduced equipment, it cuts weight for more performance. With the range crowned by the CSR 260, power comes from a bespoke Cosworth-tuned engine.
Building on the success of the previous Superlight models, Caterham has taken its latest advances in technology and combined them with the minimalist weight saving strategy to create the most advanced Superlight model yet. The recently introduced Caterham Seven CSR uses a brand new Cosworth-tuned engine, independent suspension and major aerodynamic tweaks, and the Superlight CSR has inherited these developments to good effect.
At its heart is the 2.3-litre four-cylinder power unit, based on a Ford unit and tuned by Cosworth. It is a highly specified engine with many race specification components to deliver astonishing performance. Its light weight also suits the application, reducing front end mass to retain good weight distribution for better handling and grip.
The exterior is also changed compared to regular Caterham Seven models, with a few choice enhancements. It gets black powder coated alloy wheels and aluminium detailing, while black carbon fibre is used for the front wings, rear wing protectors, the dashboard, and the wind deflector instead of a traditional windscreen. A quick release, small diameter Momo steering wheel is also fitted as standard.
Other significant changes for the Superlight CSR 260 are the substitution of high specification Dynamic Suspension dampers, which give superior wheel control and handling, the addition of a limited slip differential at the rear for traction and handling balance, and a high ratio steering rack, which requires minimal inputs and gives a two turns from lock to lock ratio.
Our verdict on the Caterham Superlight CSR 260
Few road cars are as focused as the Superlight CSR, but the compromises over comfort and accommodation are worth it, as it delivers an incredible driving experience. Sensational handling, eye-widening acceleration and immense braking power are all on tap, and over a given road there are few cars at any price that can provide such a thrill.
Costs
Running costs are likely to be high, given the performance on offer. Fuel economy is poor when the performance is exploited, while insurance will also be high. The purchase price however is good when the ability of the car is considered.
Space and practicality
There is little space in the Superlight for anything other than passengers. Indeed, those inside have little room themselves, squeezed in either side of the transmission tunnel. There is a small boot that holds the tonneau cover, which can also accommodate two small bags.
Controls and display
The control layout for the Superlight is as stripped down as the rest of the car, with a plain flat carbon fibre dashboard marked with toggle and push switches. This makes it easy to operate and to understand, with only the manual toggle switch for the indicators requiring a little familiarisation, as it has no self-cancelling function.
Comfort
Despite a focus on fun rather than comfort, the Superlight is more comfortable than its appearance would suggest. The wind buffeting can be tiresome and noise levels are generally high, but although the suspension is sensitive to road imperfections it rides with surprising comfort. Also, the optional carbon fibre seats are very thin and hard, but are respectably comfortable even over long distances.
Car security
Given the lack of doors or a roof, security is something of an issue. However, an engine immobiliser is available, while the optional battery cut off switch is also a useful security device.
Car safety
Although the Superlight is a minimalist car, Caterham has included aluminium honeycomb sections to give crush space, while the superior visibility and incredible dynamics means it has the ability to avoid potential accidents better than survive them.
Driver appeal
With little regard for comfort and a complete focus on driving pleasure, the Superlight delivers an epic driving experience. The full wind in the face experience heightens the sensations delivered, as does the ultra low seating position. The 2.3-litre engine is truly manic, with stacks of low down torque rising to an explosion of power at high revs. The snappy gearshift makes it easy to keep the engine on the boil, while the steering is sharp and direct, communicating every detail from the front wheels. Despite the sticky bespoke tyres, the Superlight is also very forgiving when the limits are breached, and is very easy to control even when the grip has run out.
Family car appeal
Children may well love the thrill of being driven in the Superlight, but in practical terms it is unsuitable for family duties thanks to its lack of seats, space and a roof.
First car appeal
It is likely that inexperienced drivers would be terrified of the Superlight, given its immediacy of response and shattering performance. The cost factor would also be prohibitive, with many insurance companies likely to refuse cover on such a high performance car.
Quality and image
Although there is little in the way of materials more commonly found in a conventional car, the Caterham conveys a strong sense of quality. The standard of finish is very good throughout. The image is equally strong, and the Superlight gives off strong hints of its impressive performance.
Accessibility
With no doors or roof, initial access to the Superlight is easy, but the very low seating position and narrow footwells require passengers to slide down into the seats, making it a little awkward for those of a large build.
Stereo and ICE (In car entertainment)
The Superlight is not fitted with any form of audio system.
Colours and trim
The interior of the Superlight is completely dark, with black carbon fibre weave on the dashboard, black carbon seats and a black leather steering wheel. However, with no roof and no windscreen the cabin is bathed in whatever light is available. What little trim present is either leather or carbon fibre.
Parking
In some respects the Superlight is the easiest car to park, given the complete lack of blind spots and the ability to see the front and rear wheels. However, the quick steering rack means there is little lock available and the turning circle is poor, plus the steering is heavy at low speeds while the clutch is always heavy.
Spare wheel
Tyre inflation can is fitted as standard, spare wheel available as an option.
Range information
Two engine options: 2.0-litre petrol (210bhp) and 2.3-litre petrol (257bhp). Both are fitted with a six-speed manual gearbox as standard. Superlight trim level gives a carbon fibre wind deflector instead of a windscreen, carbon fibre dashboard and front wings.
Alternative cars
Aerial Atom Similar stripped down experience with impressive Honda engine
Westfield S2000S Bike engine means manic performance but lack of torque
Lotus Exige S Not as fast but offers same instinctive driving experience
Radical SR3 Hard work in traffic but incredible handling and grip