January 2016
Caterham Seven 420R
Stripped back appearance is a Seven trademark
January 2016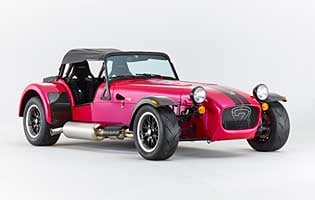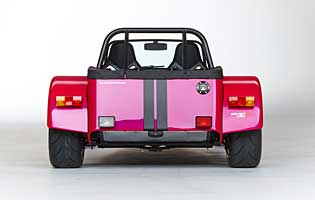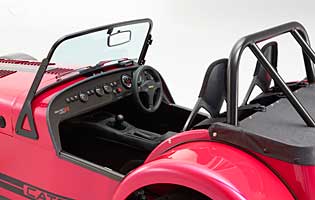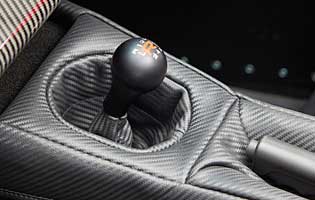 Overall rating

Likes:
Searing, yet manageable performance
Intensity of response to inputs is defining characteristic
R pack is still good for road use
Still a bargain even at this price
Gripes:
Practical considerations need to be left behind
Traffic and poor quality roads make for tiring progress
Ear plugs a sensible requirement for longer journeys
Not a car for the nervous or inexperienced
One of the most iconic cars ever to come from the UK, Caterham's Seven has a place in the hearts of many enthusiastic owners due to its uncompromising fun factor and stripped-back approach. Caterham has revised the model line up for the 2016 model year, with new name tags and simplified choices for the buyer.
The longevity of the Seven is down to the simplicity of the original recipe which has barely changed in half a century. The car itself is made up of a simple spaceframe chassis with lightweight metal and plastic bodywork. Designed solely for two people, there are very few of the creature comforts that most modern cars now have and it is all the better for it.
The revised Caterham Seven line up is now denoted by a three-digit number, roughly indicating the model's power-to-weight ratio. The entry-level 160 models remains as before, but the models above are now dubbed 270, 360, 420 and 620, with a variety of powerplants. As before, some models in the range wear the SV tag to indicate the wider and more spacious chassis.
A further designation denotes the set-up and equipment fitted to each model. S models are road-biased and come with a carpeted interior, a complete fabric roof and side screens, heater and black leather seats. R models are more track-oriented and benefit from a limited-slip differential, bigger alloy wheels, carbonfibre elements and sports suspension amongst others.
The 420R model uses a 2.0-litre Ford-derived engine that has been previously used in other Caterhams and is also shared with the 360 model, but in R form it gains dry-sump lubrication which increases power and makes it more suitable for track work. As standard it is fitted with a five-speed manual gearbox but can be fitted with a six-speed version from the options list.
Our verdict on the Caterham Seven 420R
The beauty of the Seven range is that the basic recipe is the same intoxicating mix but that there are plenty of options to tailor it to your exact requirements. The 420R is a good compromise for buyers wanting something still usable on the road but fast enough on track to be exciting or even for competition. It might have all the usual Seven compromises but it is certainly worth it.
Costs
The Seven 420R is not a cheap car to buy, and although its small petrol tank means a fill up is relatively inexpensive, super unleaded is preferable but the range is very dependent on how carefully you drive. Insurance costs will also be relatively high although many owners will do limited miles in a year, while maintenance is essential for a high performance machine such as this.
Space and practicality
Space is very limited in all varieties of Seven. Legroom is fine for anyone 6ft or under, but elbow room is entirely dependent on the size of your passenger. The optional SV chassis gives additional width but is not compatible with the R specification. Headroom is dependent on whether the roof is up or not, and this also determines how much space is available in the small boot.
Controls and display
The dashboard contains only the essential gauges and equipment. The push button indicators do not self cancel and are thankfully accompanied by a loud beep. The rest of the function such as wipers and lights are controlled using centrally mounted buttons, while the instruments are minimalist but easy to read.
Comfort
The Seven in any form is not designed for comfort. The ride is firm and bigger bumps taken a speed can be wince-inducing, but the seats are surprisingly comfortable considering their stripped back nature. Noise levels however are simply varying degrees of loudness.
Car security
There's very little to prevent a thief from gaining access to the Seven as the roof, if fitted, is only attached with press studs. However an engine immobiliser means it is not just a case of jumping in and driving off. A tracking system would be a sensible addition for anyone planning to leave their car on the street.
Car safety
The Seven is very light on safety equipment, doing without any kind of electronic aids whatsoever. It does however offer a good level of active safety thanks to its nimble, lightweight nature, good levels of grip and excellent visibility.
Driver appeal
All Sevens offer a scintillating driving experience but with such a great differential in power and performance between the top and bottom of the range choosing the right model requires care. Sitting near the top of the power scale the 420R is a car for an experienced hand, although given its performance it is less intimidating than some rivals. But it is the sharpness and lightning speed of response that makes it such a joy to drive.
Family car appeal
The Seven is unsuitable for family use too, as it is a strict two-seater and only a simple booster seat can fit in the slim cabin.
First car appeal
Even the most humble Seven 160 is not suitable for a new driver, and even though it is good value is likely to be too expensive for someone newly qualified.
Quality and image
All Caterhams are simple cars despite becoming more sophisticated with each revision, and some of the interior controls may seem very old fashioned. But in a car like this it is the mechanical elements that are of greater importance, and these are all well-honed and well proven quality components. In image terms the Caterham is untouchable, as it still represents the ultimate in driver-focussed experience.
Accessibility
With no roof and the doors removed getting in to the Seven simply requires you to step in and sit down, although holding on to the windscreen rail can cause damage. With the roof in place it is exceptionally difficult to get inside, even with much practice and is definitely not for the inflexible.
Stereo and ICE (In car entertainment)
The Seven has no audio system nor the option of one, although a 12v socket is available which would allow the fitment of a portable sat-nav device.
Colours and trim
The chosen colour scheme is fundamental to how the 420R looks, despite the minimal bodywork. One of the more eye-catching choices is the Pearlescent Nuclear Red as shown, but more classic shades are also available. On the inside R models have plenty of carbonfibre which is functional and attractive, but otherwise the trim is very simple and hardy rather than stylish.
Parking
Without the roof down you have the ability to see all the car's extremities the 420R can be parked in a matter of seconds. However the steering is exceptionally heavy thanks to the high geared steering and poor lock, while it is a slow process to shift between first and reverse gears.
Spare wheel
Tyre inflation can fitted as standard.
Range information
Petrol engine options - 0.66-litre (80bhp); 1.6-litre petrol (135bhp); 2.0-litre petrol (180bhp, 210bhp, 310bhp); 2.3-litre (260bhp). Transmission options: five-speed manual gearbox, six-speed manual gearbox, six-speed sequential gearbox. Trim levels: 160, 270, 360, 420, 620, CSR.
Alternative cars
Ariel Atom Ridiculous power-to-weight ratio means breathtaking acceleration
Westfield S2000 Very similar in terms of design and on-paper performance
Lotus Elise SC Supercharged open-top model offers similar performance and greater refinement at a price
Morgan Three Wheeler More expensive but very similar charm and experience