April 2014
Caterham Seven 160
Handsome Seven looks remain unchanged
April 2014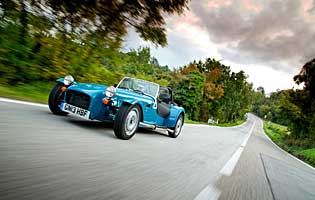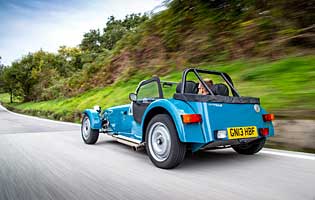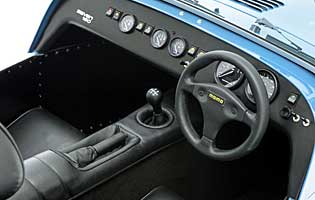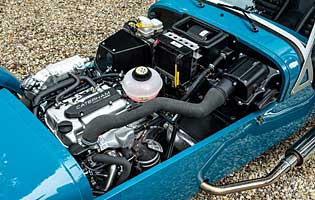 Overall rating

Likes:
Charming old-school looks
Keen and efficient turbocharged engine
Purity of driving experience
Potential to self-build
Gripes:
Awkward to enter and exit with roof down, worse still with roof up
Surprising omissions from standard equipment
Unquestionably noisy, especially at cruising speeds
Hard work in poor weather
Caterham's evergreen Seven sports car may already be passed its fiftieth year in existence but time has done nothing to diminish its appeal. Caterham is continuing to expand the range and has taken an unusual step in introducing an even cheaper model at the entry point of the range - the Seven 160.
The longevity of the Seven is down to the simplicity of the original recipe which has barely changed in half a century. The car itself is made up of a simple spaceframe chassis with lightweight metal and plastic bodywork. Designed solely for two people, there are very few of the creature comforts that most modern cars now have and it is all the better for it.
Of course the aim of this lightweight approach is to deliver fast responses and dynamism, and the Seven has this approach at its heart. With so little mass the Seven can do away with power steering and achieve impressive acceleration with relatively modest powerplants - while the version with more power offer spectacular results.
The Seven 160 is a new entry-level model in the Caterham range and brings with it a lower price tag than the previous range opener. As with many Sevens it can be factory built or delivered to the buyer in kit form at an even lower price. As a result it does without many of the features that appear on the more expensive models, but it still has all the essentials required for an engaging drive.
The biggest change in the Seven 160 is the adoption of a turbocharged three-cylinder engine produced by Suzuki. Normally used to power Japanese-specification superminis, the unit provides modest power but good torque and its lightweight, efficient design also means it is surprisingly fuel efficient. The 160 also adopts a more simple live rear axle without a limited slip differential due to the relatively low power output.
Our verdict on the Caterham Seven 160
The Seven 160 is a relatively low-cost and easy way into the Caterham experience. Anyone coming to it from a conventional car will find its directness and responses a revelation, although drivers more used to Sevens may find the modest power and lack of a limited slip differential an oversight. However it remains a fantastic testament to simplicity and driving fun, more so because of its low cost.
Costs
For a car with this level of performance and handling it will be relatively cheap to run, certainly more so than a comparable hot hatch. Even insurance costs should reflect that it will likely be used over limited miles in a given year.
Space and practicality
Space is very limited in all varieties of Seven. Legroom is fine for anyone 6ft or under, but elbow room is entirely dependent on the size of your passenger. Headroom is dependent on whether the roof is up or not, and this also determines how much space is available in the small boot.
Controls and display
The dashboard contains only the essential gauges and equipment. The push button indicators do not self cancel and are thankfully accompanied by a loud beep. The rest of the function such as wipers and lights are controlled using centrally mounted buttons.
Comfort
The Seven in any form is not designed for comfort. The 160 does without a heater as standard as it not available in the slightly more comfortable wide-body SV version. The ride is firm and bigger bumps taken a speed can be wince-inducing, but the seats are surprisingly comfortable considering their stripped back nature.
Car security
There's very little to prevent a thief from gaining access to the Seven as the roof, if fitted, is only attached with press studs. However an engine immobiliser means it is not just a case of jumping in and driving off. A tracking system would be a sensible addition for anyone planning to leave their car on the street.
Car safety
The Seven is very light on safety equipment, doing without any kind of electronic aids whatsoever. It does however offer a good level of active safety thanks to its nimble, lightweight nature, good levels of grip and excellent visibility.
Driver appeal
A low power sports car may seem like a flawed concept but the Seven 160 is a delight to drive. The keen three-cylinder engine punches above its weight and every demand for acceleration is met with enthusiasm, particularly at lower speeds. With more simple suspension and taller, less grippy tyres the 160 is less frenetic and easier to play with near the limit of grip, making for a very gentle introduction to such a style of driving.
Family car appeal
The Seven is unsuitable for family use too, as it is a strict two-seater and only a simple booster seat can fit in the slim cabin.
First car appeal
The Seven 160 is not suitable for a new driver, as its very direct nature and physical controls require a measured and experienced touch.
Quality and image
The Seven 160 is not for anyone seeking luxury, and some of the interior controls may seem laughably outdated. But in a car like this it is the mechanical elements that are of greater importance, and these are all well-honed and well proven quality components. In image terms the Caterham is untouchable, as it still represents the ultimate in driver-focussed experience.
Accessibility
With no roof and token doors, initial access to the Seven 160 is easy, but the very low seating position and narrow footwells require passengers to slide down into the seats, making awkward even for smaller drivers. With the roof in place it is exceptionally difficult - the 160 does without the removable steering wheel that makes life a little easier.
Stereo and ICE (In car entertainment)
The Seven has no audio system nor the option of one, although provision can be made for a portable sat nav.
Colours and trim
It might be a stripped-back experience but the Seven can be had in a range of colours which tend to lean towards the brighter end of the spectrum that understandably suit it best. Caterham can also accommodate custom colours. On the inside the trim is almost universally black.
Parking
Without a roof and the ability to see all the car's hard points the Seven 160 can be exceptionally easy to park. However the steering is very heavy at low speeds and the lock is poor.
Spare wheel
Tyre inflation can is fitted as standard, spare wheel available as an option.
Range information
Petrol engine options - 0.66-litre (80bhp); 1.6-litre petrol (125bhp, 140bhp, 150bhp); 2.0-litre petrol (175bhp, 200bhp, 256bhp, 310bhp). Transmission options: five-speed manual gearbox, six-speed manual gearbox, six-speed sequential gearbox. Trim levels: 160, Roadsport, Supersport, Superlight, R300, R400, 620R, CSR.
Alternative cars
Ariel Atom Ridiculous power-to-weight ratio means breathtaking acceleration
Westfield S2000 Very similar in terms of design and on-paper performance
Lotus Elise SC Supercharged open-top model offers similar performance and greater refinement at a price
Morgan Three Wheeler More expensive but very similar charm and experience