August 2008
Cadillac CTS 3.6 V6 Sport Luxury
Rakish looks and bold grille sets the CTS apart from its rivals
August 2008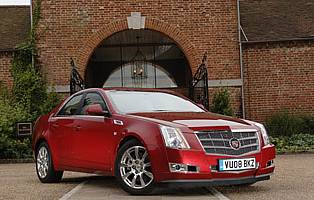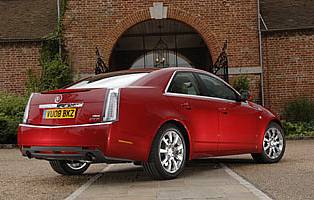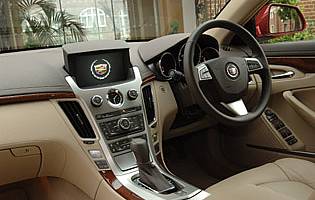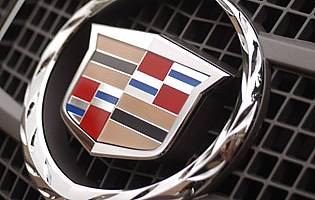 Overall rating

Likes:
Dramatic interior and exterior styling
Incredibly generous list of standard equipment
Offers a good blend of sporting ability and refinement
Value for money when compared to European rivals
Gripes:
Small, low-key dealer network
Some cabin plastics are hard to the touch
2.8-litre variant feels a little underpowered
Rear legroom lags behind the competition
The UK's on-off relationship with Cadillac is a complicated one. For a long time the cars weren't really up to European standards; be it for quality or the driving experience. The previous generation CTS was greeted by an indifferent buying population - it simply didn't cut the mustard. This bolder, brighter, better equipped and more talented car is out to reverse its maker's fortunes.
There's no point considering a CTS if you don't like being looked at. No question: this car turns heads. Thankfully it's all for the right reasons. As part of a concerted effort to increase the CTS brand's popularity and make it more attractive to notoriously selective European buyers, the result is a bold, angular and daring design.
Keen to create a statement but not go over the top, Cadillac designers incorporated a number of the firm's historic elements, such as vertical lights and sharply creased exterior panels. But Cadillac also realised that it must look to the future, so the CTS is packed full of modern equipment and drives more like a contemporary sports saloon than the chrome-laden barges of old.
And it's these two elements - driving experience and equipment - that should appeal to European tastes. Anyone raised on a diet of sparsely equipped German executive cars will be in for a pleasant surprise. First up, the UK specification CTS comes in one trim level: Sport Luxury. Then it's loaded to the hilt with all manner of safety and entertainment kit. The former is as you would expect, but the latter package runs to a touch screen sat-nav, CD player, radio and TV tuner, surround sound, inputs for an iPod or USB memory stick and the ability to transfer music to the system's hard disc.
It all works beautifully and there's no question that it adds considerable value to the ownership experience. The same is true of the driving experience, which should please those using Audi or Mercedes as a benchmark. With a 2.8 or 3.6 petrol engine to choose from, progress can be measured or brisk respectively. A more focused sports suspension setting is also standard on the latter, while a six-speed auto gearbox is the default transmission.
Our verdict on the Cadillac CTS 3.6 V6 Sport Luxury
Much effort has gone into this latest generation of CTS saloon. It's obvious that Cadillac's engineers have gone for a more European feel to the driving experience; it's now more composed and sophisticated, and should also appeal to keen drivers. The 3.6 petrol unit is the better option if you want to have fun, as the 2.8 has to work harder. Handling aside, what's more likely to attract buyers is the car's looks and its embarrassingly generous level of standard equipment.
Costs
There's no question that the CTS is a lot of car for the modest asking prices. It is worth noting that you will feel the pinch financially with the CTS - the two petrol engines aren't exactly tax-friendly for corporate buyers. That said, as a private buyer so long as you're happy with the car's immodest VED banding, the long term cost of ownership doesn't have to be painful.
Space and practicality
Despite being a large car - no doubt something to do with its wide stance, the CTS is best described as something positioned between, say, BMW's 3 and 5 Series. As such, the Cadillac's cabin is spacious but not overly accommodating. Rear seat occupants will testify to that with the lack of legroom. Fear not, the prospect of banging elbows is distinctly minimal though, and cabin storage options are plentiful for this class of car.
Controls and display
Despite the car's many features, thankfully there's plenty of logic to the way everything operates. The main dials are easy to read and the various buttons on the fascia are likewise easy to operate. Fortunately most of the car's major entertainment features can be accessed through the large central touch screen, which rises form the centre of the fascia. Mapping data and music track listings, for example, are clear and displayed in large type.
Comfort
If you want a plush and hushed ride opt of the CTS in 2.8-litre guise - the 3.6 model boasts a slightly firmer and more sporty ride. Elsewhere, the car's seats are comfortable and supportive, while there's a reasonable amount of space up front. Adult rear seat occupants will rue the modest amount of legroom available, though.
Car security
As you would expect, the CTS comes with all the usual security measures, such as remote central locking plus an alarm and immobiliser. Remote opening for the boot is a welcome addition. Given the car's distinctive looks, you might want to invest in an inexpensive steering lock. That way you can present a visible deterrent for a modest outlay that should help deter the opportunist thief.
Car safety
With Cadillac keen to attract many European buyers to its CTS, safety levels are up to comparable standards with European cars. Numerous airbags plus electronic stability and traction control aids are present. On the road the car feels composed and stable, with its limited slip differential noticeable when you choose to drive briskly, helping to maintain a good level of grip for this rear-drive saloon.
Driver appeal
With the 2.8-litre model grabbing all the affordability headlines, it's the 3.6-litre variant that will appeal to keen drivers. There's about a 100 horsepower difference, and it shows. On a positive note, the slower car's suspension isn't as firm as the 3.6 variant, which could be seen as a positive if you just want to waft around in it. With its retuned ride plus self levelling rear suspension and limited slip differential (common to both cars) the faster CTS is a keen and willing companion on challenging roads. The standard fit auto gearbox could be quicker to shift, but around town it's fine. Overall the rear-wheel drive CTS is surprisingly good.
Family car appeal
If your lifestyle dictates that an executive saloon should be part of your uniform, the CTS is not an inappropriate family vehicle. Understandably it does lack the versatility of a conventional people carrier, although there's enough room for a growing family. It is, however, a plush vehicle, which puts it at odds with the behaviour of small children and their sticky fingers. And it's a saloon, which means the family dog will have nowhere to sit.
First car appeal
It might be easy to drive but the CTS is an unlikely first car. Even in 2.8-litre guise the car is not slow, and with its high boot line a novice might struggle with reverse parking duties. And obviously it's not a going to be a cheap car to run.
Quality and image
With the European perception of American cars not always kind or forgiving, Cadillac knows it has a battle to win hearts and minds. The good news is that the performance of the products is much better than before. And the same is true of the overall quality ambience. It can't quite match the performance of its European rivals but these are early days.
Accessibility
Front seat occupants will have little trouble getting in or out of the CTS - wide doors and an adjustable seating position should make life easy. In contrast, the car's rear doors are a little short, and as such the door aperture could be bigger - something you notice more from the inside.
Stereo and ICE (In car entertainment)
It would be easier to list what doesn't come with the CTS. Boasting a touch screen sat-nav unit complete with analogue TV and radio tuner, CD player and input for a USB flash drive and MP3 player (Cadillac's favourite is the iPod range) you're spoilt for choice. Surround sound speakers and the ability to navigate your iPod's play list from the car, 'rip' music from a CD or USB drive to the multimedia unit's hard drive or even pause and record live radio broadcasts are some of the highlights. And despite the perceived complexity, the various functions are easy to control.
Colours and trim
With a choice of light and dark exterior colours to choose from, both angles are covered whether you want to blend into the background or stand out from the crowd. In reality it's the brighter colours that prove more attractive. Inside, the cabin plastics plus wood and silver trim all work well and help deliver a convincing premium ambience.
Parking
Despite being a wide and squat car, the CTS is easy to manoeuvre at low speeds. Good-size mirrors help make parallel parking stress free, although the car's high boot line can obscure some of the view rearwards. Naturally, parking sensors help while the smooth auto gearbox and light steering ensure little physical effort is required.
Spare wheel
Space saver fitted as standard.
Range information
Petrol engine options - 2.8-litre V6 (208bhp); 3.6-litre V6 (307bhp). Transmission options: six-speed auto gearbox. Trim levels: Sport Luxury.
Alternative cars
Audi A6 Spacious German is a solid and refined choice, but can't match the Cadillac's kit level
BMW 5 Series The sportiest car here but, like the Audi, equipment levels are low out of the box
Skoda Superb Large, well equipped and good value - can't match the CTS on the road, though
Volkswagen Passat High quality offering but lacks the Cadillac's style and equipment