July 2006
BMW Z4 Coupe 3.0si SE
Coupe's rakish nose apes that of the Z4 Roadster
July 2006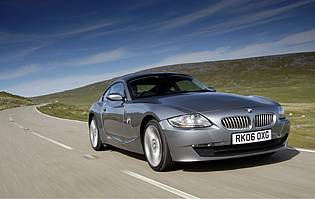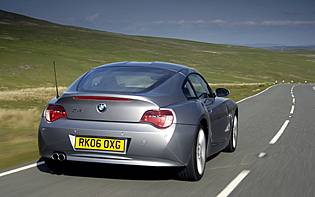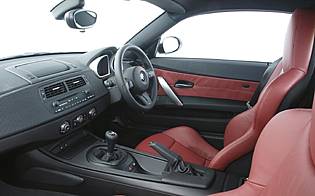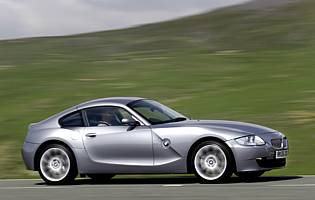 Overall rating

Likes:
High levels of build quality and cabin refinement
Despite the Z4's compact size, occupant space is surprisingly good
Performance of the 3.0si variant will impress enthusiastic drivers - behaves like an old-style, rear-wheel drive coupe
Z4 Coupe is practical thanks to hatchback tailgate and decent size boot
Gripes:
Equipment levels on the standard car could be better
Rear visibility when parking isn't great - making parking sensors essential
Ride comfort is compromised when car is specified with sports suspension
Z4 M Coupe is no soft, GT cruiser. Needs to be driven hard to unlock its potential
Sharing the basic appearance of the Z4 Roadster, BMW's Z4 Coupe is pitched at the enthusiastic driver - one who likes a challenge and prefers an experience with a few rough edges. More than just a Roadster with a roof, the Coupe is stiffer, is offered with a more powerful 'entry-level' engine and is likely to be seen in fewer numbers. A bit special, then.
Jaws dropped and people sighed when the Z4 Roadster was first introduced. It was, to put it mildly, a little different from its Z3 predecessor. All the strange curves and lines made sense if viewed from certain angles, and there was the promise of a more sporty experience - something the Z3 severely lacked.
Launched to coincide with a mid-life improvement programme for the Roadster, the Z4 Coupe is claimed to be more than just the same car with a fixed roof. Stiffer and boasting a more focused driving experience, the Coupe is the car for the true enthusiast.
With styling echoing that of compact sports cars from a bygone era the Z4 Coupe sits low and squat, a stance exaggerated by its low, sloping roof, stubby tail and long bonnet. That tail hides a surprisingly useful boot, while the nose accommodates the lightest production straight-six petrol engine or the multi award-winning 3.2-litre unit from the acclaimed M3.
What's surprising is how easy to drive the 'regular' 3.0si model is. Sure, it's fast and nimble, but its supple ride makes it a candidate for being the only car on your drive. But for all its talents, it's the Z4 M variant that will hog the limelight. Lighter than an M3, super-responsive and powered by an all-time great engine, the Z4 M is a proper hooligan. Possibly too much fun to be your only car, but huge fun in small doses nevertheless.
Our verdict on the BMW Z4 Coupe 3.0si SE
BMW's Z4 Coupe takes the German firm's smooth, sophisticated reputation and roughs it up a bit. However, for all the car's fun-loving character, it is as much an all-rounder as it is an all-out hooligan. The balance struck is a good one, from performance to handling, refinement and looks. And then there's the mad Z4 M Coupe, which takes performance to a higher level but commands even greater respect.
Costs
While not exactly a cheap car to buy, the belief is that due to the low numbers available (around 2,000 in a full year) residual values will remain firm. The Z4 M car aside, the regular model boasts sensible servicing and fuel economy figures, with the former buoyed by a 'service inclusive' package for a fixed price over a fixed number of years. The M car, by definition, will cost more to run but this is price you'll pay for the extra performance.
Space and practicality
Cabin space is modest, but you do get a practical glovebox and there's the option of a few small cubbyholes behind a drop-down cover between the seats. It's also where the CD changer would go. In contrast, the door pockets are a token affair, and just big enough for a packet of gum or a pen - definitely not a map. At the rear, the car's boot is a good size and will hold at least one golf bag plus a squashy bag. The Z4 M includes a tyre repair kit, which does rob the boot of a little space.
Controls and display
You won't find any complicated controls in the Z4's cabin. Everything is simple to use, and the car's main dials are clear and easy to read. The comprehensive trip computer is a nice feature, as is the location of the audio unit high up on the fascia. Even higher is the optional sat-nav unit, which rises from the top of the fascia. Steering wheel controls for the phone and audio unit might be optional but are worth it.
Comfort
For such a compact car with its engine well forward under a long bonnet and the driving position well back near the rear wheels, ride comfort is good - so long as you don't opt for the sport suspension package. A feature on the 3.0si Sport and flagship Z4 M, it can make for an overly bumpy ride. The 3.0si SE offers the best compromise -a supple ride but never feels soft or wallowy at speed. Cabin noise is acceptable, but engine noise - albeit a pleasant sound - is present when you're 'pressing on'.
Car security
You get the usual alarm and immobiliser package with the Z4 Coupe, which is just as well as it's a distinctive car and destined to attracted a lot of attention. There isn't an abundance of storage space in the car, so keeping things out of sight could be an issue. Given the car's status, it would be worth considering a tracking device for added peace of mind - especially for the Z4 M variant.
Car safety
Twin front and side airbags are standard, along with a comprehensive electronic stability control package. As well as offering the usual assistance with loss of grip, the system also boasts clever features such as being able to prime the brakes for an emergency stop, add more braking pressure if the system starts to fade and provide a useful 'hill holder' function to make hill starts less dramatic.
Driver appeal
As a baseline performance, the regular 3.0si is an impressive car. Refined and boasting a reasonably supple ride at low speeds, it's fine as your only car. The engine's broad spread of torque makes acceleration prompt and rapid in any gear. Factor in the Z4's nimble chassis, direct steering and rear-wheel drive layout and it's both chuckable and rewarding to drive on twisty, switchback roads. The Z4 M adds more horsepower, sports suspension, a trick differential and better brakes. The experience is very different, and more suited to an experienced driver as speed can build up quickly. This car feels stiffer, delivers a firmer ride and requires a lot of skill to be driven safely at speed - one for the true enthusiast.
Family car appeal
With only two seats, the Z4 Coupe is never going to be a family car. As a second car to the main family vehicle, it would cope with the odd school run trip or supermarket run but that's about it.
First car appeal
The Z4 is an unlikely first car candidate for many reasons. It's not a cheap car to buy or insure, and there's driving the thing - its handling characteristics demand respect and all-round visibility isn't as good as a regular family hatchback.
Quality and image
BMW's image speaks for itself, with brand loyalty and desirability high. Judged as a more sporting brand than the likes of Mercedes-Benz, its cars are lusted after by enthusiastic drivers. On the quality front, the Z4 range - Roadster and Coupe - are good examples of BMW's drive to improve fit, finish and introduce high-class cabin materials. Although the fascia design is similar, the Z4 beats the firm's X3 SUV hands down in the quality department and, overall, is on a par with the usual benchmark brand Audi.
Accessibility
Although a low-slung two-seater with a sloping roof, the Z4 Coupe's cabin is not that hard to get in or out of. Yes it will be a struggle for the elderly or infirm, but most people should be fine. Fortunately the car's doors open wide, though this can present problems in a tight car park - it's best to makes sure you can get out before you park or choose a space well away from other cars. At the rear, the Z4's tailgate opens to reveal a decent amount of space - the hatch is opened via the keyfob, by pulling the BMW roundel on the boot or from a button in the cabin.
Stereo and ICE (In car entertainment)
The standard fit stereo is a good one, boasting a radio and single CD player. The controls are simple and easy to operate, while you can also opt for steering wheel mounted controls for added convenience. A CD changer and sat-nav are offered, the latter is a colour model with a screen that rises up from the Z4's fascia and is easy to programme and follow. There's also the option of a Bluetooth link for handsfree mobile phone operation.
Colours and trim
Dark colours play a big part in the car's interior - if you let them. Opting for light, contrasting leather lifts the cabin ambience - although the upholstery does get dirty-looking quickly. Trim design is modest, although this can also be changed to, for example, a gloss black finish or even a carbon fibre effect. Externally, most colours work well, with dark hues hiding the car's wild curves and lighter one exaggerating them.
Parking
Sitting low down, it's not always easy to judge the Z4's extremities. Rear parking sensors are recommended, as rearward vision is not great. The view forward is compromised by the car's long bonnet, which rises upwards. However, with a bit of practice, parking soon becomes straightforward. At least the car's controls prove light and easy to use when manoeuvring slowly.
Spare wheel
Standard car fitted with run-flat tyres. Z4 M gets regular tyres plus a mousse repair kit
Range information
Petrol engine options - 3.0si (265hp); Z4 M 3.2 (343hp). All cars come with a six-speed manual gearbox. An automatic gearbox is available for the 3.0si engine. The Z4 M cannot be specified with an auto gearbox. Trim levels are based on the engine option chosen.
Alternative cars
Nissan 350Z Coupe Less expensive Nissan is fun to drive and boasts practical cabin
Porsche Cayman More rounded performer than the Z4. Not as pretty and a costly alternative
Mercedes-Benz SLK-Class Fashionable alternative, although sacrifices sporty edge for a clever folding roof
Chrysler Crossfire Coupe Outclassed dynamically in this company, but striking design and exclusivity are plus points