September 2015
BMW X6 xDrive30d M Sport
Mildly refreshed X6 is still hard to miss
September 2015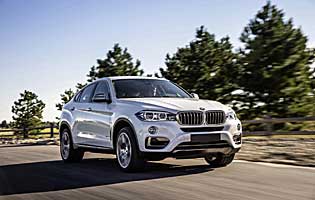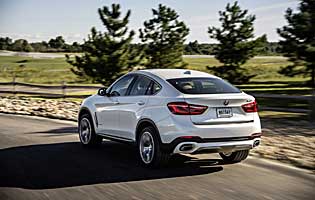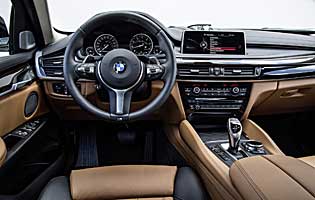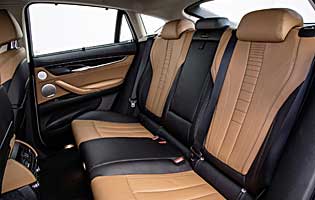 Overall rating

Likes:
Impressive engine and gearbox combination
Very impressive handling for a car of this size
High quality cabin and impressive technology
Economy and emissions are surprisingly good
Gripes:
Exterior changes don't fix divisive looks
Cabin space is relatively poor given its size
Fine handling comes at the expense of ride quality
Still an expensive car to buy
Never one to shy away from a niche market, BMW tore up the rule book with the X6. It mixed a coupe body and sports car-like handling with traditional SUV stance and styling. It has remained a niche offering since first introduced but has proved very popular, and now the German manufacturer has given the X6 a minor facelift.
Cynics thought that BMW had taken leave of its senses when the X6 first arrived as an answer to a question that seemingly no-one had asked. But mixing elements of sports car, SUV and coupe has appealed to a wide variety of buyers and proves that niche products continue to make up an important part of model ranges.
For 2015 the X6 has received a number of useful updates, although this is far from a brand-new car. The exterior is largely unchanged save for new bumpers front and rear and the latest generation head- and tail lights with LED daytime running lights. In particular the M Sport version tested here adds substantial spoilers and side skirts, although is still less dramatic than the X6M model.
Mechanically the X6 continues with broadly the same engine range as before, with a 3.0-litre diesel option in three power outputs as well as two petrol options including the high performance X6M. Of greater importance here is the introduction of the latest eight-speed automatic transmission option, fitted as standard to all models in the range.
Elsewhere the X6 benefits from its shared heritage with the larger X5 model, gaining much of that car's updated cabin including improved material quality and the latest generation of BMW infotainment systems including Connected Drive. Also fitted as standard to M Sport models is the adaptive damping system, which is available as an option on other models.
Our verdict on the BMW X6 xDrive30d M Sport
The X6 offers little that is different from its X5 stablemate, but those small details may be enough to sway an undecided buyer. Visually more striking and with a driving experience significantly sharpened, the X6 does force a compromise in terms of space. For anyone in the fortunate position to put looks and driving pleasure above everything else in a car of this size, the X6 will be at the top of the list.
Costs
For a car of this nature the X6 may prove to be reasonable in terms of running costs. Insurance and servicing will be on the high side but this may be partially mitigated by comparatively low fuel bills if driven with restraint, which due to its weight may not be possible in urban surroundings.
Space and practicality
Opting for an X6 over the more upright-looking X5 does result in some trade-offs in the pursuit of a more streamlined exterior. Front seat occupants won't be troubled but those in the back lose out a little in terms of headroom. Thankfully boot space remains more than acceptable, as does the environment for those up front as the experience is akin to that of the X5.
Controls and display
The layout of the X6 is first class and demonstrates typical BMW understatement and clarity. The iDrive controller is now very slick and easy to use while the large central screen is crystal clear. The only potential issue is the number of sub-menus and features within the system, which will take some time to become fully familiar with.
Comfort
The downside of the M Sport package and the X6's approach in general is a stiffer ride than comparable rivals. Although for the most part this is not an issue, on tougher roads it can become tiring, although a different specification can mitigate this. On smooth roads the X6 is unquestionably a comfortable car, with supportive seats and low noise levels.
Car security
An approved alarm and immobiliser system with remote central locking is fitted as standard to the X6, along with the convenience of keyless entry and start. Privacy glass, covered cabin oddment storage and a sturdy rear load cover are more obvious and welcome inclusions.
Car safety
The X6 enjoys the expected safety provisions with eight airbags, electronic stability control and four-wheel-drive as standard. The X6 also adds BMW's emergency assist as standard, which allows the driver to call a dedicated number in an emergency or even do so automatically if required.
Driver appeal
The ideal of a diesel performance SUV is well established now and the X6 is one of the best examples. Despite the high driving position it's easy to forget you're in a car of this size, and you can revel in the sharp steering and its ability to change direction rapidly. The mid-output diesel engine is pleasingly smooth and surprisingly rapid, working seamlessly with the eight-speed gearbox to deliver impressive acceleration.
Family car appeal
Despite the appeal of a premium SUV, families would be better off choosing the more versatile X5 for a whole host or reasons. Although the back seat is now a bench for three rather than two individual seats, rear head room and the shallower boot space are all poorer in the X6.
First car appeal
Even in its most humble specification the X6 is far from cheap and is unlikely to be featuring on the wish lists of new drivers, although other than its size it would not present any problems for an inexperienced driver.
Quality and image
A gradual march of quality has been taking place across BMW's range and the X6 certainly feels significantly improved compared to the outgoing car. All of the cabin materials feel of a good quality and the standard of finish is impressive. BMW's image is as strong as ever, but the X6 is something of a special case and may be seen as something of a poser's car.
Accessibility
The upside to an SUV of this size is the ease at which able-bodied people can access the cabin. The ride height of the X6 requires occupants of an average height to climb up slightly, but the doors open sufficiently wide to avoid this being much of an issue. Only infirm or physically restricted people will find it tough to get in. The power-operated tailgate makes life easy for loading big or heavy items.
Stereo and ICE (In car entertainment)
All X6 models benefit from the latest BMW high-resolution colour display, and although it does without a touchscreen the slick iDrive system has been revised to the point where it works in a seamless fashion.
Colours and trim
The unusual nature of the X6's shape means it's quite sensitive to colour choice, with darker hues blending with the black cladding around the sills and lighter colours contrasting. On the inside a wide choice of trim colours and materials allows a great deal of personalisation, including some more unusual shades.
Parking
There's no avoiding the fact that the X6 is at the larger end of the scale, which makes the standard fitment of parking sensors front and rear very welcome. The reversing camera is a great help, especially as rear vision from the driver's seat isn't that great despite the lofty seating position. The rear windscreen shoulder line is too high for that.
Spare wheel
Emergency tyre repair kit supplied as standard.
Range information
Petrol engine options - 4.4-litre (450bhp, 575bhp). Diesel engine options - 3.0-litre (258bhp, 313bhp, 381bhp). Transmission options: eight-speed automatic gearbox. Trim levels: SE, M Sport, M.
Alternative cars
Porsche Cayenne More discreet but impressively fast with excellent handling
Mercedes-Benz GLE Coupe Newly-released rival is more comfort biased but impresses with its quality
Audi Q5 Still impresses despite its age, a decent drive and a high level of quality
BMW X5 In-house rival arguably offers more for the money