October 2014
BMW M4 Convertible
Wide, bulky stance is meant to illustrate the M4's performance potential
October 2014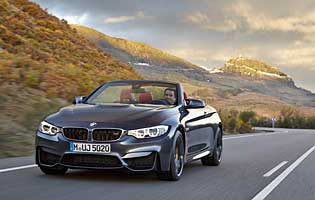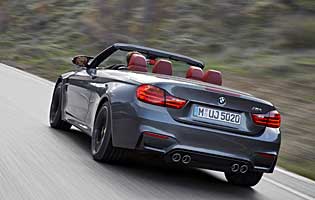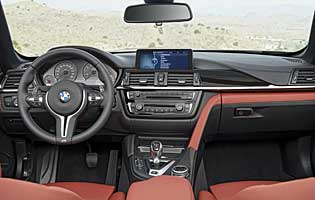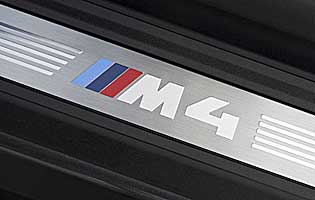 Overall rating

Likes:
Relentless straight-line performance
Vast reserves of grip increase driving confidence
Torque-rich engine permits and promotes relaxed, comfortable driving
High-quality interior materials
Gripes:
Modest boot space when the roof is folded down
Extra weight is noticeable through brisk corners
Can lack a sense of theatre until pressed hard
Expensive options lead to very high retail prices
The M4 Convertible is the first BMW to wear the badge, after the two-door and four-door ranges were split into even and odd numbers respectively. Developed from the M3 saloon, this is the most style-focused of the more compact M cars, and one of only two M-badged convertibles BMW makes. The other is a variant of the M6.
Using the same latest-generation turbocharged six-cylinder petrol engine as the M3, the M4 is the fastest car of its kind that BMW has ever made. The move away from a naturally aspirated V8 was not greeted with universal enthusiasm, but outright engine performance and tractability are now higher, with greater torque for more easily accessible speed.
The roof mechanism is made up of separate panels that fold together and neatly disappear into the boot. It's not a fast system, though, and combined with the extra structural bracing the car's chassis needs in order to stay stiff enough after losing its fixed roof, the M4 Convertible becomes much heavier than the M3, or even the M4 Coupe.
It has grown to a more considerable size than owners of previous M3-badged cars might expect, approaching the dimensions of older 5 Series models and taking up a considerable amount of space on the road, both physically and visually. The latter is partly thanks to bulbous, muscular styling that increases the impression of size.
BMW argues that while the M3 moniker does have heritage, the novelty of the M4 badge should attract new buyers unfamiliar with - or simply unconcerned about - the brand's history. This is especially relevant for M4 Convertible buyers, whose appreciation for style above outright driving prowess means that a historic connection will be less important.
Our verdict on the BMW M4 Convertible
BMW seems to be splitting its M Division cars into two categories; performance and lifestyle. Both are very fast, very loud and increasingly expensive, but only the hardtop models provide the maximum driving thrills. For a small handling sacrifice in the corners, though, the M4 Convertible combines its huge performance with relaxed manners and the pleasures of the open air, which for many people will make it the one to pick.
Costs
The M4 is a luxury car in all senses of the word. It is a luxury item as opposed to a necessity, and its running costs reflect its status. Owners are not likely to be concerned by relatively low fuel economy, or by high road tax bills. Its purchase price and optional extras are surprisingly expensive, though.
Space and practicality
With the roof in place there is a good amount of free space in the boot, but the intrusive nature of the folding mechanism means that the available shape is uneven. When the roof is folded back, there is only a shallow aperture left, which goes back a long way but is difficult to access. The rear seats can be used as temporary storage for coats or bags while on the move, but overall the M4 Convertible is not a particularly practical car.
Controls and display
BMW's commonly used widescreen display is excellent, allowing a split-screen view between two functions like navigation and music. Its position does make it look like something of an afterthought, but it was necessary in order to fit everything else in. Its main dials are clear and slightly retro in style, and the only real fault is that in some places the buttons can be packed too closely together for comfort.
Comfort
Money has been well spent on the seats, with good under-thigh support and an adjustable lumbar support element. They could be a little firmly padded for some tastes, and they are sized to suit a larger figure. Thinner drivers could find themselves wanting for tighter bracing at the sides. Rear passengers have little in the way of legroom, and even taller children might find it cosy. Surprisingly compliant sports suspension absorbs the worst bumps well, but works better at speed than around town.
Car security
The company's immobiliser systems have long-since rendered it almost impossible to steal one of its cars without the proper key, but in the case of the M4 there could be concerns about leaving the car with the roof down. It would be extremely difficult to force the roof open manually, though.
Car safety
BMW has included a series of protective measures not just for occupants, but for pedestrians too. A special shock absorber between the bumper metal and the outer plastic reduces the extent of any leg injuries a person might sustain in a collision. Inside the cabin, numerous active safety systems include a tiredness warning, while in the event of an inevitable accident the seats are returned to upright, the seatbelts are pre-tensioned and the windows are closed. Automatic post-collision braking prevents the car rolling into other traffic.
Driver appeal
With considerable extra weight on board versus the M3 saloon or M4 Coupe, the Convertible is at a disadvantage when it comes to outright performance and handling. It's most noticeable under hard braking and cornering, where the mass can't be completely hidden. In terms of straight-line performance, though, the M4 is relentlessly rapid. The synthesised engine noise is easily forgotten and it even brings a smile to the face with a few pops and bangs from the exhausts.
Family car appeal
This car is primarily aimed at men whose first car is a more sensible company saloon or family estate, so while it can't be considered a family car, it does have appeal as a family's second car for weekend drives into the countryside or to out-of-town shopping centres. Most children should fit without complaint, and Isofix child seat mounts are included. The front passenger airbag can be turned off for when carrying a rear-facing child seat.
First car appeal
The sheer impact of the M4's looks are enough to make any aspiring driver want to put it on their shopping list, but it's extremely unlikely that a typical new driver could afford to buy or insure it. Its bulk would almost certainly be a problem anyway, especially when it comes to narrow roads and low-speed manoeuvring. Running costs on a car like this are also prohibitive when first cars need to be budget-friendly.
Quality and image
The M4 Convertible has no image of its own yet, but BMW judged that the shift to more laid-back, turbocharged engines was the right time to start a new line of more lifestyle-orientated models. The physical quality of the car itself is in no doubt. High-quality plastics and thick, supple leathers that can optionally be extended over the greater part of the dashboard and doors come together to provide plenty of luxury.
Accessibility
With the roof folded away the only potential problem for accessibility is how low the seats are. There are lower cars, but M4 occupants definitely sit lower than the driver of an average family runabout. The roofline is correspondingly low when in place, but the door apertures are at least wide. Getting in or out can be problematic in bay parking spaces, because the long doors need to open quite far.
Stereo and ICE (In car entertainment)
The iDrive system is a standard feature on the M4 Convertible, allowing the driver to easily and intuitively navigate around what is an incredibly complex array of menu options. The media element of this is especially good, with clearly illustrated paths to navigate through and most of the work done via a single dial, the system is quick to figure out and easy to live with. Bluetooth, USB, AUX and CD inputs are standard, as well as DAB digital radio.
Colours and trim
There is a reasonable range of colours included in the M4's purchase price, but there are also a selection of special hues for an extra fee. Silvers, blacks and greys are popular, and paler colours help to lessen the visual mass of the car. As attractive as some of the deeper colours are, they make the car look larger than it really is. Inside, only those trim colours and finishes that have been judged as appropriate to the specific exterior shade are available, guaranteeing a tasteful finish.
Parking
Parking sensors are standard at the front and rear of the M4, but they can be supplemented by the optional reversing camera, or a bird's eye view interpreted from a quartet of cameras around the car. There is even an option to add fully automatic parking capability. If parking manually, the M4 begins to show its size. Rear visibility is quite poor thanks to the high shoulder line, and the wide wheels are vulnerable to kerb damage.
Spare wheel
Run-flat tyres fitted as standard.
Range information
Petrol engine options - 3.0-litre (425bhp). Transmission options: six-speed manual or seven-speed dual-clutch automatic gearboxes. Trim levels: M4.
Alternative cars
Mercedes-Benz SLK 55 AMG Compact, rapid roadster with a folding metal hardtop
Audi RS 5 Cabriolet Advanced technology and four-wheel drive in an extremely quick soft-top
Chevrolet Camaro Convertible Entertaining V8 engine, low price and endless charm outweigh low-rent plastics
Jaguar F-Type Convertible Gorgeous, British-built and bombastic, but suffers from poor boot space