October 2013
BMW 7 Series ActiveHybrid7 L SE
Despite passing years 7 Series remains a visually striking car
October 2013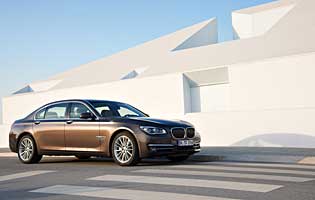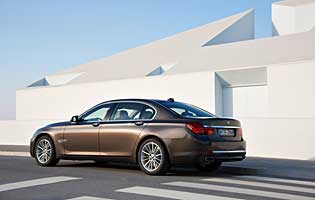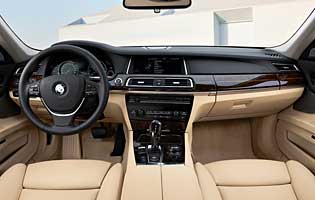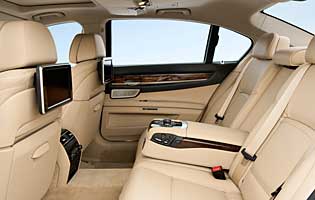 Overall rating

Likes:
Surprisingly sporty for its size
ActiveHybrid7 variant delivers strong acceleration
Level of standard equipment is pleasingly high
Roomy cabin offers a relaxing environment for long drives - especially for rear seat occupants
Gripes:
Rear legroom could be better in the standard wheelbase car
iDrive remains an acquired taste but is much improved
Electric seat controls are less than intuitive
Hybrid system robs boot of valuable load space
When first launched in 2002 BMW's radical 7 Series divided opinion. Since then it has matured and made a lot of friends. If you can steal yourself to look past the car's challenging styling, you'll find an executive car bursting high-tech engines and sports saloon-like handling. And in a bid to future proof the car, BMW has added a petrol-electric hybrid model to its fleet.
For a car that many people still profess to not liking, BMW's modern day 7 Series has done rather well since its launch. So well, in fact, that you probably no longer give them a second glance when you're out despite the car's arresting looks. However, it's what's under the skin that's important here.
In hybrid form the car gains an electric motor and battery pack to assist the existing 3.0-litre turbo petrol engine. A stop-start function ensures no fuel is being wasted, while electric power allows for short bursts of silent running around town or 'coasting' at higher speeds. There's no driver involvement required and the battery is recharged on the move by the car's braking function.
Regardless of engine choice, this is a car that stays true to its maker's 'ultimate driving machine' ethos despite its size and role in life. Combine this with a cabin bursting with kit and, in long wheelbase spec ample room, and it's clear there's more to the car than its looks.
Agility and refinement go hand in hand here, with the hushed demeanour of the ActiveHybrid7 masking its true potential. Keen drivers will love the car's rapid straight-line potential, while those seeking to economise will appreciate the car's frugal nature - at least for a large petrol car.
Our verdict on the BMW 7 Series ActiveHybrid7 L SE
Look paste the love it or loathe it visual stance of BMW's 7 Series and you've got a competent and engaging luxury saloon bursting with technology. European buyers wedded to diesel might struggle to make the hybrid car stack up financially but for chauffeuring duties and urban roles the ActiveHybrid7 delivers an exceptionally quiet and refined experience.
Costs
With the promise of a low CO2 rating and associated reduced business related taxation, it's clear that the ActiveHybrid7 is pitched squarely at business users. For high mileage drivers diesel still remains king but the hybrid Seven promises greater refinement - especially advantageous for urban chauffer duties.
Space and practicality
The plus side to ActiveHybrid7 ownership includes plenty of room for front seat occupants and a mind-boggling range of seat and steering wheel adjustments. As you'd expect, the long wheelbase variant is positively palatial. There's no shortage of oddment space in the cabin but the trade off for hybrid ownership is a considerably reduced boot space - blame the inclusion of the battery and other hardware. It shares this quirk with other hybrids but still means you'll struggle to accommodate large suitcases and other bulky items.
Controls and display
There's no question that the car's various controls do take some getting used to, although the various layouts and user inputs are now much closer to, say, a 3 Series. The now infamous iDrive continues to benefit from regular improvements, but still comes with a steep learning curve - the colour screen is very nice, though. That said, once you've set up the car's basic functions you don't have to use it day-to-day. The car's centre console-mounted gearshifter could be less fiddly, as could the various buttons for the electric seats. At least some minor controls are duplicated on the steering wheel, even if the various column stalks prove confusing at first.
Comfort
The 7 Series and can waft along if you want it to, but the ride quality can't quite match that of a super-smooth Lexus LS or jaguar XJ. That said, the Seven won't roll as much as the Lexus, ensuring occupants are better catered for around town and on A-roads. Noise levels are extremely low in the hybrid. The long-wheelbase cabin is big enough to accommodate four large adults with ease. comfortable isn't difficult thanks to the supportive seats, although figuring out the various controls can take a while.
Car security
As you'd expect, the 7 Series benefits from a comprehensive anti-theft system. In addition, the usual limo-spec options - blinds and privacy glass - will help to shield you from the gaze of undesirable onlookers, while a keyless access and ignition option means you won't have to spend time fumbling for the remote fob on a dark night.
Car safety
As with so many luxury saloons, the 7 Series isn't lacking in the safety department. Form multiple airbags to a wealth of electronic stability aids and powerful headlamps, there's a 'no compromise' feeling when it comes to the ownership experience.
Driver appeal
With the default diesel variants a familiar choice, opting for the left-field ActiveHybrid7 can be rewarding if you take time to understand the car. Urban activities can be tackled with a combination of electric and petrol propulsion, although the conservative set-up means you're limited to a few miles at sub-20mph at best before the battery is exhausted. Lean on the throttle at speed and both motors combine to deliver an uncharacteristically brisk surge of power, which should please keen drivers. In every other respect this hybrid is like and other 7 Series to drive.
Family car appeal
While you won't find swivelling or folding seats in the 7 Series like you would in a luxury people carrier, you will find levels of refinement and equipment that can't be found in even the most expensive of MPVs. However, this car is really more for the grown up family, as you wouldn't want to let pre-school children loose in a car boasting leather upholstery.
First car appeal
Irrespective of engine choice the 7 Series is a big, expensive car that requires more than a few minutes of acclimatisation before you can set off. The car's considerable running costs should be enough to put off all but the richest of novice drivers.
Quality and image
As a company, BMW possesses a strong positive brand image. It's worked hard to cultivate a loyal following, and previous cars have helped to reinforce the company's conservative outlook. For some the car's high-tech side has proved more than a little off-putting, though. Build quality is good - as you'd expect - but some critics have noted that selected cabin materials could be better. That's certainly true of some the light coloured plastics.
Accessibility
There are no problems getting into the front part of the cabin - the car's doors open wide, the seats are wide and accommodating and, when programmed, the steering wheel moves out of your way when you exit the vehicle. Rear seat occupants don't quite get the same experience in standard wheelbase spec. Choosing a long-wheelbase car will change all that, as the difference is considerable and welcome.
Stereo and ICE (In car entertainment)
Standard fit is a comprehensively features audio system. As with all options, it's controlled mainly though the car's iDrive - which can be a little slow at times - or via buttons on the steering wheel for the basic functions. Bluetooth and music player connectivity dominate, although digital radio and a television receiver plus boosted amplification and independently accessible features for rear seat passengers can also be selected.
Colours and trim
Lighter colours help show off the car's complex lines, while black gives the Seven a more sinister personality. Choices for the interior are varied, with an all black cabin feeling the most oppressive. Lighter fabrics, wood trim and upholstery emphasise the car's roomy cockpit, but some materials don't look that expensive in isolation.
Parking
With the help of its generous side mirrors and standard parking radar, it's not long before you become confident slotting the car into parking spaces. At slow speeds the Seven's steering requires little effort, and the smooth gearbox makes manoeuvring almost stress-free. Almost fuss-free because the car's stubby column-mounted gearlever doesn't like shifting between Drive and Reverse in a hurry.
Spare wheel
Run flat tyres fitted as standard.
Range information
Petrol engine option - 3.0-litre (320bhp); ActiveHybrid7 (320bhp); 4.4-litre (449bhp); 6.0-litre (544bhp). Diesel engine options - 3.0-litre (258bhp, 313bhp). Transmission options: eight-speed automatic transmission. Trim levels: SE, M Sport.
Alternative cars
Jaguar XJ Radically styled and built from high-tech aluminium - good to drive, too
Mercedes-Benz S-Class Remains the default choice for many and is a great all-rounder
Audi A8 Firm, sporty bias can take the edge off an otherwise well executed luxury saloon
Lexus LS600h Another refined and quiet hybrid that's well equipped and easier on the eye