BMW 6-Series 650i SE Convertible
Improved looks after redesign
February 2011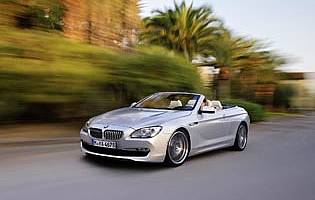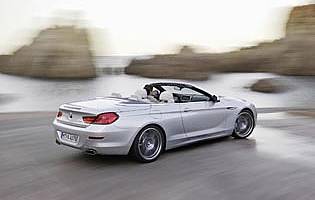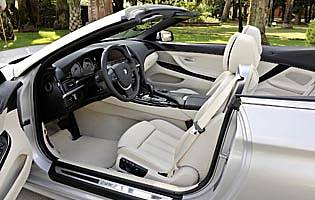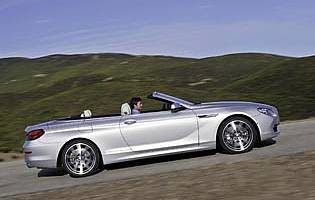 Overall rating

Likes:
Roomy and comfortable interior
Redesign has improved its looks
Superb levels of power from V8 petrol motor
Stable and poised at speed
Gripes:
Appearance still divides opinion
Despite power figures car is biased towards comfort
It's a big car – something to remember when parking
Electronic ride control can be caught out over potholed roads
The previous 6 Series range hailed from a time when BMW was keen to be bold. Challenging design preconceptions with a range of striking-looking cars, the German firm made as many friends as it did enemies. One such car that created many headlines was the 6 Series. In coupe form it split opinion. The convertible model less so, but it was agreed that it wasn't a car for shrinking violets.
The same is true with this revised, second generation 6 Series, only less so. Although a more rounded and less extrovert car than its predecessor, the basics remain: a long bonnet, chiseled boot and rakish profile. Time, and the desire to appeal to a broader market, has seen BMW's designers round off some of the corners to make the 6 Series a more friendly and approachable machine.
In convertible form the 6 Series looks its best with the roof down – a common attribute of most drop-tops. With its softer exterior, the 6 Series Convertible better suits its role as rapid grand tourer. This is especially true of the flagship V8 petrol model, which boasts significant levels of power and torque – just what you need for effortless cruising and overtaking. It's surprisingly agile too, but it doesn't take long for you to play to its strengths and settle down to a brisk, not fast, pace.
Along with the car's softer exterior, its cabin is now more inviting and less clinical than before. Plush hides and trim materials are everywhere, and the cabin layout offers front seat occupants plenty of room to spread out. Cabin storage options and generous, and just what you need for when a long road trip beckons. It's not so good in the back, however. Those seats offer modest levels of legroom and, with the roof up, it's going to feel cosy at best – realistically it's a place for small children.
The 6 Series doesn't disappoint on the technology front, however. With a long list of standard kit available plus the usual array of optional upgrades, there's no shortage of entertainment; from radio and MP3 player input to sat-nav and phone connections it's all here. On the driving front BMW has added technology that will be familiar to 5 and 7 Series drivers, such as adaptive damping.
Our verdict on the BMW 6-Series 650i SE Convertible
With its cleaner, more powerful engines, plenty of kit and a more rounded exterior, BMW's revised 6 Series Convertible offers buyers a rapid yet refined alternative to more track-focused rivals. Practical in everyday terms plus easily capable of engaging an enthusiastic driver, the drop-top 6 Series successfully delivers on many levels.
---
Costs
There's no question that the flagship 650i is an attractive proposition, but it won't be cheap to run thanks to what's under the bonnet. If that proves an obstacle to ownership, the six-cylinder cars or the diesel variant will prove easier on your wallet.
Space and practicality
Predictably the folding roof mechanism eats into a fraction of the available boot space but it remains a practical and useable part of the car. Oddment space in the cabin is good, while front seat occupants are never in danger of clashing elbows. With the roof up there's plenty of headroom, too.
Controls and display
Whether it's the car's head-up display, the improved iDrive system or the intuitive paddle shift and auto gearbox combination, it's hard to find fault with the basics. Elsewhere, instruments and controls are sturdy conveniently positioned.
Comfort
Long journeys fail to take their toll thanks to adjustable, shapely seats and the absence of most wind noise from the cabin. The rear seats are, realistically, for children as legroom is modest at best. With the roof up, refinement is almost on a par with that of a conventional coupe.
Car security
For a car in this price bracket it's no surprise to see a comprehensive alarm and immobiliser package. Fabric roof convertibles offer less protection than tin-top cars, but it's good to see plenty of covered storage options in the cabin.
Car safety
As well as a veritable alphabet soup of safety system abbreviations, the 6 Series can be had with lane departure warning plus an easy to use radar cruise control set-up. There are also airbags aplenty.
Driver appeal
In flagship V8 trim the 6 Series Convertible is no slouch. The engine's initially lazy delivery is deceiving – dig deep and the car will roar towards the horizon. Although surprisingly agile for its size, this 6 Series shows a noticeable bias towards refined cruising. Cornering is composed but it's just not as nimble as some smaller rivals.
Family car appeal
At a stretch the car could double as the family wagon, but only while your offspring are very small. Lanky teenagers wouldn't be impressed by the lack of legroom in the back, however. You'd also struggle to fit shopping and a buggy in the car's boot.
First car appeal
More of an aspirational car that a genuine option for the novice, the 6 Series is too expensive, too powerful and, possibly, too big for some – especially when it comes to town driving and parking.
Quality and image
The car's looks won't be to everyone's taste but this revised model is easier on the eye and less aggressive in its styling. Build quality remains excellent, while refinement at speed is of the highest order. The folding roof works quietly and quickly.
Accessibility
There's little problem accessing the front of the car thanks to its large doors. The rear seats can more troublesome to get at and are realistically for children, but the memory settings in the front mean the seats can be moved for easier access without losing the driver's settings.
Stereo and ICE (In car entertainment)
The 6 Series boasts an impressive sound system as standard, and there is a long list of technology available including Bluetooth compatibility and satnav. The iDrive system is now much more user-friendly. The addition of favourites buttons for quick access and new graphics succeed in making the sometimes complicated system less fiddly to negotiate.
Colours and trim
Bold colours don't flatter the car as well as traditional darker or more subdued hues such as silver. It's a big car and can be quite colour sensitive. Care must also be taken when matching a contrasting hood colour.
Parking
There's no getting away from the fact that the 6 Series is a big car – its bonnet is also long. Front and rear sensors make manoeuvring easier, but from the low seating position it takes time before you're comfortable enough to back into tight spaces unaided.
Spare wheel
Run-flat tyres fitted as standard.
Range information
Petrol engine options – 3.0-litre (320bhp); 4.4-litre (407bhp). Transmission options: eight-speed automatic with wheel mounted paddle shift. Trim levels: SE.
---
Alternative cars
Jaguar XK Attractively styled and competitively priced soft-top
Mercedes-Benz SL Well executed and engaging to drive
Porsche 911 Carrera Cabriolet Benchmark performance model here
Aston Martin V8 Vantage Roadster Head turning supercar isn't cheap but is guaranteed to impress