BMW M4 GTS
Extrovert styling with high-spec parts
July 2017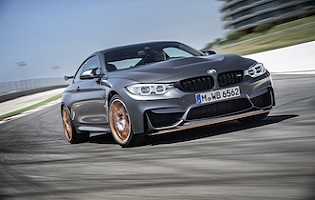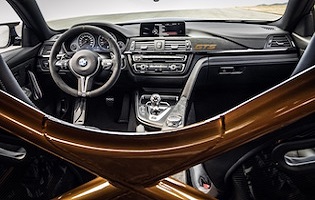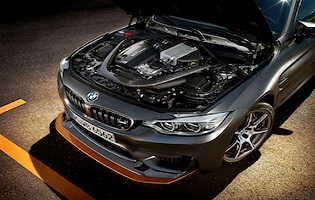 Overall rating

Likes:
Extrovert styling makes it looks like a race car
Uprated parts are all very high-spec and do a fantastic job
Addresses all of the standard car's grip issues
A worthy addition to BMW's lightweight track car legacy
Gripes:
It's nearly double the price of a standard M4
Few buyers will be able to put up with on-road compromises
Low, fixed bucket seats make it impractical for daily use
All 30 brought to the UK were bought; strong residuals
BMW has a long history of creating hardcore, more track-focussed versions of the M3 – the coupe version of which has been called M4 on the latest model. Therefore, this M4 GTS has a fearsome reputation straight out of the box – it's more powerful than the standard car, lighter thanks largely to a stripped-out interior, with stickier tyres and a roll cage.
Perhaps the biggest technical talking point is the water injection system, which sprays a fine mist into the air chamber to reduce intake temperatures. This allowed BMW's engineers to turn up the boost, resulting in power of 493bhp and torque of 600Nm, improved by 68bhp and 50Nm over the standard car.
It's more than just a hike in power though. Inside the space behind the driver has been totally stripped out. In its place sits a fire extinguisher and a roll cage, showing that this car was designed for the track. From the second you slip into the large bucket seat, it feels like a race car.
As well as the weight loss regime, the GTS also gets adjustable suspension and a stiffened chassis, which means that rough roads and potholes rattle your bones. However, the high-spec dampers mean that once up to speed, the road is largely smoothed out making motorway trips surprisingly low hassle.
Couple all of these changes to the fatter, stickier tyres fitted to the GTS, and you have a serious bit of kit. Where the standard M4 is frustratingly eager to break traction, the GTS is planted and secure, giving you complete trust into corners. It will stick.
Our verdict on the BMW M4 GTS
Make no bones about it – the BMW M4 GTS is designed for track use. If you're looking for a serious road car it's just too extreme and too compromised. On the right road it'll be ludicrous fun, but getting there will test your patience. On track, though, it'll be absolutely sublime.
---
Costs
From new, the M4 GTS cost an eye watering £120,000 – that's more than double the price of the car it's based on. It's hard to believe the price, considering that puts it on a par with top-spec Porsche 911s and the Mercedes-AMG GT S.
However, value is tricky to determine with a car like this, because just 150 are being made worldwide – with just 30 right-hand drive UK models – so it's unlikely prices will drop too drastically over time making it a decent investment.
Space and practicality
Fortunately, because the GTS is based on a 4 Series there's a decent sized boot at the rear. It means that despite its race car appearance and lack of rear seats it could feasibly be used for a weekly shop run. However, with just two seats if you want to carry more than one passenger you'll be a little stuck.
Controls and display
The infotainment system is the same one used across BMW's range, so it'll be familiar to owners and easy to pick up for people who are new to the brand. The screen is easy to read and the menus are fairly quick to navigate, though some menu layouts are illogical making simple functions difficult to find at first.
Comfort
Comfort is not something the GTS will ever be known for. The suspension is beautifully damped, but with such short travel any potholes or road imperfections are sent juddering through the cabin. It makes low-speed driving tiresome and is the main reason why the GTS should not be bought unless regular track driving will be its primary purpose.
Car security
With its bright orange decals and huge rear wing, the M4 GTS draws attention wherever it goes. It's reassuring to know then, that it gets remote central locking and an intruder alarm to keep unwanted people at bay.
Car safety
The M3 and M4 have not been crash tested by EuroNCAP yet, however the 3 Series on which the M4 GTS is based did receive the full five-star rating when first tested in 2012. Although standards have changed since then, BMW is pretty hot on keeping its safety ratings high so you can be sure the M4 will be incredibly safe. Furthermore, models with the roll cage will be even better protected in the event of a rollover crash.
Driver appeal
All of the compromises begin to fall to the back of your mind once you take the GTS on track or down your favourite B-road. The power delivery is incredible but the rear tyres don't break traction unless seriously provoked – or it's raining. The stiff suspension and sticky tyres also means that there's tonnes of grip – more than you could ever need at road speeds. The fact that the low-slung seat and bare interior make you feel like you're in a race car is the icing on the cake.
Family car appeal
If you need a car that'll be useful for the whole family then look elsewhere. There are only two seats so it's a choice between leaving the kids or partner at home, though the boot is a decent size. The key issue here though is the lack of rear seats, while the roll cage reduces what practicality the extra load space did open up.
First car appeal
The GTS is arguably a better car for inexperienced drivers than the standard M4 because it handles its torque delivery better, meaning the rear tyres don't spin up at every minor provocation. However, as first cars go this is pretty terrible. It takes a lot of concentration to drive even for experienced motorists.
Quality and image
BMW has made a name for itself as a purveyor of quality cars, and its M Division models in particular are well known for being some of the best in the business. The fact that this is the limited-run GTS model only enhances that reputation, with fellow enthusiasts knowing full well how special the car is – you can't stop for petrol without someone taking a photo and asking questions. What's most impressive, though, is that despite removing so much of the interior, it still feels premium inside.
Accessibility
Getting into and out of the M4 GTS is not easy – even for more mobile people. The bucket seats have a high lip to hold you in place under hard cornering, which needs to be climbed over. It was an uncomfortable, common mistake for passengers to accidentally sit on it while trying to get in during our test.
Stereo and ICE (In car entertainment)
Unlike many track-focused, stripped out track cars, the M4 GTS doesn't sacrifice luxuries such as the stereo system. It uses the same set-up as can be found in the standard M4, which provides quality audio even at higher volumes. However, it can be drowned out by road and engine noise when driving quickly as there is less sound deadening at the rear.
Colours and trim
There are just three colour choices for the M4 GTS – dark grey, black, and white. These are offset by bright orange alloy wheels and roll cage. This car isn't for shrinking violets even in more subdued colours. There's only one trim available, which provides a leather and alcantara interior, satellite navigation, air conditioning and LED headlights. The Clubsport package, which adds the roll cage, six-point harness and fire extinguisher, is a no-cost extra. Other optional extras include carbon-fibre interior touches, a head-up display and lap timer.
Parking
The GTS is a little trickier to park than the standard car for a number of reasons. Chief among those is that you sit so low in the car that it's trickier to get a sense of your surroundings, while the rear view is slightly hindered by the large rear wing. However, once you get used to relying on your wing mirrors, it becomes less of a hassle.
Spare wheel
Emergency tyre repair kit supplied as standard.
Range information
Petrol engine options: 3.0-litre (493bhp). Diesel engine options: N/A. Transmission options: Seven-speed automatic transmission. Trim levels: GTS.
---
Alternative cars