BMW 3 Series GT 320d Modern
Plenty of standard equipment
April 2013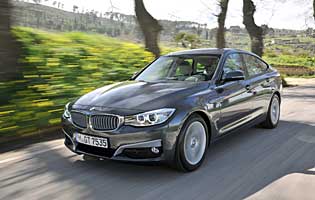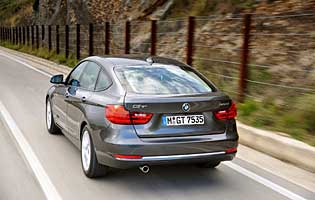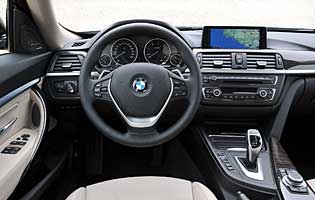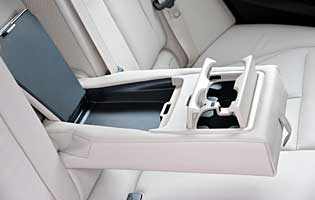 Overall rating

Likes:
Spacious cabin provides ample room in all directions
Plenty of standard equipment included with every model variant
Large boot can be boosted by lowering the rear seats
Neat styling makes light of the longer, taller body
Gripes:
Modest performance from the diesel engines
Predictable price premium over the regular 3 Series variants
Relatively poor rear visibility can hamper reversing manoeuvres
Driving experience lacks the sparkle of the traditional models
BMW has entered yet another niche with the 3 Series GT, short for Gran Turismo. Nothing to do with the popular computer game of the same name, the GT is actually much like a smaller and less controversially styled version of the 5 Series GT, but following the same principles in relation to the cars it's based on.
The 3 Series GT is noticeably longer than the 3 Series saloon and even the Touring estate model. The extra room is injected straight into the wheelbase, so there's more room for rear passengers. The boot is also larger than the estate's thanks to a taller load space that is a natural result of the higher roof line.
Although it's clearly inspired by the larger 5 Series GT, its styling has been revised significantly. The larger car is held in some corners to be the most unattractive BMW ever built, but thankfully the 3 Series GT is smoother and neater around its rear end. Its visual weight is heavily biased over the rear half of the car, though.
The GT is being built as a relatively low-volume associate of the existing saloon and Touring models. It's targeted at users who frequently carry adult passengers in the back seats and those who want even more space than the Touring affords. However, it does come with a not insignificant price increase, which affects its value for money against its siblings.
It is available in a familiar range of trim choices that bias more towards one style of buyer or another, and there is a broad spectrum of engines from tax-friendly low-power diesels upwards. The selection of turbocharged four-cylinder petrols and diesels is topped by a six-cylinder turbocharged petrol badged as a 335i.
Our verdict on the BMW 3 Series GT 320d Modern
The GT is a car for those who really want it or have a particular need for maximum passenger and luggage space without stepping up to a 5 Series. By comparing the entry level 5 Series and similarly costly high-end 3 Series GTs, the latter begin to seem like an excellent compromise of space, price and luxury. The GT sits comfortably as a higher-spec alternative to a medium sized saloon.
---
Costs
This diesel model is tax-friendly and will likely have strong appeal for company buyers. Residual values are traditionally strong for BMW models and economy is respectable, but since this 320d engine sometimes needs to be worked harder than would be ideal, owners shouldn't expect to consistently achieve high economy figures when the car is driven enthusiastically or fully loaded.
Space and practicality
There is a lot of space in the cabin, but with style a constant BMW priority sometimes practicality has taken a back seat. That said, there is a useful glove box and adequate door pockets, while a central storage bin offers space for oddments such as mobile phones, sweets and the like.
Controls and display
This model does not use the fully-digital display of some of BMW's more expensive model ranges. Instead it uses a traditional analogue rev counter and speedometer with a small digital screen showing pertinent data readouts. The cluster is certainly easy to read but it lacks something in the way of visual appeal. The ancillary stalks follow a well established pattern and are intuitive to use.
Comfort
The seats in this Modern version are less overtly sporting than those in the M Sport range-topping trim, but they are also less firm. They are easily within the boundaries of general comfort while the seats in M Sport models are noticeably firm, especially in the back where comfort is paramount. The cabin is roomy for all occupants but the increased frontal area means extra wind noise and the 3 Series GT's cabin cannot claim to be as quiet an environment as the saloon or estate.
Car security
Buyers can specify tinted rear windows on some models to reduce visibility into the car and potentially keep some items safer. There are several covered storage compartments in the car and the boot area is completely enclosed. Keyless entry and a high-tech immobiliser are included.
Car safety
BMW takes its safety systems seriously and the 3 Series GT benefits from a full complement of both passive and active safety enhancements. Airbags are scattered throughout the cabin to offer a degree of protection for all occupants, while the electronics include stability control, traction control and a collision-mitigating emergency braking system for town driving.
Driver appeal
This diesel model is likely to be very popular in the UK, but the experience behind the wheel doesn't always match the on-paper figures. The 320d doesn't always deliver the brisk response you might expect, especially under hard acceleration. The steering is precise enough but often seems too light. However, the target market will be more interested in its cruising ability, and with its relatively tall gearing the car will do so happily.
Family car appeal
There are several facts in this car's favour when it comes to family duties. It has a larger boot and more rear legroom than its 3 Series stablemates, and the higher seats and larger door apertures make it easier to fit child seats to the Isofix mounts on the outer rear seats. The front passenger airbag can be turned off for when using a rear-facing child seat, too.
First car appeal
It's difficult to picture a set of circumstances that would lead any new driver to place the 3 Series GT at the top of their wish list when buying their first car. It is a large car with restricted visibility in some quarters. There is also little chance of escaping the fact that this is an expensive choice to be a first car.
Quality and image
BMW enjoys a healthy brand image and its cars are generally thought of as both desirable and a financially wise choice. The materials used in the 3 Series GT are, in the main, reassuringly solid-feeling.
Accessibility
By virtue of its higher roof line and longer wheelbase the door apertures, particularly those at the rear, are significantly larger than those of the saloon and Touring. That makes getting in and out much easier when compared back-to-back, and the raised seat height in the GT also makes it less strenuous to slot into or out of position. The large boot lid isn't too heavy thanks to the in-built assistance.
Stereo and ICE (In car entertainment)
The stereo is controlled via the iDrive interface, which has advanced in leaps and bounds since its inception what seems like a long time ago. A large dial and several surrounding buttons allow access to track choices, equaliser settings and so on. It takes a little time to set the audio up perfectly, but the wealth of settings ensures that it'll eventually be correct. Music can be input via CD, MP3 player, Bluetooth or SD card.
Colours and trim
There is an unusually broad array of colours, covering blues, a red and a brown as well as a range of silvers, greys, black and white. The large body panels demand a careful choice of colour and dark shades tend to be most flattering. The interior is claimed by BMW to be higher quality than the 3 Series saloon and Touring, and it certainly looks attractive in a familiar way.
Parking
On one hand the raised driving position in this car does offer an advantage over the saloon and Touring, instilling a little more confidence in where the edges of the car are. On the other hand rear visibility is poor, and the door mirrors can significantly block the lines of sight to the front sides. Fortunately this particular model has front and rear parking sensors, which automatically operate at low speed and are a huge help in avoiding scrapes.
Spare wheel
Emergency tyre repair kit supplied as standard.
Range information
Petrol engine options – 2.0-litre (181bhp, 241bhp); 3.0-litre (302bhp). Diesel engine options – 2.0-litre (141bhp, 181bhp). Transmission options: six-speed manual gearbox or eight-speed automatic depending on model. Trim levels: Modern, Sport, Luxury, M Sport.
---
Alternative cars
Audi A4 Avant Visually appealing and well thought out with good range of engines
Jaguar XF Sportbrake Fashionable estate offers good practicality but lacks outright efficiency
BMW 3 Series Touring Roomy with a big boot and a boasts a cost saving over the GT
Mercedes-Benz C-Class Estate Pleasing styling and comfortable seats combine with good luggage space