BMW 3 Series 330d xDrive Touring M Sport
Practical boot adds significant capacity gains over the saloon
October 2013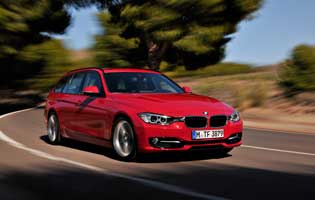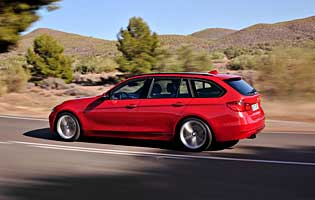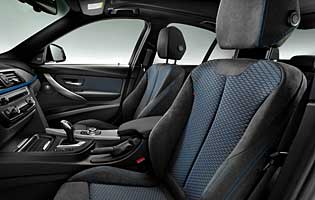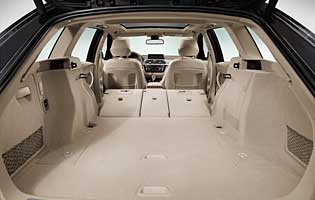 Overall rating

Likes:
Practical boot adds significant capacity gains over the saloon
Smooth and quiet cruising ability
Balanced and poised driving dynamics offer rewarding journeys
Added mechanical grip welcome in unfavourable weather conditions
Gripes:
Diesel engine can sound gruff when pushed hard
Auto gearlever could be easer to operate
Standard spec still demands more than a few cost options to help car justify premium badge
Eco driving modes can dull driving experience
For all BMW's considerable marketing efforts to promote its rear-wheel drive cars as 'ultimate driving machines' it also makes some pretty good all-wheel drive cars. Sadly for the purists, those cars are chunky SUVs, not agile sports saloons. That's changed with the introduction of xDrive-badged regular BMWs like the firm's 3 Series Touring.

Sports saloons - and estates - are predictably popular with keen drivers, but when the conditions underfoot change many will clamour for the default winter choice: an SUV. With an all-wheel drive option available for an increasing number of conventional BMW models, buyers who have yet to jump on the SUV bandwagon can sleep soundly again.

A word of caution, though. Unlike the firm's ubiquitous X5, a total-traction 3 Series is not aimed at the go anywhere brigade. It's role is to deliver more grip when conditions deteriorate, not allow you to charge across muddy fields. In reality, little has changed beyond the inclusion of the extra transmission hardware. If you want something more rugged but not an SUV you're going to need something from Audi sporting an 'allroad' badge.

Still, the car in question, a high power diesel estate, could for many prove to be an ideal blend of practicality and performance. The 3.0-litre engine has received considerable critical acclaim and combining it with a practical yet stylish compact executive load-lugger is likely to appeal to buyers who have grown out of more utilitarian Subarus and don't fancy the prospect of running a genuine SUV.

For generally slippery road conditions and mud-strewn country lanes it's hard to see why you'd want something more than something like this 3 Series. An SUV would be overkill unless you plan on regularly towing caravans or trailers, and the extra fuel penalty incurred from running even the more economical full-blown 4x4 would be hard to justify if you never ventured off road.


Our verdict on the 3 Series 330d xDrive Touring M Sport
In 330d xDrive Touring guise BMW's 3 Series becomes considerably more appealing if you're seeking a do it all compact estate car for that busy active lifestyle. It also shines in adverse conditions where you want - and need - extra grip and security such as rain-drenched motorways and greasy rural B-roads. In every other respect this 3 Series Touring performs like any other; it's well built, thoughtfully equipped and the cabin is tastefully appointed in easy on the eye and durable materials.