BMW 3 Series 325i SE Convertible
Classy styling should age gracefully
April 2007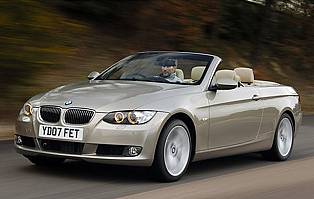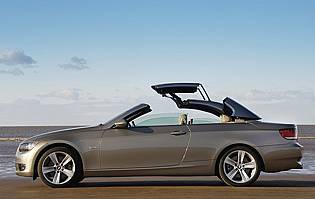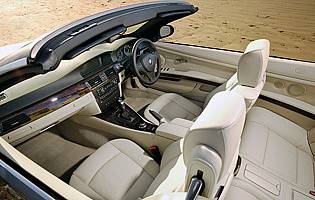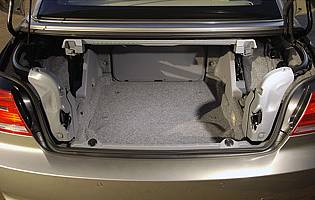 Overall rating

Likes:
Classy styling should age gracefully
Steering is perfectly weighted
Hardtop adds reassurance when leaving it parked
Able to appeal to a wide audience
Gripes:
Too many overpriced options offered
Weight increase takes the edge off performance
Awkward to make best use of boot space
May be judged too understated by some
BMW is a relatively late arrival at the folding hardtop ball. While archrival Mercedes has been offering a steel origami solution as standard for some years, BMW stuck with flexible fabric. But the security and safety benefits of a folding hardtop are now widely accepted, so the 3 Series Convertible becomes BMW's first foray into the market.
Happily, BMW seems to have gone from novice to master in one stride. The fourth-generation 3 Series Convertible deserves its place amongst BMW's pantheon of sun worshippers from the 328 through to the Z4. Look at most hard top convertibles and they tend to display the stowed roof through an ugly bulge on the boot, or exhibit an elongated rear deck. The 3 Series Convertible almost completely eliminates this and from all angles, the bodywork below the shoulder is similar to the coupe variant. Only a slightly awkward angle from the rear window to the boot hints at concession.
BMW's trademark kidney grille dominates the frontal view. Standard-fitment Bi-Xenon headlamps take up less space than a conventional unit and house the corona rings or 'shark eyes' that are used as sidelights and day-running lights. From the rear, the coupe look is also carried over, with the shoulder line reaching around the entire rear section. The two-piece rear lamp clusters extend into the boot lid and house horizontal LED light rods. It is a much more satisfying and elegant overall design than the self-conscious Z4.
The three-panel retractable hard top takes 22 seconds to operate. Because some fabric sections such as roof lining and side seals are visible during the operation, it's easy to think it is a folding soft-top. Then you notice how quiet everything has become and you remember it's solid. Considering that Britain is a cold, wet place for at least half of the year, this could well be the ideal fun car.
Fuel consumption and emissions are markedly improved compared with the previous generation. The flagship 335i SE feels genuinely sporty and emits a seductive exhaust note. The modest 325i SE is more of a cruiser, though it will still accelerate from 0 to 62mph in 7.6 seconds and onto a top speed of 152mph.
Our verdict on the BMW 3 Series 325i SE Convertible
This car combines traditional engineering, performance and design strengths with some ingenious innovations to create a car that should immediately assume status as the benchmark coupe convertible. It's a car that even people who don't particularly like BMWs will find hard to resist.
---
Costs
All 3 Series Convertibles hold their value superbly, which should offset the fairly stiff asking price somewhat. Provided the roof mechanism proves to be robust, this should be no exception. Official BMW servicing costs are not cheap, but there are plenty of excellent specialist independents out there. Few of the offered options are truly necessary, particularly the special leather. Fuel economy is not great.
Space and practicality
With the roof up, 350 litres of boot space is available and 210 litres when it is down. It looks smaller than it is because of a curious bulging plastic screen that needs to be clicked into place before the roof will operate. Like a mini cave system it has a narrow neck but a large space behind it. Don't be tempted to use the tempting empty spaces to the side of the main load space though – this is where the roof's folding arms retract. The rear seat backrest folds flat to reveal a bench area suitable for storage and there's even the option of a ski chute.
Controls and display
Isofix mountings are present and correct, so that a 3 Series Convertible could perform some sort of family duties, but really the boot is too small and space too restricted to be a serious contender. Should a child gain access to the car, expect them to demand complete domination of the roof opening button.
Comfort
No sacrifices are made for the pleasure of top-down motoring. For high-speed cruising the optional wind-deflector is a worthwhile investment and it will fold and stow in the boot when not required. Seats are exceptionally comfortable and even those in the rear are far more than token presences. As with all BMWs, the driving position is faultless.
Car security
Nasty types of various sorts are likely to covet this car – yet another reason why the hard top really had to be introduced. Certainly, you feel much more confident about leaving it parked overnight than you would have done with the previous generation model. A good alarm is provided, and both doors and boot contain sensors to make sure nothing has been left open.
Car safety
Standard specification is very impressive with runflat tyres, stability control, automatic wipers and lights and rollover protection all featuring. Plus, the 3 Series Convertible feels like a strong, well-made car that should be able to emerge from an accident in rather better shape than most other convertibles.
Driver appeal
It's nowhere near as downright thrilling to drive as a Z4, but the 3 Series Convertible can still be fun. The 325i offers the performance of a hot hatch, the 335i something significantly more potent. Cornering is particularly enjoyable in all variants, making the optional Active Steering system totally redundant. The car is at its most responsive with the roof up, when the weight is more evenly distributed and the extra rigidity can be sensed.
Family car appeal
Isofix mountings are present and correct, so that a 3 Series Convertible could perform some sort of family duties, but really the boot is too small and space too restricted to be a serious contender. Should a child gain access to the car, expect them to demand complete domination of the roof opening button.
First car appeal
There's no cooler brand among the nation's youth than BMW, but for the foreseeable future, their interest is unlikely to stretch much beyond a clapped-out old 3 Series and a heavy insurance premium.
Quality and image
Build quality is excellent throughout, though perhaps Audi still manages to be just one notch ahead in terms of cabin quality. But despite the proliferation of hideously-modified older BMWs on our roads, there is still an aura of exclusivity and elegance attached to the company's brand new products, and the 3 Series Convertible in particular.
Accessibility
Front passengers can gain entry with ease. Rear passengers need to squeeze in behind the front seats but once they have done so, rear space isn't too bad. The boot is problematic though. The usable load space is awkwardly-proportioned with the roof down. BMW has even devised a bizarre half-up position for the roof in order to make it available but it seems like a very inelegant solution.
Stereo and ICE (In car entertainment)
Convertible models present their own peculiar problems. A perfectly decent system can sound pathetically weak with the top down, which will seriously dent your seafront cruising credibility. The standard-issue system is just about up to muster, but for big beats an upgrade to the Professional LOGIC7 system may be required. Satellite navigation is excellent but very costly.
Colours and trim
It's business as usual inside, with a pleasing, traditional interior. Parallel lines dominate the instrument panel, and the flowing surfaces extend from the centre console and door panels to give the interior a dynamic but unfussy feel. If you've ever suffered 'bum burn' from sitting on a hot seat on a sunny day, BMW has the remedy with leather treated to reflect infrared radiation and thus keep the seats 20 degrees centigrade cooler than standard leather.
Parking
Though relatively compact, there is a significant rear overhang which makes judging distances fairly tricky. Sensibly, rear parking sensors are included on all models and prove to be extremely useful as the turning circle is not particularly neat.
Spare wheel
Runflat tyres are fitted as standard, so no spare wheel is on board.
Range information
Two petrol engine options at launch – 325i 3.0-litre (218bhp), 335i 3.0-litre (306bhp). Later additions include 320i, 330i, 330d and M3 performance model. Standard six-speed manual transmission, optional six-speed auto. Trim level dictated by engine choice.
---
Alternative cars
Audi A4 Cabriolet Beautifully crafted with room for four – a serious cabrio rival
Mercedes CLK-Class Cabriolet Despite badge, somewhat lacking in personality
Saab 9-3 Convertible Sporty Saab still remains a soft-top and boasts neat handling
Volvo C70 Solid and safe but not the most involving drive