BMW 3 Series 320d SE Touring
Four-cylinder 320d likely to be the pick of the range
August 2005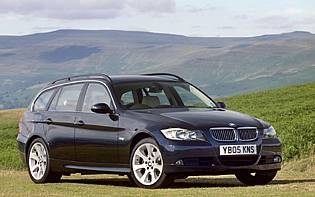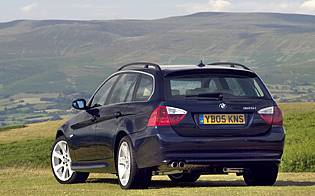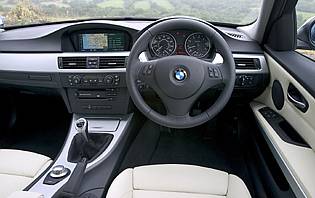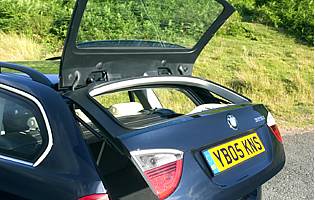 Overall rating

Likes:
More contemporary 3 Series design follows that of other recent BMWs
5 Series inspired interior is roomy and build quality is good
On-road performance is good and the Touring variant looses nothing to the saloon
Four-cylinder 320d likely to be the pick of the range
Gripes:
Although optional, iDrive is likely to win few friends
Gearshift on petrol variants is rubbery and clutch action too light
Rear space is good but only by purchasing extras can its potential be unlocked
Steering feel could be better around the straight-ahead position
No premium model range can be without a suitably posh estate variant, and so it is that BMW's ever-popular 3 Series – now in E91 guise – can be had as a load lugger. The German firm's Touring model isn't any old estate car, though. While it will carry a fair sized load, it's also been set up to please the driver – as you would expect from BMW.
The E90 generation 3 Series courted controversy as, thanks to its styling, it was a radical departure from the old E46 model. Clearly influenced by the 5 Series from the front, the rear boasted a more 'busy' look what with its 'pinched' taillights and creased bootlid.
In truth not everyone was won over by the new car's appearance, and it's clear that, like the 5 Series, it will take time to bring around the harshest of critics. A less than coherent rear end is not something the Touring variant suffers from, which gets its own E91 model designation. Its appearance aft of the rear doors is much more sensible.
Also sensible is what the Touring stands for. It may boast the same assured and accomplished handling and performance attributes as that of the saloon, but this 3 Series is focussed more towards buyers seeking am upmarket lifestyle vehicle and not just a plain estate car.
It wouldn't be wrong to say that the E91 Touring is probably the better of the two bodystyles if you're seeking a premium compact car that isn't a 4x4 or MPV. The Touring's loadspace is a generous size and the tailgate's glass screen opens separately for added versatility. And, as you'd expect from BMW, the diesel option proves the best engine for both performance and economy.
Our verdict on the BMW 3 Series 320d SE Touring
Even after all these years BMWs still split opinion, with the crux of the issue centred on badge snobbery. Now opinion has been divided over styling – you'll either love or loathe the current 3 Series. If you're in the former camp you'll appreciate the car's fuss-free cabin design, handling and diesel performance. Factor in the Touring's added versatility and better looking rear and it demands serious respect.
---
Costs
While there's no denying that the 3 Series is an expensive car, its maker claims that, model for model, it is more fuel efficient and cheaper to run than the competition. It's worth putting the claim into context, but it is good news for fleet managers and private buyers. You can help matters further by opting for a diesel model and taking it easy with the options list.
Space and practicality
At the front the cabin is pure 3 Series, which means decent levels of room for all occupants – a considerable improvement of previous generations. Oddment storage is modest as we're not dealing with a family car or MPV here, although the centre armrest is a decent size. And while the Three does now come with front cupholders, they pop out of the fascia and lack the quality feel of other cabin fittings. At the rear, the load space is a useful 460 litres with the split/fold seats up and 1,385 with them down. The load lip is low and flat, and the options catalogue lists numerous helpful add-ons such as dividers, collapsible boxes and guards. Under floor storage is aided by the lack of a spare wheel, and the tailgate screen can open independently.
Controls and display
Everything is where you expect it to be in the 3 Series Touring. The main dials are simple and easy to read, while the minor controls and standard audio unit should pose no problems. The column stalks work well, although the indicator stalk is of the 'nudge and release' variety and doesn't always self-cancel when you think it should. If opting for the sat-nav and iDrive option be prepared to spend time learning its quirks. The upside is a secondary colour screen that's bright and easy to read.
Comfort
A more mellow iteration of the 3 Series, the E91 feels less jittery over bumps and fidgety when driven hard. This will help make passengers feel more at ease, as the old car was very much more focussed towards the needs of the driver. The front seats are supportive without feeling too hard, while rear occupants now have more legroom than before. Overall, cabin space has been increased and noise levels have decreased – even the four-cylinder diesel is quieter than before.
Car security
Nothing out of the ordinary here, just the usual remote central locking and immobiliser to keep the thieves at bay. You can, however, opt for keyless entry, which is usually a feature found on more expensive cars. At the rear the loadspace is protected by a sturdy retractable cover and underfloor cavities can hold small valuables. For extra peace of mind a tracker system would be a sound investment.
Car safety
BMW is heavily into safety issues despite its public focus towards sporty handling, and the 3 Series comes with all the usual kit – anti-lock brakes and selection of traction and stability aids. Twin front and side airbags are also part of the package, along with family-friendly Isofix child seat mounting points.
Driver appeal
BMW's 'Ultimate Driving Machine' tag line might be wearing a little thin, but for enthusiasts the combination of rear wheel drive and a choice of highly developed engines is an attractive one. The E91 is has dispensed with the E46's over-firm ride though, and is now more rewarding and less tiring to drive over the worst roads you will encounter. The car's steering is direct and the brakes progressive. The 325i petrol engine needs to be revved quite hard to extract its best, which leaves the diesel 320d as the better all-rounder whether you value the extra fuel economy or not.
Family car appeal
Despite the Touring's extra load carrying capacity, it's no people carrier and that's worth bearing in mind. However, the boot is big enough to swallow more than one pushchair and a load of shopping. Fold the rear seats down and trips to the home improvement store will prove relatively stress-free. Those rear seats might not swivel or tumble like those in an MPV, but even tall teenagers should find that there's enough room in the back.
First car appeal
If given to you as your first company car, you're unlikely to have any problems. The Touring is an easy car to drive and park. As a self funded purchase, insurance will not be cheap thanks to the BMW's premium status. A 1 Series will be cheaper (just) but if you need the extra space and want a BMW the Touring will be the better option.
Quality and image
When compared to its predecessor, a subtle drop in quality in the E91 3 Series is evident on close inspection. Audi has the upper hand in this sector, but BMW and the improving Mercedes are both a close second. There's no question that BMWs of old were better built, and this is illustrated best by the economy feel of the Touring's front cupholders. As for image, to be comfortable you have to buy into BMW's thrusting, dynamic and sporting ethos. If you don't, there's always a Mercedes C-Class.
Accessibility
This 3 Series has grown over its predecessor, and the improvements are noticeable. Front seat occupants no longer feel snug and rear seat occupants will find it easier to access and egress the cabin, although the rear door aperture could be bigger still. At the back the tailgate opens wide with little effort, revealing a flat loadspace. The rear door's glass screen opens separately, allowing small items to be 'posted' through the open window.
Stereo and ICE (In car entertainment)
The standard radio/CD player is of decent quality and easy is to use. Of course, numerous audio upgrades are on offer and buyers opting for the all inclusive iDrive and sat-nav system can control the stereo by twisting, nudging and pressing the shiny silver knob that's prompted much criticism since first appearing in the 7 Series. In use it's not so bad, but it does require a little practice, as the iDrive package is not the most intuitive. The sat-nav is, on the other hand, excellent and boasts a clear screen and responds quickly to route changes.
Colours and trim
As you would expect, silver looks rather good on the 3 Series Touring – or any BMW for that matter. Dark colours, especially blue and black, don't do the car many favours, as its frontal styling is complex and darker hues hide the details. Inside, the range of seat and trim colours and textures is wide and varied, although sticking with traditional black (optional) leather and aluminium or dark fascia accents is the best bet.
Parking
Parking sensors are a must-have with the Touring, as it's not always easy to judge where the rear of the car ends as the view out is partially obscured by the rear head restraints. In all other aspects the experience is a pleasant one. The car's steering isn't too heavy and it's easy to modulate the throttle when inching into a tight space.
Spare wheel
Run flat tyres with pressure sensors are fitted as standard.
Range information
Petrol engine – 2.5-litre (218bhp). Diesel engine – 2.0-litre (163bhp). Cars are fitted with a six-speed manual transmission as standard. A six-speed Steptronic automatic gearbox is available as an option. Trim designators are ES and SE and M Sport.
---
Alternative cars
Mercedes-Benz C-Class Estate Much improved C-Class is refined, stylish but expensive
Volvo V50 Swedish offering is on the small side but usual Volvo attributes shine through
Audi A4 Avant Much sought after A4 gets better with every revision, now it's even a decent drive
Jaguar X-Type Estate Compact X-Type is surprisingly good value for money but small cabin won't please everyone