BMW 2 Series Coupe 220d SE
Appealing compact styling
March 2014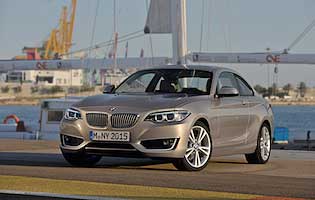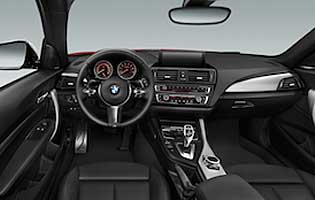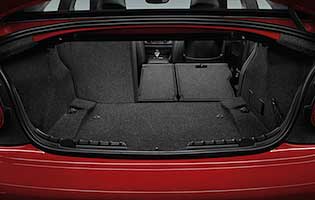 Overall rating

Likes:
Appealing compact styling
Solid performance from regular models
Useable rear seats
High-class cabin
Gripes:
Limited visibility rearwards
Big wheels and tyre combination can cause excess road noise
Steering feel could be more engaging
Some of the tempting list of options should be standard at this price point
In the past this car would have been nothing more than a derivative of the 1 Series, but in a bid to move its offerings further upmarket, we now have the 2 Series Coupe.
It would be easy to dismiss the 2 Series Coupe as a reworked version of BMW's three-door hatchback model, but that's actually far from the case. The German firm would like you to view this as a separate and, crucially, more desirable model.
Pitched to buyers aspiring to own a sporty-looking compact coupe, the 2 Series' character has been tuned to be more engaging than that of the regular 1 Series. That's also true of its looks, which centre on a streamlined profile and wide stance.
Thankfully the 2 Series is more practical than you might first think. Although it's no family car, the cabin is a good size and you might just able to accommodate young children in the rear seats. At the back the coupe format means a good size boot.
Versatility aside, the 2 Series still aims to put a smile on your face. The regular engines might be economy-focused by they allow the car to serve up a reasonably engaging yet refined experience. However, it's the six-cylinder M235i that should please keen drivers, proving to be an enjoyable budget M Performance model.
Our verdict on the BMW 2 Series Coupe 220d SE
It has the looks and the image, and BMW's 2 Series Coupe mostly follows through with an appropriately engaging driving experience. A refined car at regular speeds, the various standard output engines offer brisk performance when extended. For more thrills you'll need the M235i, which does much to illustrate the car's true potential.
---
Costs
BMW's efforts to drive down fuel consumption and emissions ensures that its engines are some of the best in class. As such, you can't go wrong with either petrol or diesel, it just depends on your annual mileage. You will need to dip into the options list to get the car to your likely though, as it could be better equipped out fo the box.
Space and practicality
It's not a big car, but there's plenty of room for sports bags and the weekly shop in the boot. The rear seats are more useable than the token gestures often offered in a two-plus-two sports coupe, but fully-grown adults will still find legroom restricted. Kids will fit snugly into the rear though.
Controls and display
It's familiar BMW fare in the 2 Series, with a clear and logically laid out facia and bright, colour screen. The various controls prove intuitive, while the option of a head up display showing speed and navigation instructions is a welcome bonus.
Comfort
If you make a sensible choice of wheel size the 2 Series should deliver a comfortable and fluid ride. Pick larger wheels and the combination of sports suspension wisely if you want to retain some semblance of ride comfort. That aside, the cabin does a good job of insulating against outside noise.
Car security
Naturally the 2 Series has remote central locking plus the convenience of a stop/start button to save you fumbling for the key. Being a coupe, there's no problem keeping valuables out of sight in the boot, too.
Car safety
The 2 Series has all the usual bases covered, with plenty of airbags and electronic safety aids to keep you on the road. For the keen driver, it's good to know that the latter don't prove intrusive – a plus when you're driving enthusiastically.
Driver appeal
In regular guise the 2 Series is a refined and easy to drive car, although you'll be needing more power than what the regular engines can deliver to unlock its full potential. The regular petrol and diesel motors do a fine job, but it's the M235i that's the star of the range, delivering an engaging and rewarding experience.
Family car appeal
It's unlikely that a 2 Series could see service as an everyday car for a small family as practicality is not its strong point.
First car appeal
If it wasn't for the price, the 2 Series could be a highly popular choice as a first car. It's possibly a little too expensive and exclusive for most first timers though.
Quality and image
Build quality is up to BMW's usual high standards, and there's no question that the basic coupe bodystyle should prove an appealing one for buyers. Renaming the car 2 Series – it's really a 1 Series coupe – further elevates the car's status in the market.
Accessibility
Being a coupe, its two big doors mean there are no problems accessing the front seats. In contrast it's a squeeze to access the back, although it's hardly likely to be a regular occurrence. There's more good news at the back, as the car's boot space is also easy to make use of
Stereo and ICE (In car entertainment)
Mirroring many other cars in the BMW stable, the 2 Series boasts a good quality infotainment unit comprising audio, Bluetooth and MP3 player connectivity. Sat-nav is also possible, although you'll need to spend extra to make use of it. All of this is accessed by BMW's now familiar and more intuitive rotary controller
Colours and trim
Bold colours do wonders for the 2 Series, as they manage to highlight the car's various exterior styling details. Sombre, traditional hues work well if you don't want to be noticed. It's a familiar environment inside the car, with lots of dark materials punctuated by bright trim accents.
Parking
Despite the presence of rear parking sensors you'll need to take extra care due to the limited rear three-quarter view. At least the car's steering offers plenty of assistance at low speeds.
Spare wheel
Fitted with run-flat tyres as standard.
Range information
Petrol engine options – 2.0-litre 220i (184bhp); 3.0-litre M235i (326bhp). Diesel engine options – 2.0-litre 220d (184bhp). Transmission options: six-speed manual gearbox or eight-speed automatic transmission. Trim levels: SE, Sport, Modern, M Sport, M (M235i).
---
Alternative cars
Nissan 370Z Raw two-seater coupe is more fun, but less practical
Porsche Cayman  Coupe offers premium badge and better performance but for more money
Volkswagen Scirocco A more practical and potentially more potent car in R guise, but front-wheel drive
Audi A5 Larger and less engaging to drive but more upmarket