April 2010
Bentley Continental GT Supersports
Supersports more imposing thanks to detailed cosmetic changes and lower ride height
April 2010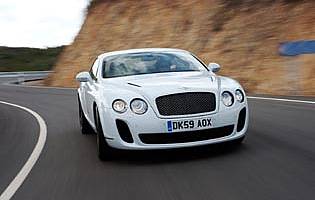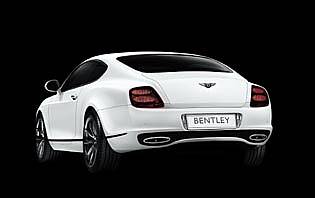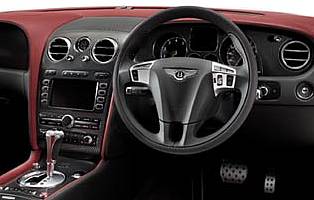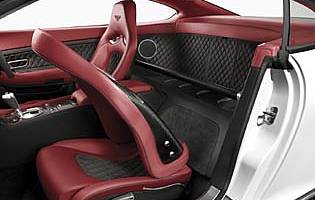 Overall rating

Likes:
Powerful engine is flexible around town and never feels stressed on the open road
Cabin feels special thanks to subtle detailing and quality of fit and finish
Despite car's performance potential, ride is always comfortable
Toned down exterior styling add an air of menace to the car's character
Gripes:
Engine's thirst is substantial - even for a car boasting such performance
Despite toned down exterior, you will stand out in the Supersports - if that's not what you want
Limited number of E85 outlets weakens the car's green credentials
It might be 'only' a two-door coupe but the Supersports is a big car
In the high price, high octane world of super luxury cars, Bentley's Continental GT has been a runaway success. All things are relative when a car costs six figures, but the striking two-door mode offers a lot of performance, refinement and street presence for its modest asking price. Keen to prove that the car is more than just a grand tourer, the Supersports variant offers a more driver-friendly and focused experience.
It's rare for a maker to take the rear seats out of any car, but that's exactly what Bentley has done with the Supersports. As part of the plan to make it a more focused and harder, faster car for enthusiastic drivers, the rear seats have disappeared as part of a modest weight saving exercise.
This, along with detailed suspension, steering and powertrain changes have been done to enhance the Continental GT's reputation as a genuine high performance car. The basic variant is no slouch and, while Bentley added a more powerful Speed model, this Supersports is offers 621 horsepower to the Speed's 600 and the regular car's 556 horsepower.
It's not all about power, though. The Supersport's minor exterior tweaks see the brightwork of the standard model replaced by darker, more menacing trim. Combined with a lower ride height and wider track, the flagship GT coupe is a welcome departure from glitzy glamour of the donor car.
The end result is a surprising and impressive blend of supercar performance and a modern take on traditional Bentley values. The firmer ride, greater urgency of the uprated engine and bold visual appearance are more in tune with a German supercar, while power delivery is unmistakeably Bentley - effortless - but with a twist commensurate with the engine's extra power and torque.
Our verdict on the Bentley Continental GT Supersports
Taking the Continental GT to the next level, the Supersports model offers buyers the same, familiar, level of comfort and refinement as the other variants but with an exciting performance twist. Faster and more rewarding, the Supersports combines Ferrari-rivalling pace with a surprisingly agile character. To the average motorist running costs are eye-watering, but of you have the means there's nothing else like it.
Costs
Make no mistake, this is an expensive car to run. Asking price aside, which is itself considerable, fuel economy will be the biggest burden on your finances. With consumption in the low teens when driven normally and single figures when fully exploited, triple-digit fill-ups will be the norm. Factor in the car's high CO2 rating and equally high insurance premium and you'll need deep pockets.
Space and practicality
Up front the Supersports is like all other Continental GT's, which means a good size glovebox, door pockets and a deep centre armrest. The CD autochanger and sat-nav units do eat up valuable glovebox space, though. With the removal of the rear seats you gain a luxuriously appointed luggage shelf. At the rear there's a spacious boot, cementing the car's Grand Touring abilities.
Controls and display
Boasting good quality switchgear and displays, the Supersports is just like all the other Bentleys. The main display located high up in the fascia isn't a touch screen, but navigating the various features is straightforward. The dominant gearlever is supplemented by column-mounted gearshift levers, while the main instruments easy to read - a good thing considering the car's performance potential.
Comfort
Despite a lower and stiffer suspension set-up than a regular Continental GT, the Supersport remains comfortable even at high speeds and on challenging country roads. Road and tyre noise has been cleverly suppressed, although it's hard not to hear the car's distinctive exhaust note - which for many won't be viewed as a bad thing.
Car security
A desirable car such as this needs protection, and it's no surprise to learn that the standard alarm and immobiliser system should prove sufficient to prevent most attacks.
Car safety
As you would expect of a car in this class, a high level of active and passive safety system are present. There's also the car's standard four-wheel drive system, which proves its worth not just at high speed but also in slippery and wintery conditions. Standard ESP and ABS systems are backed up by airbags throughout the cabin and a strong safety cell.
Driver appeal
Taking the experience a notch or two above that of the Speed variant, the Supersports delivers a noticeably more accomplished performance on all types of roads. The detailed changes to suspension, steering, engine and transmission allow the car to corner faster and flatter with greater confidence. With more power going to the rear of the all-wheel drive system, this Bentley has the potential to be more 'playful' if you know what you're doing. None of this would be possible without the engine's extra power, which sounds fantastic when pushed hard but never feels strained. The smooth and predictable auto transmission is the icing on the cake.
Family car appeal
Unlike the four-seat Continental GT and Speed variants, the Supersports lacks any rear seats, ruling out any family-related duties. In place of the rear seats is a plush, upholstered luggage shelf, while the car's boot is a good size.
First car appeal
In a word: no. This is a hugely quick car and part of its appeal is the ease at which high speeds can be achieved, which makes it something a novice might want to leave until sufficient experience has been gained elsewhere. It's also a very expensive car to purchase and run - that is, unless money is no object
Quality and image
Always keen to trade on its traditional values and sporting heritage, since the split with Rolls-Royce the Crewe-based company is proud of its claim that everything is done in-house. From development to manufacture and the use of fine materials, these are attributes that position the firm above its mass produced rivals. If brand awareness and sales figures are anything to go by, buyers appear to like this approach.
Accessibility
With its big, wide-opening doors, access to the front of the car is straightforward. The low roofline shouldn't present any major problems, although the seats are mounted very low. And there are no issues regarding the rear seats, because the car doesn't have any. Accessing the rear deck is straightforward, as is the car's boot.
Stereo and ICE (In car entertainment)
The standard equipment does a good job, with the main unit's display taking centre stage in the fascia. Steering wheel controls prove useful, although the glovebox located CD changer eats into the storage space. A Naim-branded audiophile amplification option does much to enhance the system's abilities, while the sat-nav interface is a little fiddly.
Colours and trim
Unlike the regular Continental GT variant, the Supersports comes with a more subdued exterior. Dark trim replaces shiny chrome, while black-painted wheels add a menacing extra touch. As you would expect, there's pretty much a free reign regarding materials and combinations, although a dark leather upholstery and carbon fibre trim does much to promote the car's harder edged performance.
Parking
Although often perceived to be a traditional brand that shuns modern technology, Bentley includes a full compliment of parking sensors for its Supersports model. And with the addition of a reversing camera, the car's size becomes less of an issue - the view is shown on the main colour display
Spare wheel
Space saver spare wheel fitted beneath the boot floor.
Range information
Petrol engine options - 6.0-litre (552bhp, 600bhp (Speed), 621bhp (Supersports)). Transmission options: six-speed automatic gearbox, four-wheel drive. Trim levels: GT, GT Speed, Supersports.
Alternative cars
Aston Martin DBS High performance Aston is hugely impressive but, like the Bentley, more GT than hypercar
Ferrari 599 Rakish 599 offers a more intense experience than the Bentley, and is less relaxing to drive slowly
Porsche Panamera Turbo variant is supercar quick, cheaper and more practical
Mercedes-Benz CL-Class In AMG trim the CL is a rapid, plus and comfortable GT. Not as special as the Bentley, though