Audi TT Coupe 2.0 TFSI S-tronic S-line review
Super sharp changes from S-tronic transmission
May 2010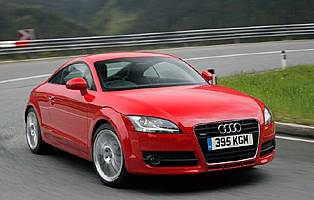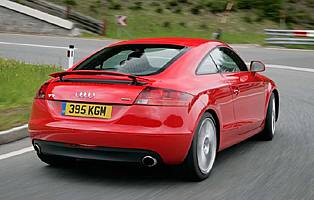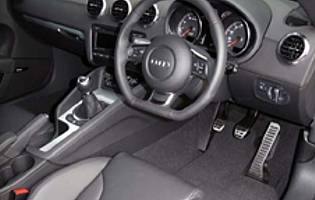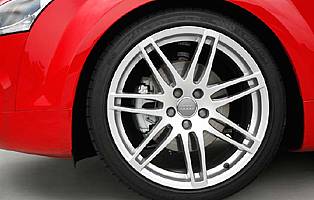 Overall rating

Likes:
Super sharp changes from S-tronic transmission
Stylish interior with exceptional quality
Excellent dial clarity
Adaptable ride quality
Gripes:
Visually hard to discern from pre-facelift model
Four-wheel drive chassis less involving than some rear drive rivals
Rear seats suitable only for limited use
Restricted rear view thanks to thick pillars
The original Audi TT was one of the enduring style icons of the 1990s. The second generation model arrived in 2006, offering toned-down looks and a greater emphasis on the driving experience. Now revised for 2010, the second generation model continues in that vein with performance and style changes.
The Audi TT remains one of the most successful coupe models in the UK thanks to a combination of style, performance and build quality. A sterling reputation and plenty of street cred has always been complimented by the latest engine technology from the Volkswagen-Audi-Group.
It comes as no surprise that the TT is the first model to boast a revised version of the powerful 2.0-litre direct-injection turbo petrol unit used on a range of models across the VAG line-up. Power has been boosted to 208bhp while fuel consumption has been reduced. A combination of engine tuning and the addition of brake energy recuperation to the TT line-up have helped achieve this.
The revised 2.0-litre unit replaces the 3.2-litre V6 petrol engine and old 2.0-litre TFSI in the TT range. The TT-S and range-topping TT-RS continue with their previous power-plants. A 1.8-litre petrol unit is also available with the convertible TT Roadster range, although not in the Coupe model. Using the ground-breaking twin-clutch S-tronic transmission and Quattro four-wheel drive, the TT's on road performance has been significantly improved in 2.0-litre TFSI form, while the manual, front-wheel drive variant also benefits.
Subtle changes to the interior and exterior design have been employed to keep the revised model looking fresh. Front bumpers feature larger air inlets, fog lights are set in chrome rings and the front grille and headlights have also been redesigned with twelve white light-emitting diodes serving as the daytime running lights. At the rear revised diffuser designs and exhaust pipes make the model nearly two centimetres longer.
Our verdict on the Audi TT Coupe 2.0 TFSI S-tronic S-line
To the casual observer it may not appear as though a great deal has changed for the face-lifted Audi TT, but a streamlining of the petrol engine range, improved performance in terms of power and economy from one of the most popular engine options and none-too-overpowering design alterations have helped perfect what remains a very impressive and stylish premium coupe.