Audi TT 2.0 TFSI review
Clever virtual cockpit creates clean and fuss-free cabin
October 2014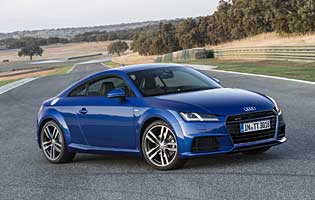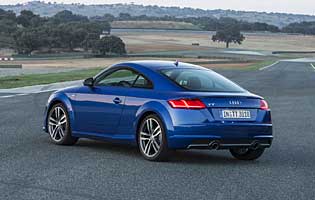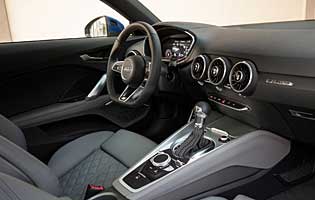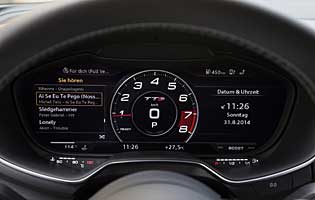 Overall rating

Likes:
Exterior design is slick and attractive
Clever virtual cockpit creates clean and fuss-free cabin
Engine range offers power, refinement and economy
Impressive attention to detail throughout
Gripes:
Could be mistaken for old car from some angles
Enthusiastic drivers may be disappointed with ultimate handling
Easy to inflate the price with option list
Rear seat space is poor
One of the key cars in the huge success of the Audi brand over the last 20 years has been the TT. Rejuvenating interest in the small coupe segment it has always offered a strong design theme whilst combining an easy-going and enjoyable driving experience. Now Audi has produced the third-generation version with promised improvements in a host of areas.
Few cars have had such a dramatic impact as Audi's TT, beginning with the eye-popping concept that first appeared in 1999. Since then there have been two generations, both of which managed to provide a strong style statement for fashion-conscious buyers without sacrificing too much in the way of practicality or usability. In doing so Audi made rivals go back to the drawing board.
This third generation TT is a natural evolution from the previous model rather than a radical departure. As before it uses a mixture of high strength steels and aluminium in its construction in order to keep weight down, yet it manages to weight 50kg model-for-model than before. Add to that is an engine line up that features new or revised engines, giving a useful performance enhancement.
In terms of its design the TT at first glance looks quite similar to the previous models, but closer inspection reveals the subtle differences. Broader and squatter than before, the third generation TT has taken on a more aggressive appearance. The grille is now six-sided and more imposing while the LED daytime running lights are vertically stacked to echo the R15 Le Mans racer.
On the inside the biggest departure is the standard fitment of what Audi terms a 'virtual cockpit'. This means the instrument panel has been replaced by a high-definition display screen, allowing it to be configured in numerous ways including a giant map filling the whole area in navigation mode as well as a more sporty display for higher speed driving.
Our verdict on the Audi TT 2.0 TFSI
The Audi TT has been improved in a host of areas and represents substantial progress over the outgoing model. It's faster, cleaner, more refined and with improved technology. Although fun to drive it's still not the last word in driving pleasure, but for the thousands of buyers who love its combination of style and sophistication it offers the perfect balance of fun and ease of use.