November 2006
Audi A6 S6 saloon
Deep front spoiler only real clue as to the S6's potential
November 2006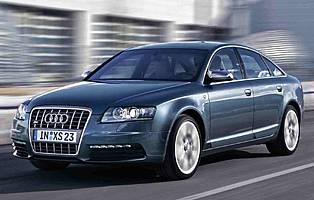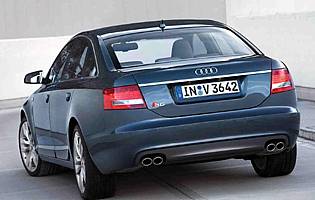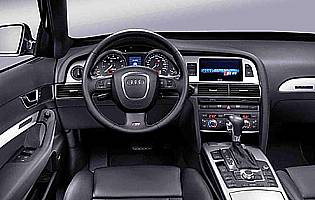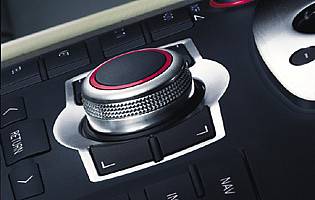 Overall rating

Likes:
Powerful V10 engine sounds good and helps to propel the S6 to serious speeds in the right conditions
For a big car the S6 is surprisingly nimble
Instrumentation is intuitive and easy to read
Build qualityis exemplary and outshines the competition
Gripes:
Possibly positioned too close to the eqaully powerful S8 in the Audi line up
MMI interface system bafflingly complex at first
V10 boasts an incredible thirst when driven hard
Styling could be seen as too conservative by some given the car's potential
Not one to be left out of the high performance club, Audi can now boast something to rival the likes of BMW's M5 and Mercedes's AMG-powered E and CLS models. The difference between Audi's S6 and the competition is the German firm's use of a Lamborghini-sourced V10 engine. Of course, it helps if you own the Italian supercar maker in the first place.
At first glance the S6 appears to be now different from a regular A6 model. Look closely and the changes are subtle. A new front grille, unique design alloy wheels, V10 badging on the front wings and a pair of large oval tailpipes give the game away - just. The look is in keeping with the trend for subtle perfomance cars though, and as we all know, Audi is a master at 'doing' subtle.
That is at least partly down to its sheer size. Bigger than its rivals, the A6 is almost as sizeable as the A8 and even boasts a larger boot. But inside, the car feels much more taut and involving to drive than its bigger brother. Even models that don't come equipped with quattro all-wheel drive are immensely grippy with direct steering and an evocative engine note. If you want to drive, it will let you get involved. If you prefer to relax, it will waft along in executive comfort with the best of them.
There are certain givens with the S6, such as the immaculate cabin, excellent ergonomics and generous amounts or rear legroom. What you won't be prepared for at first is the influence the V10 engine has over the car. Simply put, from the moment you turn the key, there's little doubt as to what's under the bonnet.
Thankfully, the engine's dominance isn't detremental to the experience. In fact, it's positively enjoyable. A firm ride plus Audi's quattro drive system and a smooth auto gearbox all allow seriously swift progresss with the minimum of fuss. Sure, you could get most of the car's real world from a diesel varaint, but the sound of the engine and its brutal thrust has to be experienced.
Our verdict on the Audi A6 S6 saloon
In many ways Audi's S6 is something of a trival addition to the firm's line-up; it's thirsty, expensive and often too fast for most roads. However, even using a fraction of the car's potential requires self restraint and skill. And when you get it right, the rewards are plenty. Realistically, flat out everywhere is no fun, but the way the car grips when pushed through corners is impressive. So is it's ability to cope with the daily grind of commuting and shopping, making the S6 a surprise high performance all-rounder - if you can afford to run it.
Costs
While no car in the high performance executive saloon bracket could be described as cheap to buy and run, it pays to buy with your eyes open.As such, the S6 is a thirsty beast - especially around town where single figure mpg readouts are not uncommon. And when running on a diet of super unleaded, that's going to cost you dear. Insurance isn't going to be cheap, although routine servicing should be okay as Audi's tend to be reliable.
Space and practicality
The boot's luggage capacity of 546 litres - an increase of a whopping 112 litres over the previous A6 and more than several cars in the next class up such as the Jaguar XJ - is most welcome. Inside, you get plenty of storage areas for oddments and the door bins are a good size.
Controls and display
Audi has built up an impressive reputation for designing cars with first-rate cabin ergonomics. The S6 is no different. Actually, save of a few minor details, it's the same as a regualr A6. What it lacks in clever seating arrangements it makes up for with the sheer clarity of its instrumentation. The precision with which all instrumentation and switchgear is constructed, built and illuminated is stunning. And once mastered. the MMI interface is surprisingly intuitive. As an added bonus, the S6 gains F1-style gearchange paddles behind the steering wheel, which do prove helpful when you're driving hard.
Comfort
Seat design combines the best aspects of soft executive coddling with the beefy bolsters and firm support expected of sports seats. It is almost surprising to find oneself settled snugly in position while tackling a quick corner. Rear legroom is much better than the previous A6. There are even ten different steering wheel set-ups to choose from, an indicator of the level of personalisation offered by the options list. Expect to pay for the privilege in some unexpected areas.
Car security
Make no mistake thieves will crave the S6, on paper at least. Luckily for you, the car stands out about as much as a regular A6. That soon changes when you fire up the engine, making anti-theft devices such as an interior ultrasonic protection system, remote central locking and immobiliser plus an anti-towaway facility essential. And while an alarm is also fitted, a tracking device would be a useful extra. It might even be a condition of your insurance policy.
Car safety
It might be a fast car, but the S6 is also a safe car. There's an impressive array of active and passive safety features including plenty of airbags, a stiff body structure and a safety steering column that comes with a double telescoping function meaning that, like the pedals, it is disconnected from any intrusion into the car. Dono't forget the standard quattro drivetrain on the S6, as it is instrumental in ensuring all the engine's power is safely deployed whatever the road conditions.
Driver appeal
BMW's M5 is generally regarded as the benchmark for driving pleasure in the high performance executive class. The S6 at least matches it in many key areas and many people will actually prefer the extra grip of Audi's quattro system to the rear-wheel drive setup favoured by BMW. Plus, with the Audi there's a straightforward auto gearbox, not a fancy paddleshift semi-auto to contend with. Steering and power delivery blend supremely well and the S6 responds keenly to the manner in which it is driven. The noise from the V10 engine is, unsurprisingly, impressive and addictive. Overall, the S6 is an accomplished all-rounder if not an out-and-out racer track star.
Family car appeal
Just like with a regualr A6, the S6 is adept at accomodating a well-heeled family. While this is far too adult-oriented a car for grubby toddlers and equally grubby pets, a grown up family will find the S6 a fine place to spend time in. The various sound and vision options should appeal on long journeys, and the car's spacious boot will easily swallow shopping and the odd golf bag.
First car appeal
First-time buyers might lust after an A6, but very few will realistically be able to consider buying an S6. Performance aside, insurance will likely be the biggest obstacle.
Quality and image
A brand on the up and up, it's as if the car maker can do wron with its wide range of vehicles. To many it's even viewed as more desirable than a Mercedes, with a more modern, sporting edge. With the S6, Audi has a car that rivals the BMW M5 and Mercedes E 63 AMG. And with the inclusion of a Lammborghini-derived engine, this is the type of branding other firms cannot hope to match.
Accessibility
Another benefit of the A6's step up in size is that no squeezing is required to get in through any of the doors, and even the doors themselves aren't as heavy as they look despite the satisfying clunk with which they close. Interior space is generous enough to accommodate even the most sizeable of business fat cats.
Stereo and ICE (In car entertainment)
Audi's Multi Media Interface (MMI) bundles the stereo settings into the same screen display as the car's other electronic items such as air conditioning, light settings, warning signals, diagnostics and satellite navigation. Initially, the MMI system seems over-complex but it soon becomes less daunting. Uprgrades include a digital TV receiver, DVD player and BOSE surround sound system - the latter proving particularly impressive.
Colours and trim
There's little doubt that the usual pallete of businesslike metallic hues seem to suit the car's personality best. Inside, the S6 gains some fantastic leather seats and sporty metal trim finishes - just enough to distance itself from the regular range. Audi delivers one of the most immaculate interior treatments seen in a car of any class.
Parking
Although a large car, the S6 is simple to park. As you'd expect, parking sensors are most useful. Throttle response is good for low-speed parking; and the car's steering offers extra assistance at walking pace to help reduce the effort required by the driver.
Spare wheel
Full size alloy spare wheel as standard.
Range
Engines: 2.0 FSI petrol (170PS); 2.0 TDI diesel (140PS); 2.4 V6 petrol (177PS); 2.7 V6 TDI (180PS); 3.2 V6 petrol (256PS); 3.0 V6 TDI (233PS); 4.2 V8 petrol (335PS); 5.2 V10 petrol (435PS). Transmission options include six speed manual, six speed tiptronic automatic and continuously variable multitronic automatic gearboxes plus Audi's famous all-wheel-drive quattro system (standard on selected models). Trim levels: standard, SE, S line, S6.
Alternative cars
BMW M5 Rapid 5 Series is hugely competent but its quirky semi-auto gearbox isn't univerally liked
Mercedes-Benz E 63 AMG E 63 sounds fantastic at full tilt, is a hoot to drive yet refined and docile when you want it to be
Jaguar S-Type R Doesn't look like much from the outside but this Jag is seriously quick - and good value
Maserati Quattroporte Left-field Maserati is for the serious speed enthusiast. Flawed but fast and full of character