Audi RS6 Avant review
Pumped-up looks avoid being over the top
January 2013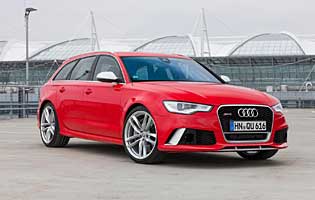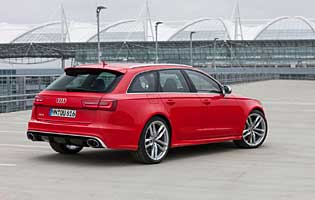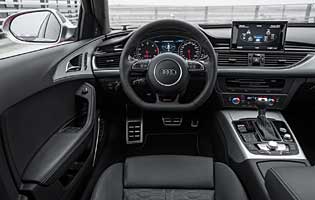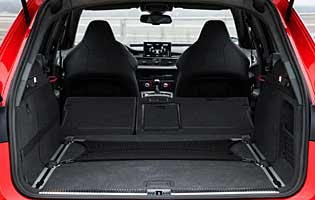 Overall rating

Likes:
Pumped-up looks avoid being over the top
Searing performance and soundtrack from turbocharged V8
Comfortable when cruising and sporty when required
Easy to drive and easy to live with too
Gripes:
Although much improved the RS6 is still a thirsty car
Quattro' lettering on the front grille may be too much for some
Insurance and servicing costs likely to be high
Bi-turbo diesel A6 provides two thirds of the performance
German firm Audi has been at the forefront of high performance estates for decades, and despite a general push for greater efficiency and downsizing it hasn't prevented the third generation RS6 from reaching the showrooms. With a thundering V8 squeezed into the practical Avant body it promises equally huge amounts of performance and space.
Looking to exploit every available corner of the premium segment has resulted in huge sales success for Audi, including the development of its performance sub-brands. The mid level 'S' models and the ultra high performance 'RS' models have a back catalogue of note and have carved out their own loyal following.
The previous RS6 used a turbocharged 5.2-litre V10 engine giving huge performance with the inevitable expense of economy. This latest version follows the downsizing trend that is common throughout the company and its rivals, and instead has a 4.0-litre V8. Interestingly this engine is used in the S6 and other S and RS models in the Audi range, and it is merely a unique state of tune that gives the RS6 its distinctive performance.
As expected in a car like this Audi's highly advanced Quattro four-wheel drive system delivers the power evenly, with an automatic central differential distributing the torque between the front and rear wheels. The RS6 also has torque vectoring, which can distribute the power between each side to maximise traction.
Despite its super-car performance, Audi has attempted to design the RS6 so that none of the practicality and tractability of the A6 models is lost. The large and luxurious interior remains intact, as does the copious boot. Adjustable suspension means the RS6 needn't always offer a harsher, performance-orientated ride. Fuel consumption has been minimised too, although it still reflects the high-output nature of the engine.
Our verdict on the Audi A6 Avant RS6
The blend of performance, comfort and practicality is refined still further in this latest RS6 and in many ways it is hard to comprehend how a car this fast can be so easy to drive. Of course it requires a substantial financial commitment but it is remarkably capable in so many ways.