Audi A4 saloon RS4 review
Engine is powerful, tractable and sounds superb
April 2006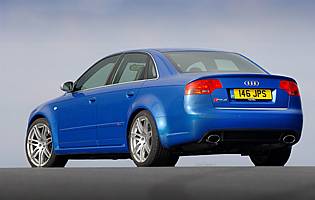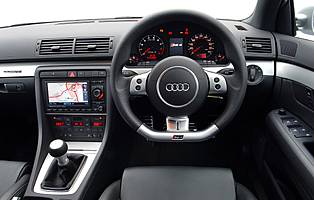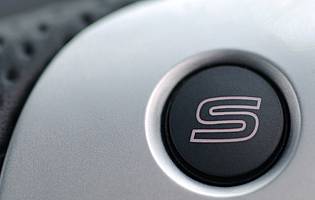 Overall rating

Likes:
Engine is powerful, tractable and sounds superb
Suspension strikes an excellent compromise between ride and handling
Interior is smart and well constructed
Seats offer a high degree of support
Gripes:
Running costs are likely to be high
Initial purchase price may be too high for some
Steering can feel over-light at times
Satellite navigation not standard on a car at this price
The pinnacle of the A4 range, the RS4 joins a long line of high performance Audis. A step above the existing S4, the RS4 uses an even more powerful engine, the sophisticated quattro four-wheel drive system and aggressive styling modifications to create a highly desirable car.
From the outside the RS4 is easy to distinguish from lesser A4 models. At the front it gets piercing Xenon headlamps and a deep front bumper, with a pair of large air intakes either side. It also gets heavily flared wheel arches to accommodate 19-inch alloy wheels, and at the rear it has a pair of large bore exhaust pipes and a discreet boot spoiler. It all adds menace to the already taut A4 body shape.
Mechanical changes are centred around the engine. The 4.2-litre V8 is based on the engine that already in the S4, but with substantial modifications. The addition of direct injection and bespoke internal parts greatly increases the engine's output. This is transmitted to the road via a six-speed manual gearbox and into the quattro four-wheel drive system.
In this installation the four-wheel drive system is altered, splitting the power in a ratio of 40/60 front to rear. In addition, the bonnet and front wings are made of lightweight aluminium rather than steel, with both alterations made in order to improve the RS4's weight distribution and handling balance. The stiffened and lowered suspension also benefits from Audi's Dynamic Ride Control system, which interconnects diagonally opposite dampers for reduced body roll while retaining ride comfort.
Inside the RS4 gets stylish and supportive bucket seats with electronically adjustable side bolsters for maximum support. There is a high level of standard specification, including a Bose stereo system, climate control and the Sport mode, activated by a button on the steering wheel. This inflates the side bolsters on the drivers seat for extra support, activates a more direct programme for the accelerator and opens valves in the exhaust for improved sound quality.
Our verdict on the Audi A4 saloon RS4
Despite a high price tag, the RS4 impresses with its breadth of ability. It is no more demanding to drive than a more humble A4 and is just as comfortable, yet the quality of its chassis and drivetrain make it superbly entertaining when driven quickly. The characterful engine is a delight to use, and the four-wheel drive system makes the performance useable in all weathers.