Audi Q5 SQ5
Solid build quality with excellent interior
June 2017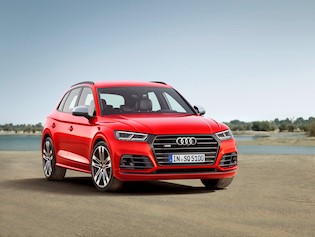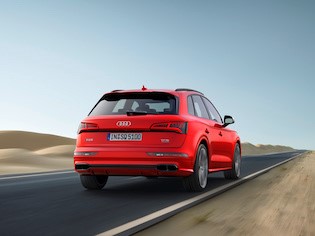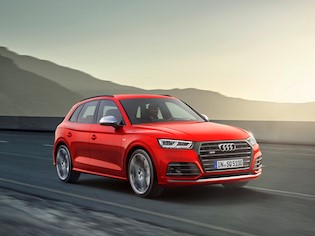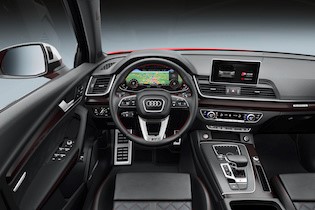 Overall rating

Likes:
Solid build quality
Decent performance
Excellent interior
Understated looks
Gripes:
Engine doesn't have a huge amount of character
Ride can be overly firm at times
Exhaust pipes have been blanked off awkwardly
No diesel option
If you want to go relatively quickly while sitting with a commanding SUV view of the road ahead, then Audi has got the car for you – the SQ5. Powered by a 3.0-litre turbocharged V6 producing 349bhp and 500Nm of torque, it's certainly quick enough for most people. It's also based on the exceptionally good Q5, meaning that it has a good degree of practicality to back up the pace.
The Audi SQ5 was the German manufacturer's first diesel S-badged car it had created. However, with diesel's reputation lower than ever before, this latest SQ5 is available only as a petrol. That's no bad thing however, as the petrol unit fitted to the SQ5 is a bit of cracker, providing plenty of power alongside surprisingly good economy figures.
Inside, the SQ5 benefits from Audi's latest design architecture, meaning you now get cutting-edge technology in a sharply designed package. It's also got plenty of space available, making it ideal for families or those who simply require more space. Its interior is similar to the all-new A4, meaning you now get Audi's excellent Virtual Cockpit infotainment system.
Prices for the SQ5 start at £49,715, but for this base cost you do get a lot of standard equipment. That said, even a few options can nudge the car's price north of £60,000 – quite a lot for a car in this segment. However, those drivers who want performance and space will find the SQ5 ticks a lot of boxes.
One of the biggest attractions to the SQ5 will no doubt be the car's use of Audi's Quattro all-wheel-drive system. It provides excellent amounts of traction in almost all conditions, making it well-suited for life in the UK. Audi claim that the SQ5 will still return a respectable 34mpg too, though it's likely that you'll see less than this in daily driving.
Our verdict on the Audi SQ5
The Audi SQ5 really is all things to all people. It's spacious, quick and relatively economical. Add in Quattro all-wheel-drive and you have a car that is incredibly well suited to life in the UK. It's also very well specified inside, offering Audi's tip-top level of interior quality. There's no denying that the SQ5 is an expensive car, but given its all-round usability, this seems justifiable.
---
Costs
As mentioned, the SQ5 is a relatively expensive purchase to begin with. It would be quite easy to get carried away with the options list, but steer clear of ticking too many boxes if you want to keep the overall price down. On top of this, fuel costs are likely to be high, as are those to replace the tyres on the large alloy wheels. It'll also qualify for a higher rate of tax – adding to the car's overall cost.
Space and practicality
Because of its size, the SQ5 has a lot of practicality to offer. With the seats raised there's 540 litres of boot space to play with, rising to 1,560 litres with the rear seats lowered. This puts it ahead of most of its rivals, though it falls just short of the space offered in the BMW X3. It's also a very square boot with almost no lip, which makes loading larger items such as suitcases a little bit easier.
Controls and display
Thanks to Audi's introduction of its latest screens in the SQ5, it's really rather easy to read the displays. Additionally, all of the controls inside the SQ5's cabin have a good amount of weight to them, and everything operates with the level of quality that you'd expect from a car costing in the region of £50,000. The new Virtual Cockpit system makes reading information such as speed and navigation a whole lot easier, too.
Comfort
For the most part, the SQ5 is a really rather comfortable car to live with. However, the large alloy wheels, when coupled with the harder sports suspension, can make the car feel a little jostling – especially when driving around town. That said, increase your speed and the SQ5 reacts well, dealing with the vast majority of lumps and bumps in the road. The sports seats also offer plenty of support, and are ideal for longer journeys.
Car security
The SQ5 comes fitted with a standard range of security systems, including an alarm, immobiliser and interior motion detector. Also, because of its relatively understated looks, there's no reason why it should draw attention to itself – something worth considering if you're planning on leaving it out on the street at night. Of course, those cars with larger alloy wheels are likely to be more desirable to thieves, which is another consideration.
Car safety
The new Q5, upon which the SQ5 is based, was crash tested this year. It did impressively well, scoring a full five stars in the Euro NCAP tests and returning 93 per cent for adult occupant and 86 per cent for child occupant safety. It even scored 73 per cent pedestrian safety, proving the SQ5's excellent safety credentials. It's also fitted with the latest range of assistance systems, making it ideal for safety-conscious drivers.
Driver appeal
With its red brake calipers and throaty exhaust note, the SQ5 is likely to appeal to the keen driver. It also happens to be a rather involving car to drive, with plenty of precision to its steering – though this does lack any real feel. Throttle response is excellent, and there's loads of power to play with, too. Of course, it can't offer the same level of involvement as a sports car, but for a large SUV it isn't half bad.
Family car appeal
The Audi SQ5 will no doubt be a rather appealing prospect to a family. It's spacious, has plenty of luggage room and looks relatively understated too, making it perfect for family duties. However, its powerful petrol engine will mean high running costs, and this might not be ideal for an everyday car. There are, of course, diesel versions of the standard Q5, but these don't offer quite the same level of performance as the SQ5.
First car appeal
Owing to its powerful engine and expensive list price, the SQ5 isn't simply best suited to those who have just passed their tests. It's also a rather large car, which will make things a little more difficult for those who are used to smaller, more learner-friendly vehicles. There's nothing to stop new drivers from choosing the SQ5 though – it'll just be relatively expensive if they do. Running and insurance costs will be reasonably high, too.
Quality and image
There's no denying the SQ5's quality, from its chromed grille to its large polished alloy wheels. It's a shame about the exhaust pipes – the area where you'd expect to find them has been crudely blanked over with grey plastic. The actual pipes are underneath the back of the car's rear splitter – something you'd expect in a diesel, but not in a performance orientated SUV. However, the interior is a standout feature of the whole car thanks to its excellent build quality.
Accessibility
Gaining access to the SQ5 is pretty simple thanks to the car's large doors. They open widely too, meaning that getting in and out really isn't too much of a hassle. It must be mentioned that, despite its sports suspension, the SQ5 is still a reasonable amount higher up than the average car – something worth considering if you have difficulty getting in and out of a car.
Stereo and ICE (In car entertainment)
As standard, the SQ5 is fitted with a seven-inch colour display, satellite navigation and a full Audi sound system. As well as this, you get Bluetooth connectivity, allowing for seamless integration between a smartphone and the car's system. There really is a good amount of technology fitted as standard, though you can of course add to this thanks to Audi's extensive list of optional extras, with the manufacturer's Virtual Cockpit a feature well worth specifying.
Colours and trim
As with any Audi, there's a huge amount of personalisation options on offer. With a good variety of colours and interior finishers to choose from, it isn't hard to make the SQ5 just how you'd like it. There are 11 exterior colours to pick between, along with four different alloy wheel designs. Handily, there is only one trim level, making that decision a little easier, though it still features 21-inch alloy wheels as standard.
Parking
Despite its relatively large size, the SQ5 isn't as tricky to park as you'd expect. This is largely down to its good levels of rearward visibility, and large wing mirrors that really do help when reversing. You also get Audi's parking system plus fitted as standard, and this includes parking sensors – another feature that aids with positioning the car, especially in tighter spaces. Overall, the average driver really shouldn't have too many problems with parking the SQ5.
Spare wheel
Emergency tyre repair kit supplied as standard.
Range information
Petrol engine options: 3.0-litre turbocharged petrol. Transmission options: Eight-speed dual-clutch automatic. Trim levels: S.
---
Alternative cars