Audi A6 Avant 2.7 TDI SE review
Elegant exterior design masks the car's size well
April 2005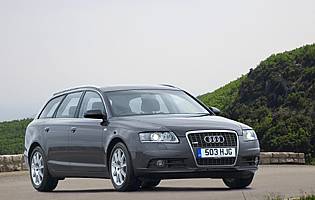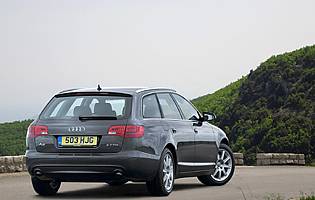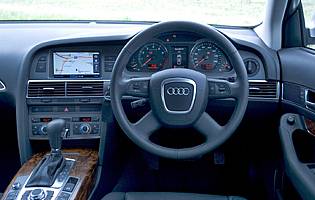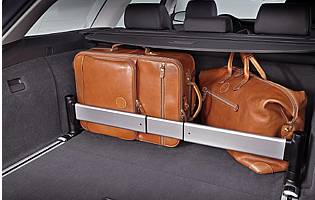 Overall rating

Likes:
Elegant exterior design masks the car's size well
Practical load bay offers a number of different storage options
Spacious cabin easily accommodates four adults in comfort
Diesel engine line-up is impressive
Gripes:
CVT gearbox will disappoint if you plan on driving enthusiastically
Mind-boggling selection of options - difficult to know where to start
Clever boot dividers should be standard on a car like this
2.4 petrol engine feels underpowered, while 4.2 V8 is an expensive luxury
Not everyone is keen to swan around in a big SUV, which is why cars like Audi's A6 Avant exist. But while the executive estate is no stranger to lugging loads, it manages to do it all with more than a pinch of style. The latest variant borrows the Audi corporate nose and is blessed with a level of driver involvement that has been sadly absent from previous A6 generations.
For people who don't want a premium sports utility vehicle (SUV), there's always the executive estate. It might not be as fashionable as it was before the arrival of posh 4x4s, but for anyone who eschews a flash image in favour of something more restrained cars in this sector are worth a look.
Not that you'll be spoilt for choice, though. If you don't want an aging Saab or a less than exciting Volvo, the choice inevitably falls between BMW's radical-looking 5 Series Touring and Mercedes' more elegant E-Class Estate. And then there's Audi; it's always offered something slightly different with its quattro four wheel drive and this variant continues the 'other' German firm's theme of being the self-confessed intelligent choice.
Only this model also strikes a clever balance between the BMW and Merc in terms of exterior styling. Its gracious curves hide the fact that it's bigger than both its main rivals, while the extrovert corporate nose is Audi's way of saying that it wants to get noticed - but in a grown-up, corporate kind of way.
From the load bay forward it's pure A6 saloon though, which means above average cabin space, high levels of fit and finish, great ergonomics, an impressive range of diesel engines and an options list that's as long as your arm. Above all else, the A6 is now enjoyable to drive enthusiastically - which is not something that can be said about previous models.
Our verdict on the Audi A6 Avant 2.7 TDI SE
Audi's self-confessed desire to lead the executive sector takes another step closer with the A6 Avant. Premium load luggers have been overtaken by SUVs as the expensive car of choice for many, but the A6 oozes class yet is capable of hauling your belongings with consummate ease. Balancing elegance with look-at-me exterior design, Audi's big estate hides its substantial girth well.