Audi A6 3.2 FSI SE review
Build quality throughout car is second to none
May 2004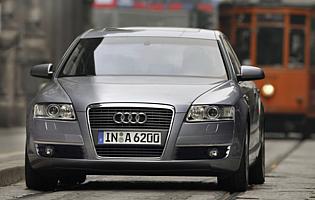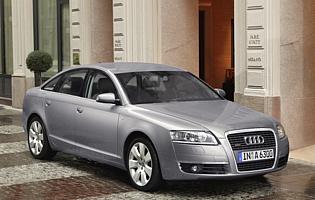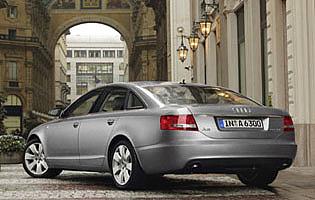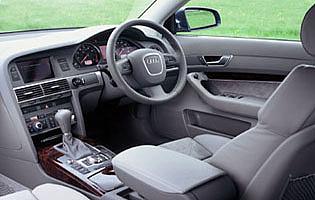 Overall rating

Likes:
Build quality throughout car is second to none
Choice of powerful, hi-tech engines
Difficult to believe such a large car can be so nimble
Instrumentation a joy to behold
Gripes:
Styling remains conservative despite aggressive grille
MMI interface system bafflingly complex
Positioned too close to A8 in Audi line up
A6 is 'upsizing' when business users are downsizing
Audi pinned a lot on the successful launch of its latest-generation A6. The Vorsprung Durch Technik ethos was turned up to maximum levels during the car's development and the result is a truly great car capable of competing with the BMW 5 Series and Mercedes E-Class on equal terms. To many people the A6 is actually better than both.
In a notable departure from the styling of the Audi A8, the A6 debuts the company's new 'face', complete with oversized grille and strong horizontal lines but minimal vertical elaboration. Less challenging than the 5 Series' look it nonetheless possesses plenty of on-road presence. This looks like an important car and makes the occupants feel important, too.
That is at least partly down to its sheer size. Bigger than its rivals, the A6 is almost as sizeable as the A8 and even boasts a larger boot. But inside, the car feels much more taut and involving to drive than its bigger brother. Even models that don't come equipped with quattro all-wheel drive are immensely grippy with direct steering and an evocative engine note. If you want to drive, it will let you get involved. If you prefer to relax, it will waft along in executive comfort with the best of them.
Interior quality is superlative. While some of the controls will be judged over-complex by some, no-one could fault the impressive attention to detail, perfect alignment of controls and the general feeling of being a luxury product.
The simple expedient of making the car larger than the norm also creates ample interior space. To all intents and purposes, the A6 is neither a true mid-size model nor a full-scale executive barge but a model that straddles the line between the two. It is possible that some buyers will find the concept hard to understand but most will simply view it as a case of getting even more for their money than expected.
Our verdict on the Audi A6 3.2 FSI SE
It is difficult to come up with any telling criticisms of the A6, which bears testimony to the thoroughness with which Audi's engineers and designers approached their task. Fuel consumption can be heavy when the car is driven hard, but that is hardly unusual in a market sector in which scrimping for pennies is rarely a consideration. And there are always the equally capable diesel models to fall back on if it does niggle at the conscience.