February 2010
Aston Martin Rapide V12 Touchtronic 2
Familiar front end styling is a rewarding sight
February 2010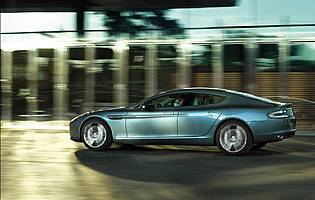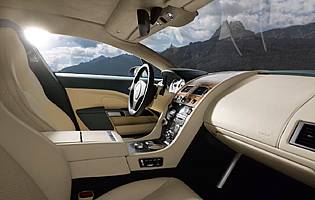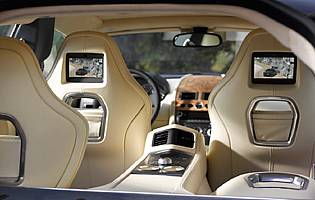 Overall rating

Likes:
Typically gorgeous Aston Martin styling
Great blend of performance and ride quality
Useable rear seats
Surprisingly spacious boot
Gripes:
High fuel consumption
Rear seats require a degree of dexterity to exit
Poor rear visibility
No manual gearbox option
Aston Martin has not introduced a four-door model since the 1970s, but the Rapide changes that by offering four doors and four full seats ensconced in a familiarly sleek and sporty Aston Martin body.
Aston Martin does not mince its words when describing the Rapide, announcing it to be the world's most beautiful four-door sports car. It is, in actual fact, a hatchback with clever styling used to disguise the fifth door and give the four-door model a similar sleek, coupe body to the DB9, Vantage and even One-77 hyper car. The wide arches and low profile are present, as is the unmistakable front end styling.
The rear contains two full size sport seats meaning the Rapide can comfortably transport four adults. Further back, a large boot holds plenty of potential for luggage and the Rapide's touring intentions are confirmed by the absence of a manual gearbox option; the automatic and sequential manual Touchtronic 2 system is standard as is an electric parking brake to replace the traditional 'fly-off' system.
Under the bonnet, Aston Martin has employed the same high-torque version of the 6.0-litre V12 that powers the DB9 range. Producing 470bhp it is able to propel the Rapide forward with the speed of a sports coupe while a finely tuned chassis attempts to retain refinement for driver and three passengers.
The interior is typically sumptuous, but a different approach has been taken in the rear with bucket seats employed to seat the passengers in the same upright, highly supported position as the driver. Separate air-conditioning, seat heating and cooling and the option of video entertainment increase the comfort levels in the rear.
Our verdict on the Aston Martin Rapide V12 Touchtronic 2
Offering a measured mix of four-door and coupe attributes, the Rapide manages to straddle both worlds with little difficulty. The modern classic Aston Martin styling has not suffered as a result of the additional doors and the driving experience remains as rewarding as that of the coupes. The rear does not offer the spacious comfort of a four-door saloon but succeeds in making the Rapide a considerably more practical option for the Aston Martin driver.
Costs
The Aston Martin Rapide is an expensive vehicle to purchase and run. Fuel consumption is heavy, specially developed tyres will prove costly to replace and insurance premiums will be at the top end of the scale. The prestigious badge should mean strong residuals, though.
Space and practicality
The Rapide's rear is not as spacious as that of a traditional large saloon, but is considerably roomier than that of a traditional two-plus-two coupe. Leg and headroom will suffice for all but exceptionally tall passengers. Longer journeys may take their toll on rear seat occupying adults, but the Rapide can comfortably be called a true four seater. A surprisingly spacious boot includes a useful divider to keep smaller items out of the passenger space and the rear seats fold to offer even more room for luggage.
Controls and display
Elegantly styled and lit dials greet the driver; they are easy to read and aided by a digital speed readout. The Rapide's controls adhere to convention and are instinctive to use. The steering is on the heavy side but remains perfectly manageable around town, while the centrally mounted controls are clearly labelled and well laid out. The traditional fly-off handbrake has thankfully been replaced by an automatic, push button operated system.
Comfort
The excellent ride is firm, but extremely forgiving making the Rapide a relaxing car to travel long distances in. Unusually, the two rear seats follow the lead of the front seats as sports-style bucket examples. This means it's not possible o slouch in the rear and passenger sit in an upright, driving-like position. This is surprisingly comfortable however, and offers excellent support meaning passengers strain less through the bends. All four seats are both heated and cooled with an air-conditioned breeze, and interior refinement is excellent.
Car security
The hatchback layout automatically lends itself to security, with possessions easily concealed in the boot. Naturally an alarm and immobiliser is standard, but volumetric system with tilt sensor is an optional upgrade. UK models also come equipped with a tracking device as standard.
Car safety
An extremely tough body also contains dual stage driver and passenger front airbags, front occupant side airbags and head protection airbags for front and rear occupants. Dynamic stability control, ABS, electronic brakeforce distribution and emergency brake assist are present. Traction control is a must with such power output, and is thankfully standard, too. Tyre pressure monitoring also boosts safety.
Driver appeal
The Rapide's supremely rigid chassis has been tuned to offer passenger comfort without skimping on the driving thrills, and it has been a great success. Considerably more responsive and agile than such a large vehicle has any right to be the Rapide is a delight to drive at speed and is reassuringly surefooted. There's never a shortage of power from the 6.0-litre V12 unit and the Touchtronic 2 gearbox is quick to respond in manual mode. As a cruiser it's equally adept, with low-down torque allowing the gearbox to short-shift in automatic mode. Braking is dealt with by huge dual-cast discs and multi-pot callipers front and rear. The Rapide's bulk does cause it to fidget under very hard braking, but it pulls up with impressive ease from high speed.
Family car appeal
For a family of four, with two young children, the Aston Martin Rapide could comfortably pass muster as a family vehicle, assuming expense was not an issue. High quality materials may suffer at the hands of young occupants, but they will certainly be comfortable and potentially well entertained.
First car appeal
The Aston Martin Rapide is too expensive, too powerful and too large to be considered a good choice for a novice driver.
Quality and image
One of the most desirable badges in the world, any new Aston Martin benefits from the excellent reputation forged by its predecessors. As the first four-door model from the Gaydon-based manufacturer in decades, the Rapide carries extra prestige. The hand-made nature of all Aston Martins means that although each model is unique, they are impeccably crafted. The Rapide is the first Aston to be built outside of the UK, by Austrian manufacturer Magna Steyr, but the same techniques are to be used and early models show no signs of lesser quality.
Accessibility
With a similar low-slung seating position to the Vantage and DB9 front and rear, accessing the Rapide is not as easy as accessing a typical four-door saloon. Much has been done to ease the process, however, including clever door designs that allow them to open up and out, increasing the portal within a tighter arc. Despite this, the rear portal remains relatively tight, with the seat positioned behind a large metal shoulder. This means some dexterity is required, particularly when exiting.
Stereo and ICE (In car entertainment)
Standard equipment includes an exceptionally high-quality Bang and Olufsen BeoSound audio system with radio, CD and speaker sensors that rise from the dash top. Full compatibility with an iPod is standard and a USB input is also included. The standard, remote control operated sat-nav system is familiar from the Aston Martin Coupe ranges and although not bespoke for the company is elegant enough. An optional twin-screen entertainment system for the rear includes a six-disc DVD player and wireless headphones.
Colours and trim
A full palette of elegant metallic shades is available for the Rapide. All suit the flowing shape well, making it a difficult task to choose between them. Inside, high quality leather is standard with buyers able to choose between light and dark shades. The same goes for the thick carpet. A Walnut finish is standard for the facia but Mahogany, Piano Black, Bamboo, Tamo Ash, Birds Eye Maple, Olive Ash Burl or Double Apex Alloy alternatives are available. As a result, the Rapide can be finished to suit all tastes inside and out.
Parking
Parking sensors are standard front and rear, something to be thankful for as the long bonnet can be difficult to place from the low-slung driving position and rear visibility is hampered by the bulky rear pillars and small window. Manoeuvrability is reasonably impressive for a large vehicle, but the Rapide requires caution when reversing into a tight spot.
Spare wheel
Emergency tyre repair kit fitted as standard.
Range information
Petrol engine options - 6.0-litre (470bhp). Transmission options: six-speed Touchtronic 2 automatic gearbox with paddle operated manual override. Trim levels: Single trim level with extensive options available.
Alternative cars
Porsche Panamera Four-door coupe with powerful V8 Turbo option
Mercedes-Benz CLS Four-door CLS 63 AMG boasts sleek styling and lots of grunt
Maserati Quattroporte Less coupe, more saloon, but fast and agile
Ferrari 612 Scaglietti Two-door form is less convenient but boasts two rear seats