Alpina XD3
Addictive performance
February 2017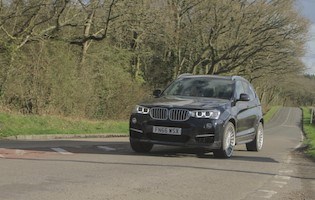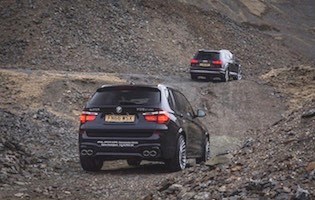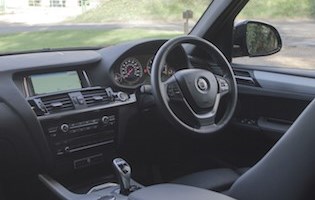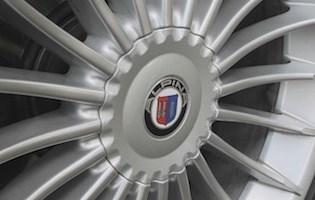 Overall rating

Likes:
Addictive performance
Excellent build quality
Surprisingly good economy
Understated looks
Gripes:
Expensive, even without options
Some on-board technology feels outdated
Wheels will be easy to kerb
Higher running costs
Alpina takes standard BMW cars and makes them just a little bit sharper. Here, it has taken the X3 35d SUV, but given it 345bhp – which resulted in a car that could, until the Bentley Bentayga Diesel arrived, lay claim to the title of the world's fastest diesel 4x4. It also receives sporty touches and Alpina's iconic multi-spoke alloy wheels.
Alpinas are understated performance cars. Designed to be quick without shouting too much about their extra performance, they're ideal for people who want to go fast without attracting too much attention to themselves. That's why you'll only find subtle body kits on any Alpina car – though most feature rather large exhaust pipes.
Inside, the XD3 uses all of the best bits found in BMW's cars such as the infotainment system and speakers, but adds to the overall impression through the use of higher quality leather and coloured stitching. You'll also find blue dials – another Alpina hallmark. There's plenty of space all round, and the boot room is equally as good.
The exterior of the XD3 isn't leagues apart from that found on the X3 upon which it is based, but it's just different enough to make it presence known. There's a large splitter up front, restyled side skirts and a bumper housing quad chrome-tipped exhaust pipes. You can specify Alpina cars with pin-stripe decals, too, for added impact.
The Alpina XD3 is effortlessly quick, thanks to its high power output and smooth ZF gearbox. It also rides very well, despite being fitted with large alloy wheels – this is down to the tuning that Alpina applies to all suspension components, ensuring that any car it produces rides well on UK roads. Even on the roughest of roads, the XD3 manages to be composed and comfortable.
Our verdict on the Alpina XD3
If you're looking to for a modestly styled SUV with a huge amount of performance, then the XD3 is for you. Also, because it's diesel powered, it's relatively good on fuel, adding another string to its bow. Though expensive – our test car came in at £61,665 – the level of standard equipment you get makes it relatively good value for money, while the way it accelerates down the road makes the premium more than worth it.
---
Costs
As mentioned earlier, the Alpina XD3 should return relatively good efficiency figures. Emissions figures are relatively high at 174g/km, which will mean vehicle tax will be higher too. Another cost to consider is for consumables – both tyres and brakes will command a premium to replace compared to lower-cost rivals. Opt for the large 21-inch alloy wheels and replacing their rubber will be even more expensive, too.
Space and practicality
At 550 litres, the XD3's boot is impressively large. You can even increase its size to 1,600 litres by folding the rear seats down, providing a huge load area. Leave those seats up, however, and there's more than enough room for four adults in a good degree of comfort. Headroom and legroom levels are acceptable throughout the cabin, though we'd be inclined to specify a lighter interior colour as darker ones can make it feel a little oppressive.
Controls and display
As many of its controls are carried across from BMW, the XD3 has a tried-and-tested layout. All major dials are easy to use and are within easy reach, while the infotainment is simple to navigate thanks to BMW's rotary controller. The main instrument binnacle has been given the Alpina makeover, but the analogue dials are clear in all lights – just what you want in a performance SUV.
Comfort
Here's where the XD3 comes into its own. You'd expect giving its large alloy wheels and sporty appearance that it would have a very firm ride, but this couldn't be further from the truth. Alpina re-works the suspension to work alongside the alloy wheels, ensuring that the car's ride remains supple no matter what the surface. It's never too softly sprung, but manages to toe the line between sporty and comfortable well.
Car security
All XD3s come with plenty of on-board security equipment, including remote central locking, alarms and interior motion sensors. Given its understated appearance, it's also unlikely to draw too much attention to itself, which is something to remember if you're planning on parking your car in at-risk areas. That said, it's still a premium car, so if car security is top of the list for you, then you're better off parking it off the street.
Car safety
Back in 2011, the BMW X3 was awarded five stars in the Euro NCAP crash tests. It was handed 88 per cent for adult occupant safety, and 83 per cent for child occupant protection. Though this sounds impressive – and make no mistake the XD3 remains a hugely safe car – the tests have since become far more thorough. As such, if you put the XD3 through the same tests today it would likely score far lower – which is something to consider if safety is of a top concern for you when purchasing a new car.
Driver appeal
Alpina cars are very appealing to drive. Though understated, the XD3 is just the same. You can instantly tell that it isn't an entirely normal car, and that's something that is quite appealing – even to those drivers who aren't particularly interested in cars. The four exhaust pipes at the rear of the XD3 also point towards its higher levels of performance, and they provide a good enough reason to get behind the wheel as any.
Family car appeal
Spacious, practical and solidly-built, the XD3 is an ideal family car. Alpina claims that it'll return 42.8mpg on a combined cycle, too, meaning that it's relatively economical and therefore good as a constantly used family vehicle. It is expensive, but if you want one car to cover a lot of basis, then you could do a lot worse than the XD3.
First car appeal
As a large, powerful and expensive SUV, the XD3 isn't best suited to those who have just passed their tests. Though fitted with all manner of parking aids and sensors, it'll be a big jump for those who have been learning to drive in smaller cars, while its performance – though impressive – is likely to make it a little intimidating to those still getting used to life behind the wheel.
Quality and image
BMW's image is riding high at the moment, and as a result Alpina's is too. The quality of the car is noticeable immediately, from the quality of the leather used inside to the intricacy of the multi-spoke alloy wheels. Alpina cars also have an under-the-radar quality too, meaning that only people in the know will recognise it as something a little bit special, rather than just another BMW SUV.
Accessibility
Though high up, getting in and out of the XD3 isn't too tricky. The seats, though sporty in design, aren't too heavily bolstered meaning there's not too much blocking your entry. Access to the rear of the car is good too thanks to wide door apertures. The powered boot also gives easy access to the load bay of the car, while its flat load lip makes putting larger items into the boot, like suitcases, a bit easier.
Stereo and ICE (In car entertainment)
One element that the XD3 shares with its BMW donor car is technology. As such, you still get the German manufacturer's excellent infotainment system, as well as Bluetooth phone connectivity. Our car was fitted with the optional Harman/Kardon speaker system, which really adds a huge amount of quality to the car's stereo. It is, however, a £675 optional extra – though one we'd thoroughly recommend.
Colours and trim
Part of Alpina's charm as a company is its ability to field almost any customer request. Each and every car in the range is available with a wealth of different colour options, as well as interior trim and upholstery selections. The XD3 is no different, with plenty of options allowing you to really make it your own. Just remember that the options list does quickly add to the car's overall price.
Parking
Though large, the XD3's large wing mirrors and relatively good rearward visibility make parking a touch easier than you'd think. Our car was fitted with a reversing camera – again, a £330 optional extra – which really did make positioning the XD3 simpler. Relatively short overhangs are another feature that aid manoveuring – though the splitter at the front does make you a little warier of higher kerbs.
Spare wheel
Emergency tyre repair kit supplied as standard.
Range information
Petrol engine options: 3.0-litre turbocharged diesel. Transmission options: Eight-speed dual-clutch automatic.
---
Alternative cars
Porsche Macan The segment leader, a well-rounded car in all respects.
Mercedes AMG GLC 43 The most modern interior here.
Audi SQ5 Hugely capable, and well-built too.
BMW X3 Alpina is based on it, but it remains a rival.