March 2007
Alfa Romeo Spider 3.2 JTS V6
The Alfa Romeo Spider's dynamic Italian design is bound to impress
March 2007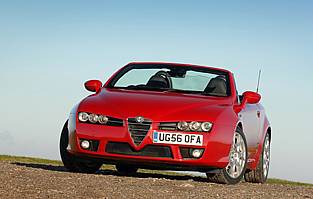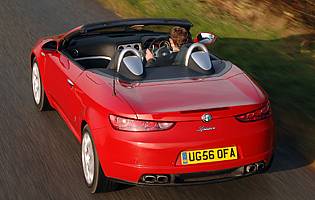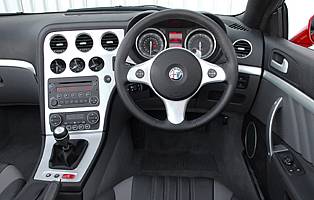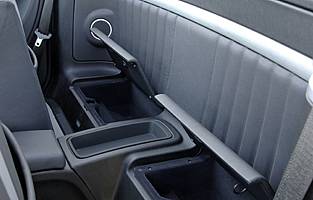 Overall rating

Likes:
Driver-focused interior is of excellent build quality
Classic Italian exterior styling is bound to attract attention
Firm yet comfortable ride
Automatic roof folds down into dedicated storage compartment so it doesn't steal boot capacity
Gripes:
Glare from brushed aluminium centre console
Some scuttle shake
Quiet V6 engine doesn't afford much driver feedback
Lack of passenger vanity mirror
Italian manufacturer Alfa Romeo has an illustrious history, having been building open-top cars since 1910. More recently however it has had had a troubled past in the UK, with criticism of its dealer network, car quality, reliability and residuals. Alfa Romeo is working hard to tackle these issues, and the latest reincarnation of its Spider benefits from these efforts.
It takes far more than fond memories to make a purchase from the GBP25,000-plus bracket, but Alfa's pricing policy suggests confidence in the 2007 Spider's lure, refusing to undercut its German rivals in the open-top car market.
The 2007 Alfa Spider's exterior design is both bold and graceful. The Alfa shield with horizontal chrome bars forms the nose at the front, with powerful bonnet lines flowing seamlessly off the top to form a steeply raked A-pillar. Three-lamp headlight clusters and the offset number plate concur that this is a unique, classic Alfa Romeo, derived from the award-winning Brera design.
As with all Alfa Romeos the interior of the two-seat convertible is focused on the driver, with particular emphasis on ergonomic functionality. The driver's position is slightly offset but both seat and steering wheel are fully adjustable, and the seat itself is exceptionally comfortable. Meanwhile high levels of standard equipment are fitted - the design of the cockpit and console being far more characterful than that of many of its rivals.
By pushing the electronic start button it is immediately evident that the 3.2-litre V6 engine is less tuneful than some of its Alfa forebears. While it is certainly very capable it boasts a relatively modest 0-62mph time of 7.0 seconds, making this a less likely purchase for sports car fans. That said the Spider is comfortable, stylish and more practical than some of its rivals, and the 2.4-litre diesel model's improved fuel consumption and emissions levels should prove popular with soft-top fans with an environmental conscience.
Our verdict on the Alfa Romeo Spider 3.2 JTS V6
The Alfa Romeo Spider is a convertible with an exterior and interior design that will appeal to those motorists already considering a roadster but are drawn by classic Italian styling. The Spider's charm lies in the fact that rather than being performance-driven, it offers sophisticated comfort and refinement that make it an ideal long-distance cruiser.
Costs
The 3.2 V6 Alfa Romeo Spider is likely to be an expensive car to run, with high fuel bills, service costs and insurance. The purchase price is also high, particularly if you choose any optional equipment. The 2.2 JTS or 2.4JTDm diesel variants offer lower running costs and, especially in the case of the later, much improved fuel consumption.
Space and practicality
Legroom is fairly good for driver and passenger, though the soft-top design affords limited headroom when the roof is up. The roof folds into a separate compartment so that luggage capacity of the deep boot is not compromised when the roof is down, and the boot itself is a good size compared to the Spider's competitors. Lockable rear storage compartments and a temperature-controlled cubby within the central armrest are among the stowage spaces to be found in the cabin.
Controls and display
The interior is appealing in terms of aesthetics and ergonomics. The distinctive instrument binnacle houses the speedometer and rev counter, which are large and easy to read. Similarly, three subsidiary dials for fuel, water temperature and oil sit in the brushed aluminium centre console at an angle optimal for the driver.
Comfort
Once aboard, high levels of comfort are afforded by the Spider's build quality and design. The height-adjustable driver's seat is allied to a rake and reach-adjustable steering wheel, allowing a good driving position for the majority. The car's rigid bodyshell and firm chassis minimise vibration and allow most bumps to be soaked up with ease. Meanwhile the relatively hushed V6 engine, extensive soundproofing, double-layer fabric roof and rear wind deflector all help to reduce cabin noise.
Car security
Convertible cars are natural head-turners, and this can include attracting the attentions of criminals. That said, the Spider is fitted with an Alfa code immobiliser and antitheft alarm with cutout switch and anti-lifting module. The boot is opened either via the key fob or by a switch located between the driver and passenger seats, while the fuel cap is also secured by the central locking/release system.
Car safety
The Alfa Spider has a comprehensive range of safety equipment, which includes ABS with brake assist, EBD, hill holder and a switchable vehicle dynamic control system (VDC). VDC claims to enhance cornering stability, monitoring tyre grip at all times to prevents slide and wheel spin. Five standard airbags, follow-me-home headlights, height-adjustable seatbelts with pretensioners and load limiters, and flame-resistant interior trim are among the passive safety measures.
Driver appeal
The 3.2-litre V6 engine is coupled to a six-speed manual transmission, and is driven through all four wheels. The engine seems relatively hushed, which will no doubt disappoint fans of the older, more tuneful Alfa V6 petrol engine. The Spider shares its platform and suspension design with those of the Brera, which have already proved to offer good levels of comfort and handling, making this an excellent choice for refined cruising rather than sports motoring.
Family car appeal
A strict two-seater with limited boot and storage space, the Alfa Spider is definitely not a family car. However for those that can afford it, it would make an enviable second car.
First car appeal
Its initial price tag and insurance costs mean the Alfa Spider would be an unlikely first car for novice drivers - despite its appeal.
Quality and image
The Alfa Spider is a reincarnation of the much-loved 1967 star of The Graduate. The iconic car has changed greatly since then, particularly in terms of improved quality and reliability. Derived from the Brera coupe, the Spider boasts an appealing interior including analogue displays to remind the driver of the car's history.
Accessibility
Sitting 23mm lower than the Brera, the lower stance of the Spider means less agile passengers might struggle with access. Climbing into the seats is easier than exiting the vehicle. The driver's seat can be adjusted for height, while the steering column can also be configured for rake and reach. The boot opens using the key fob or by pushing a button inside the cabin, however the mechanism doesn't close as assuredly as it could.
Stereo and ICE (In car entertainment)
A six-speaker stereo radio/CD player is standard fit in all models. A full range of stereo upgrades is available, including MP3 reader, 10-disc CD auto-changer, and an eight-speaker Bose sound system with digital amplifier. Sat-nav and hands-free phone are also optional fit.
Colours and trim
The Spider is available in a choice of 10 exterior colours - the red, black and blue colours giving far greater presence than the metallic silver. The roof fabric is black or dark blue, and inside there is a choice of three two-tone trim options. Extra-plush leather upholstery is available as an option on all models. There is one, high-quality standard trim level across the range but plenty of options available.
Parking
As with other roadsters, it can be difficult to place it relative to its surroundings due to the low seating position. However, parking sensors are built into the rear bumper and once familiar with where the nose and tail ends, parking is rarely a chore.
Spare wheel
A space saver is fitted as standard
Range information
Petrol engine options - 2.2-litre (185bhp); 3.2-litre V6 (260bhp). Diesel engine option - 2.4-litre (200bhp). Transmission options: six-speed manual gearbox, optional QTronic six-speed automatic transmission.
Alternative cars
Audi TT Roadster Good looks, handling, style and performance; it's also more spacious than some of its rivals
BMW Z4 Roadster Attractive German soft-top offers an excellent driving experience at a reasonable price
Mercedes-Benz SLK-Class The Mercedes open top offers strong performance and build quality to match
Porsche Boxster Superb-handling soft top with street cred aplenty, though its looks don't appeal to all