December 2013
Alfa Romeo Mito 0.9 TwinAir 105hp Sportiva
Outside little has changed, leaving Mito's popular looks much the same
December 2013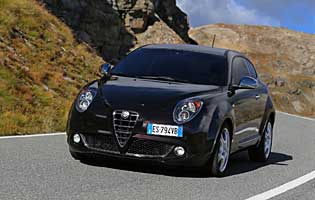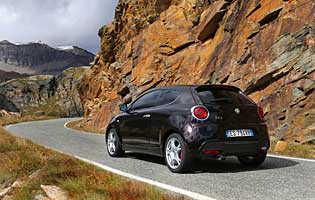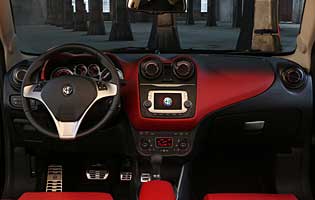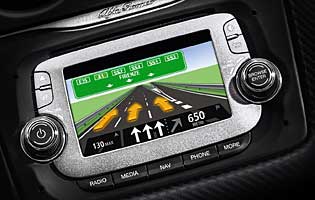 Overall rating

Likes:
Striking styling stands out against any rival
High quality of workmanship in the optional interior leathers
TwinAir engine offers unparalleled character and enjoyment
Supportive seats offer good all-round comfort
Gripes:
Ride is far too firm in the DNA selector's Dynamic mode
Fuel economy is generally poor because of the hard use the engine encourages
Rear visibility is restricted by thick C-pillars
Expensive purchase prices for desirable models
This is a car that's centred on style, and its curvaceous Alfa looks have distinguished it from the supermini mainstream ever since the model's launch a few years prior to the arrival of this updated version. Sales have been convincing in the UK, but there's always room for improvement and the Italian firm hopes to achieve that with new convenience technology.
The main count against the Mito is just how expensive it gets in the upper echelons of the range, and while Alfa Romeo executives will claim that it's a premium product going head to head with the likes of the Audi A1 and Mini, the reality is, in too many ways, too far from that to be realistic.
In terms of quality and residual values it's competing more on a level with superminis from Ford, Seat, Honda and the myriad other mainstream manufacturers' efforts. That puts it in a slightly awkward position in the marketplace, as though it's trying too hard and, by the premium manufacturer rulebook at least, underachieving.
This new-for-2014 model is actually little changed on the outside, with the majority of the updates coming in the cabin in the shape of a new sat-nav unit and media interface. Lower models feature it too, only without the sat-nav. It offers new, fresh and engaging graphics that differentiate it from the largely sober, dull opposition.
Also central to the Mito is the driving behaviour switch, known as the DNA selector. It toggles between three different drivetrain setups that alter the way the suspension and engine respond, and it's integral to Alfa's desire to make the Mito seem like a fun, advanced and good-to-drive option.
Our verdict on the Alfa Romeo Mito 0.9 TwinAir 105hp Sportiva
The Mito is a little out of step with the rest of the supermini market, whether mainstream or premium. Its latest tech updates have certainly narrowed the gap to the class leaders and the Mito remains itself class-leading in the style stakes, but there is still work to be done. A drive mode selector option that gave full power along with softer, more compliant suspension would be a great start. At least the TwinAir engine adds huge, unique character.
Costs
On paper this engine is wonderfully economical, with low emissions looking very tax-friendly to the potential buyer. But while the emissions figure is fixed, the fuel economy isn't and the TwinAir engine is particularly susceptible to driving style. Even normal, care-free driving isn't enough to get close to the claimed fuel economy figure, and many drivers might record significantly less. The Mito has solid residual values, though, and is extremely cheap to run through benefit in kind-based tax schemes.
Space and practicality
The cabin is not as single-minded as some of the other areas of the car. Rear passengers get their own cup holders, for example, while there's only one for the front passengers. A slightly awkward open-faced tray at the base of the centre console is good for change and receipts, while the glove box and door pockets could, and arguably should, be more spacious. The boot has ample room for everyday luggage-carrying tasks and is similarly-sized to competitor cars'.
Controls and display
Alfa has changed the main instrument cluster for the 2014 model, making it livelier and more stylish. it could be argued that it's not as clear to read at a glance as some others, but it certainly fits the bill for aesthetics. The new highlight is the five-inch touch-screen, made by TomTom and integrating both the sat-nav and the media interface. As an independently designed system it offers a generally well thought-out layout that Alfa has tailored to its needs, but it's sharp and clear at all times.
Comfort
The cabin is, obviously, split into two halves but in more ways than one. The front is the better place to be, with plenty of space and comfortable, supportive seats. The rear bench seat is less shapely and doesn't offer the same level of lower back support. Not only that, but a combination of the lack of rear doors and the thick C-pillars means that adult rear seat passengers are likely to feel quite cramped. The very low-profile tyres are prone to roar unpleasantly on poor, coarse surfaces but manage well on smoother roads.
Car security
Dark-tinted windows have been added to the standard kit list for all Mito variants with the introduction of this facelifted model. Fitted around the rear half of the car it helps to keep prying eyes from seeing anything that might have been left on the rear seats. Otherwise, remote central locking with deadlocks is the only feature Alfa shouts about, along with an alarm and a code immobiliser which are also standard-fit.
Car safety
All Mito model grades get seven airbags spread throughout the cabin, which should be plenty for a car of this size. A full spread of stability, traction and skid control technologies are also present, which in addition to their normal functions are also linked to the DNA drivetrain mode selector switch. The All-weather setting is designed for lower-traction surfaces, and also reduces the engine's power to cut the chance of getting into trouble at all.
Driver appeal
As a supermini the Mito must be easy to drive, as a priority for younger buyers or those who spend almost all their time in demanding urban environments. It ticks that box confidently, thanks to lightly-weighted controls and steering that requires little effort to turn at low speed. Equipped with the TwinAir two-cylinder turbocharged engine it's also a riot to drive, with a distinctive noise and ample acceleration. Full power is only available in the DNA selector's Dynamic mode, though, which also introduces a sometimes hard, harsh ride.
Family car appeal
As a second car the Mito is a stylish, nippy and compact option that will let families ferry their young children around, but the lack of rear doors could become a problem. Young children often find it an adventure to climb past the front seats into the back, but over time it could become wearing for them as well as the driver, who would be forced to step out every time they stopped to pick their children up from school or a friend's house.
First car appeal
A combination of factors make the Mito a convincing first car, but one potentially rather large obstacle stands in the way. Its user-friendly controls, up-to-date technology and focus on style will all appeal to first-time buyers. As will its potentially low running costs if the driver is disciplined enough not to try to extract every ounce of the TwinAir engine's performance at every opportunity. The purchase price, though, is way above what some excellent rival superminis cost.
Quality and image
Alfa Romeo positions this car as a premium supermini, competing for sales with German brands. While the original Mini proved that cars don't necessarily need to have high-quality interiors to sell well, Alfa would be wise not to compare the Mito too closely to the much more solid Audi A1. Alfa's brand image in the area is not particularly robust, either, never having shaken off its reputation for electrical niggles.
Accessibility
One one hand the Mito's tailgate is easy to lift, revealing a boot that's accessible via a deep but not too prohibitive load lip. However, the problem is that the Mito only comes in three-door guise to protect its sporting image, meaning that the style benefits of the three-door layout are tempered by longer, less practical doors and reduced ease of access for any rear passengers. The longer doors mean that in tight bay parking spaces it can sometimes be difficult to open the doors wide enough to allow entry.
Stereo and ICE (In car entertainment)
The new touch-screen interface borrows some technology from TomTom, but the media interface is Alfa Romeo's. It acquits itself very well, with fresh, clean graphics that look much more up-to-date than those of some of its key rivals, and tech-savvy buyers should engage with it more enthusiastically. The touch operation responds quickly and the menus are pleasantly self-explanatory, even if sometimes it could be easier to navigate around sub-menus.
Colours and trim
Alfa Romeo tradition dictates a good selection of colours, and the Mito delivers with a wide variety ranging from business-like black to a much more striking blue and of course the traditional Alfa red. Colours are the best option, with white, in particular, failing to do the design of the car justice. On the inside of this model is an unusual and divisive colour-faded dashboard, running from black at the very top to a burnt orange-red at the bottom. Some like it, but others loathe it.
Parking
Although the Mito is a small car, rear visibility is quite restricted and plenty of drivers will be grateful for the rear parking sensors on this car, which are standard on all but the most basic model in the range. Ultimately its size is a huge benefit around town, where it's capable of slipping through gaps and into small parking spaces. Bay parking is hampered a small amount on this model because of its large, wide wheels that can't turn as tightly as thinner ones, but on the whole the Mito is easy to park.
Spare wheel
Space saver spare wheel supplied as standard.
Range information
Petrol engine options - 0.9-litre (104bhp); 1.4-litre (133bhp, 168bhp). Diesel engine options - 1.3 litre (84bhp); 1.6-litre (118bhp). Transmission options: six-speed manual gearbox, plus TCT twin-clutch automatic gearbox. Trim levels: Sprint, Distinctive, Sportiva, Quadrifoglio Verde.
Alternative cars
Audi A1 Audi's most compact car is heavily specification-dependent but very competent
Mini hatchback Unfailingly popular option boasts an all-new chassis and familiar looks
Ford Fiesta Great to drive and affordable with big showroom discounts available
Seat Ibiza An excellent all-rounder with sharp looks and intuitive technology